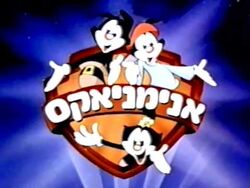 אנימניאקס is the Hebrew dub of Animaniacs in 1996 and was broadcasted on the Israeli channel Arutz HaYeladim.
Theme song
You can watch the Hebrew theme song on YouTube. Click on the link.
Translation
Hebrew lyrics
English transliteration
Literal translation

הוורנרים:
אנחנו אנימניאקים!
חבורת משוגעים!
רק נסה להירגע
תצחק כמו משוגע
כאן אנימניאקים!

יאקו + וואקו:
הנה בני משפחת וורנר

דוט:
והבת ששמה הוא דוט

הוורנרים:
באולפנים של וורנר האחים עושים צרות
הם נועלים אותנו
כשאנו נתפסים
אך נשתחרר, נברח מהר בכלל העלילות

כאן אנימניאקים!
דוט יפה ויאקו בלה
וואקו עם הממתקים
כשביל קלינטון מאדים
כאן אנימניאקים!

כשפינקי והמוח משתלטים על העולם
כאן זוג יונים יחטוף בראש מסלאפי ככה סתם
כפתורים ומינדי
וריטה כמובן
הסרט רע, אין שום תסריט, אז למה מתאמצים?

כולם:
כאן אנימניאקים!
ציורים וגם שכירים!
כולם משוגעים
עם גבינות ונקניקים!
קצת השתגענו
את כולם הטרפנו!
[משפט משתנה]
אני-מניא-קים!
בלי ויכוחים!

The Warners:
Anachnu Animaniakim!
Chavurat meshuga'im!
Rak nasé leheraga
Titzhak kmo meshuga
Kan Animaniakim!

Yakko + Wakko:
Hiné bnei mishpachat Warner

Dot:
Ve'ha'bat she'shma hu Dot

The Warners:
Ba'ulpanim shel Warner ha'achim osim tzarot
Hem no'alim otanu
Kshe'anu nitfasim
Ach nistachrer, nivrach maher be'kol ha'alilot

Kan Animaniakim!
Dot yafa ve'Yakko bla
Wakko im ha'mamtakim
Kshe'Bill Clinton ma'adim
Kan Animaniakim!

Kshe'Pinky ve'Ha'Moach mishtaltim al ha'olam
Kan zug yonim yachtof ba'rosh mi'Slappy kacha stam
Kaftorim u'Mindy
Ve'Rita kamuvan
Ha'seret ra, ein shum tasrit, az lama mit'amtzim?

All:
Kan Animaniakim!
Tziyurim ve'gam schirim!
Kulam meshuga'im
Im gvinot ve'naknikim
Ktzat hishtaganu
Et kulam etrafnu
[Variable verse]
Ani-mania-kim!
Bli vikuchim!

The Warners:
We're Animaniacs!
A group of crazies
Just try to relax
You'll laugh like you're insane
Here's Animaniacs!

Yakko + Wakko:
Here's the sons of the Warner family

Dot:
And the daughter, whose name is Dot

The Warners:
In the Warner studios, the siblings make trouble
They lock us up
When we get caught
But we'll escape (and) run away in all the plots

Here's Animaniacs!
Dot is pretty and Yakko bla
Wakko with the candy
When Bill Clinton turns red
Here's Animaniacs!

When Pinky and the Brain take over the world
A pair of pigeons will get a slap in the head from Slappy for no reason
Buttons and Mindy
And Rita, of course
The movie's bad, there's no script, so why bother?

All:
Here's Animaniacs!
(We're) cartoons and also employees
Everybody is crazy
With cheeses and sausages
We've gone a little crazy
Made everyone lunatic
[Variable verse]
Ani-mani-acs!
Don't argue (about it/with us)!
Voice actors
Trivia
Unlike Tiny Toon Adventures, the "Steven Spielberg Presents" credit is absent from the title.

Also unlike Tiny Toon Adventures, the logo is edited but isn't animated.

"Hello, Nurse!" in Hebrew is: "Shalom, Achot!".
Community content is available under
CC-BY-SA
unless otherwise noted.