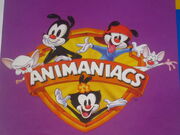 For information on the revival, see Animaniacs (2020 TV series)
Animaniacs is an American animated sitcom and comedy series produced by Amblin Entertainment and Warner Bros. Animation. The show was the second animated series produced by the collaboration of Warner Bros. Animation and Steven Spielberg during the Animation Renaissance of the early 1990s. The show aired from originally aired from 1993 until 1998, lasting 5 seasons and a total of 99 episodes.
The studio's first series, Tiny Toon Adventures, was a success among younger viewers, and attracted a sizable number of adult viewers. The Animaniacs writers and animators, led by senior producer, Tom Ruegger, took what they learned from the success of Tiny Toons to create new animated characters that were cast in the mold of Looney Tunes shorts from Chuck Jones, and Tex Avery.
The comedy of Animaniacs was a broad mix of old-fashioned wit, slapstick, pop culture references, cartoon violence, and wackiness. The show featured a number of comedic educational segments that covered subjects such as history, mathematics, geography, astronomy science, and social studies, often in musical form. Animaniacs itself was a variety show, with short skits featuring a large cast of characters. While the show had no set format, episode structure varied to suit the needs of the segments included; the majority of episodes were composed of three short mini-episodes, each starring a different set of characters, and bridging segments, especially particularly Pinky and the Brain, The Goodfeathers and Slappy Squirrel, and not just the Warner Trio.
Animaniacs aired on Fox Kids from 1993 to 1995 and on Kids' WB! from the years 1995 to 2000, with the show eventually being broadcasted on their sister networks, FOX and The WB respectively. It was also aired on five other channels: Nickelodeon, Nicktoons Network, Cartoon Network, Boomerang (internationally), and the Hub Network (now known as Discovery Family). Currently, the series is available in its entirety on DVD, various digital outlets, and Hulu. Throughout it's original run, Animaniacs has received several promotional products such as video games, merch products, a theatrical short, special tie-ins and a feature length direct-to-video movie.
In 2018, a revival of the series was announced and debuted on Hulu in 2020, with some of the cast from the original show reprising their roles.
Animation Studios
Background
The Warner siblings and the other characters live in Burbank, California. However, characters from the series have episodes in various places and periods of time. The Animaniacs characters interact with famous persons and creators of the past and present as well as mythological characters and characters from modern television. Andrea Romano, the voice director and caster for Animaniacs, said that the Warner siblings functioned to "tie the show together," by appearing in and introducing other characters' segments. Each Animaniacs episode usually consisted of two or three cartoon shorts. Animaniacs segments ranged in time, from bridging segments less than a minute long to episodes spanning the entire show length; writer Peter Hastings said that the varying episode lengths gave the show a "sketch comedy" atmosphere. They currently reside, having been locked up, in the Warner Bros. trademark water tower.
Main Characters
Danske Stemmer
Episodes
Home Media
For more information, see the Home Media Releases page
Currently, the series is available in its entirety on DVD, digital outlets, and Hulu.
Controversy

The show has been noted for various examples of adult humor and innuendos that make it seem controversial for the show to have been targeted at children.
Trivia
References in other media
See here.
In Italy, the series along with Tiny Toon Adventures, Pinky and The Brain and Freakazoid! re-ran on Mediaset and Rai.
In Japan, along with Tiny Toon Adventures and Pinky and The Brain (except for Freakazoid! that was re-ran on TV Asahi) re-ran on TV Tokyo.
In Mexico, it was broadcast on Canal 5 of Televisa, along with Tiny Toons Adventures and Pinky and The Brain, and later in 2020 broadcast by Azteca 7.
Gallery
Animaniacs Wiki has a collection of images related to Animaniacs.