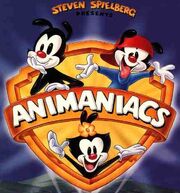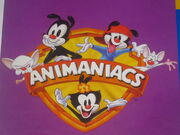 Animaniacs is an American animated sitcom and comedy series produced by Amblin Entertainment and Warner Bros. Animation. The show was the second animated series produced by the collaboration of Warner Bros. Animation and Steven Spielberg during the Animation Renaissance of the early 1990s. The show aired from 1993 to 1998 in its original run and will start airing its revival run in 2020, with two more seasons of the show picked up.
The studio's first series, Tiny Toon Adventures, was a success among younger viewers, and attracted a sizable number of adult viewers. The Animaniacs writers and animators, led by senior producer, Tom Ruegger, took what they learned from the success of Tiny Toons to create new animated characters that were cast in the mold of Looney Tunes shorts from Chuck Jones, and Tex Avery.
The comedy of Animaniacs was a broad mix of old-fashioned wit, slapstick, pop culture references, cartoon violence, and wackiness. The show featured a number of comedic educational segments that covered subjects such as history, mathematics, geography, astronomy science, and social studies, often in musical form. Animaniacs itself was a variety show, with short skits featuring a large cast of characters. While the show had no set format, episode structure varied to suit the needs of the segments included; the majority of episodes were composed of three short mini-episodes, each starring a different set of characters, and bridging segments.
Animaniacs aired on Fox Kids from 1993 to 1995 and on Kids' WB! from the years 1995 to 2000, with the show eventually being broadcasted on their sister networks, FOX and The WB respectively. It was also aired on five other channels: Nickelodeon, Nicktoons Network, Cartoon Network, Boomerang, and the HUB Network (now known as Discovery Family).
Background
The Warner siblings and the other characters live in Burbank, California. However, characters from the series have episodes in various places and periods of time. The Animaniacs characters interact with famous persons and creators of the past and present as well as mythological characters and characters from modern television. Andrea Romano, the voice director and caster for Animaniacs, said that the Warner siblings functioned to "tie the show together," by appearing in and introducing other characters' segments. Each Animaniacs episode usually consisted of two or three cartoon shorts. Animaniacs segments ranged in time, from bridging segments less than a minute long to episodes spanning the entire show length; writer Peter Hastings said that the varying episode lengths gave the show a "sketch comedy" atmosphere. They currently reside, having been locked up, in the Warner Bros. trademark water tower.
Episodes
The series aired on September 13, 1993 and ended on November 14, 1998. Animaniacs had a total of 99 episodes and a direct-to-video-movie, Wakko's Wish. There even was a "crossover" with their spin-off show Pinky and the Brain, that was a Star Wars parody: Star Warners. To some fans, this was the unofficial 100th episode.
Reboot Plans
In 2017, there has been an announcement that Animaniacs is getting a reboot, expected to be led by Steven Spielberg and will be made by Amblin TV and Warner Bros. Entertainment as before. Part of the contributing factor is due to the show's new popularity surge on Netflix. Netflix removed the title on October 1, 2017 to make room for other titles.
In 2018, it was announced from Amblin that Animaniacs will be renewed for two more seasons that will air on Hulu. If the show has good viewership and ratings, more will possibly be picked up later. In the meantime, Warner Bros. has given streaming rights to Hulu for Tiny Toon Adventures (The Plucky Duck Show included), Animaniacs, Pinky and the Brain, and Pinky, Elmyra and the Brain, which were, at a point, all available for streaming on Netflix until 2017. Freakazoid!, another spin-off of Animaniacs, however, was not included in the deal.
As of early June 2018, the pilot episode's script was completed and as of July 12th, 2018, storyboarding and production has officially started. On August 9th, 2018 during an interview with Rob Paulsen, he stated that there will be 26 new half-hour episodes for the show and the new season would most likely air in the Fall of 2020. It is unknown if the original voice actors will return or if there will be new ones casted.
Trivia
In pre-production, the Warners where meant to be three duck brothers, but Warner Bros. thought there where too many duck characters on television (Looney Tunes' Daffy, Tiny Toons' Plucky, Mickey's Donald, the many other ducks provided by Disney).
Even though the Warners have dog-like qualities, what they are is unknown.
The names of the Warners were originally Yakky, Wakky, and little sister Dot along with a fourth sibling named Smakky. Yakky became Yakko, Wakky and Smakky were melded to become Wakko and Dot's name was kept.
To poke fun of the original four Warner siblings, there were three ideas of a

fourth sibling to Yakko, Wakko, and Dot. The names are Sakko, Smakko, and Lakko. Sakko was featured in the Animaniacs comic. Lakko was purposed for an Animaniacs movie. Smakko was an obvious nod to his original counterpart Smakky. However, both Lakko and Smakko have stopped making appearances.
Bob Daley, who ran the studio in 1992, saw a balloon of Yakko on the WB water tower, he ordered it to be removed becase he thought it was Mickey Mouse. The balloon was on the tower for less than 12 hours then popped shortly after it was removed. Writer Paul Rugg took a picture to prove that it had happened.
So the viewers wouldn't be confused with Mickey Mouse, Bob Daley had Tom Rügger add side whiskers to Yakko and Wakko.
Dot's head was shaped like the famous Warner Bros. shield.
In pre-production, Dot was originally supposed to be just the Warners' friend but was changed to their little sister.
Polls
<poll> Who is your favorite one? Yakko Wakko Dot I don't know </poll>
Gallery
Community content is available under
CC-BY-SA
unless otherwise noted.