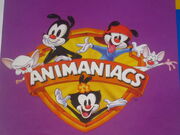 For information on the revival, see Animaniacs (2020 TV series)
Animaniacs is an American animated sitcom and comedy series produced by Amblin Entertainment and Warner Bros. Animation. The show was the second animated series produced by the collaboration of Warner Bros. Animation and Steven Spielberg during the Animation Renaissance of the early 1990s. The show aired from 1993 to 1998 in its original run and will start airing its revival run in 2020, with two more seasons of the show picked up.
The studio's first series, Tiny Toon Adventures, was a success among younger viewers, and attracted a sizable number of adult viewers. The Animaniacs writers and animators, led by senior producer, Tom Ruegger, took what they learned from the success of Tiny Toons to create new animated characters that were cast in the mold of Looney Tunes shorts from Chuck Jones, and Tex Avery.
The comedy of Animaniacs was a broad mix of old-fashioned wit, slapstick, pop culture references, cartoon violence, and wackiness. The show featured a number of comedic educational segments that covered subjects such as history, mathematics, geography, astronomy science, and social studies, often in musical form. Animaniacs itself was a variety show, with short skits featuring a large cast of characters. While the show had no set format, episode structure varied to suit the needs of the segments included; the majority of episodes were composed of three short mini-episodes, each starring a different set of characters, and bridging segments, especially particularly Pinky and the Brain, The Goodfeathers and Slappy Squirrel, and not just the Warner Trio.
Animaniacs aired on Fox Kids from 1993 to 1995 and on Kids' WB! from the years 1995 to 2000, with the show eventually being broadcasted on their sister networks, FOX and The WB respectively. It was also aired on five other channels: Nickelodeon, Nicktoons Network, Cartoon Network, Boomerang, and the HUB Network (now known as Discovery Family). Animaniacs Aired reruns From September 1, 2006 to June 11, 2008.
Animaniacs returned briefly from July 4, 2010 to July 5, 2010
Animation Studios
Background
The Warner siblings and the other characters live in Burbank, California. However, characters from the series have episodes in various places and periods of time. The Animaniacs characters interact with famous persons and creators of the past and present as well as mythological characters and characters from modern television. Andrea Romano, the voice director and caster for Animaniacs, said that the Warner siblings functioned to "tie the show together," by appearing in and introducing other characters' segments. Each Animaniacs episode usually consisted of two or three cartoon shorts. Animaniacs segments ranged in time, from bridging segments less than a minute long to episodes spanning the entire show length; writer Peter Hastings said that the varying episode lengths gave the show a "sketch comedy" atmosphere. They currently reside, having been locked up, in the Warner Bros. trademark water tower.
Main Characters
Episodes
Reboot / Revival Plans
In 2017, there has been an announcement that Animaniacs is getting a reboot, expected to be led by Steven Spielberg and will be made by Amblin TV and Warner Bros. Entertainment as before. Part of the contributing factor is due to the show's new popularity surge on Netflix. Netflix removed the title on October 1, 2017 to make room for other titles.
In 2018, it was announced from Amblin that Animaniacs will be renewed for two more seasons that will air on Hulu. If the show has good viewership and ratings, more will possibly be picked up later. In the meantime, Warner Bros. has given streaming rights to Hulu for Tiny Toon Adventures (The Plucky Duck Show included), Animaniacs, Pinky and the Brain, and Pinky, Elmyra and the Brain, which were, at a point, all available for streaming on Netflix until 2017. Freakazoid!, another spin-off of Animaniacs, however, was not included in the deal.
As of early June 2018, the pilot episode's script was completed and as of July 12th, 2018, storyboarding and production has officially started. On August 9th, 2018 during an interview with Rob Paulsen, he stated that there will be 26 new half-hour episodes for the show and the new season would most likely air in the Fall of 2020. It is unknown if the original voice actors will return or if there will be new ones cast.
In the 157th episode of "Animanicast" on August 18th, 2019; there were new details revealed on how the process is potentially coming along. According to a summed up version, they are planning for a Summer 2020 release opposed to Fall from before, Randy Rogel is returning to write(most likely songs) for the show, Steve and Julie Bernstein are returning to compose, two new song writers have been hired who have tweeted their involvement, no mention of Slappy Squirrel or Goodfeathers segments being included yet, some new "Good Idea, Bad Idea"-like segments, the original voice actors possibly being involved due to strong hints from Paulsen and LaMarche(but still unconfirmed due to NDA), and an Instagram post from Carlos Alazraqui with him in a recording studio with Paulsen, Jess Harnell and Tress Macneille that may indicate him being involved in the reboot as well.
On October 8th, 2019, in Paulsen's book "Voice Lessons", it is confirmed that him, Harnell, Macneille and LaMarche have been working on the show and will return to provide voices for it, including for Yakko, Wakko, Dot, Pinky and the Brain.
On January 25th, 2020, the "Animanicast" Twitter account tweeted that the reboot had its first scoring session with Steve Bernstein composing, as well as the animation style of the new show being revealed.
It seems there will be some kind of Goodfeathers presence as Rob Paulsen mentioned that Maurice LaMarche will reprise his role as Squit in July 2020. They will presumably make cameos.
Pinky and the Brain are so far the only other original series segments besides the Warners confirmed to be appearing, while Squit (no word on the other Goodfeathers yet) will seemingly be making a cameo. The show will premiere on November 20th, 2020. It was rumored Freakazoid would be cameoing in the reboot but later revealed that he will be appearing on another WBA show.
Trivia
References in other media
See here.
In Italy, the series along with Tiny Toon Adventures, Pinky and the Brain and Freakazoid! re-ran on Mediaset and Rai.
In Japan, along with Tiny Toon Adventures and Pinky and the Brain (except for Freakazoid! that was re-ran on TV Asahi) re-ran on TV Tokyo.
Gallery
Animaniacs Wiki has a collection of images related to Animaniacs.
Community content is available under
CC-BY-SA
unless otherwise noted.