For information on the original show, see Animaniacs
"They are self-aware that they had been locked-down for 25 years"- Rob Paulsen
The 2020 revival of Animaniacs is an upcoming animated slapstick comedy series for Hulu.
Synopsis
The Warner siblings, Yakko and Wakko, and the Warner sister Dot, have a great time wreaking havoc and mayhem in the lives of everyone they meet. After returning to their beloved home, the Warner Bros. Water Tower, the Animaniacs waste no time in causing chaos and comic confusion as they run loose through the studio and beyond, turning the world into their personal playground. Joining Yakko, Wakko and Dot, fan-favorite characters Pinky and the Brain will also return to continue their quest for world domination in each of the 13 episodes.[2]
Cast (Main and supporting characters)
Confirmed Cast and Characters So Far
Crew
Crew-members who worked on the original show are bolded in desktop mode.
Showrunner
Executive Producers
Sam Register
Darryl Frank
Co-Executive Producer
Production Managers
Leigh Culbertson (Senior APM)
Ryan Ramsey (Assistant Production Manager)
Storyboard Arists
Kyle A. Carozza
Tony Craig
Karl Hadrika
Brett Varon (Also Director)
Zach Smith
Meg Syverud
Katie Rice (Also a Director)
Gene Goldstein
Ernie Ochoa
Nick Sumida
Lisa Vandenberg
Wolf-Rüdiger Bloss
Brock Gallagher
Andrew Scherman[3]
Jenny Kang[4]
Nicolette Wood[5]
Matthew Yang[6]
Writers
Roddy Hart (also a songwriter)
Tommy Reilly (also a songwriter)
Greg White
Jordan VanDina
Andrew Barbot
Matthew Yang
Directors
Katie Rice
Brett Varon
Scott O'Brien[7] (also animation supervisor)
Prop Designer
Character Designers
Genevieve Tsai[8] (Main character redesigner and supervising character designer)
Ernesto Ochoa[9]
Shaun Bryant[10]
BG Artists
Freelance Animators
Lorenzo Estrada[13]
June Kind[14]
Ashley McGivern[15]
Erica Estrada[16]
Miscellaneous crew
Ryan Burkhand (animation editor)
Confirmed Crew-Members With Unspecified Job
Tony Cervone (Presumably storyboards, directing and producing)
Music
Steven Bernstein
Julie Bernstein
Roddy Hart (songs)
Tommy Reilly (songs)
Development
Early Events
In 2017, there was an announcement that Animaniacs is getting a reboot expected to be led by Steven Spielberg and made by Amblin TV and Warner Bros. Entertainment, as before.[17] A contributing factor is due to the show experiencing a popularity surge on Netflix. On October 1st, 2017, Netflix removed the original show to make room for other titles (it is commonly theorized they removed the show due to losing the bidding-war for reboot rights to Hulu) . In addition, Rob Paulsen and Randy Rogel's successful Animaniacs Live! concerts were also instrumental in reviving the series as it helped keep the show popular.
Announcement
In 2018, Amblin announced that Animaniacs was renewed for two more seasons which will air on Hulu.[18] If the show has good viewership ratings, more may be picked up later. In the meantime, Warner Bros. has given streaming rights to Hulu for Tiny Toon Adventures (The Plucky Duck Show included), Animaniacs, Pinky and the Brain, and Pinky, Elmyra and the Brain, all of which were available for streaming on Netflix in different territories at some point until 2017. However, Freakazoid!, another Spielberg/WB cartoon, was not included in the deal.
Production
As of early June 2018, [19] the pilot episode's script was completed and as of July 12th, 2018, [20] storyboarding and production has officially started. On August 9th, 2018, an interview with Rob Paulsen revealed that there will be 26 new half-hour episodes of the show, and the new season would most likely air in the Fall of 2020. [21] At the time, it was stated that it was unknown whether the original voice actors would return or their roles would be recast.
In the 157th episode of the fan podcast "Animanicast" on August 18th, 2019; new details were revealed on how the process was coming along.[22] According to a summed-up version,[23] it's planned that the reboot will be released in September 14, 2020 as opposed to the Fall, Randy Rogel has returned to write (most likely songs) for the show, Steve and Julie Bernstein have returned to compose, and two new songwriters have been hired and have tweeted their involvement. There has been no mention of Slappy Squirrel or Goodfeathers segments being included yet, but there are some new "Good Idea, Bad Idea"-like segments, the original voice actors possibly being involved due to strong hints from Paulsen and LaMarche (but still unconfirmed at the time due to NDA), and an Instagram post from Carlos Alazraqui with him in a recording studio with Paulsen, Jess Harnell and Tress MacNeille that may indicate him being involved in the reboot as well.
On October 8th, 2019, in Paulsen's book "Voice Lessons", [24] it was confirmed that he, Harnell, MacNeille and LaMarche were working on the show and returned to provide voices for it, including for Yakko, Wakko, Dot, Pinky and the Brain. On January 25, 2020, Steve Bernstein returned to conduction with the show's first scoring session, with a leaked image of the new Animaniacs. The show is mostly scored at the same Eastwood Soundstage as the original.
In March 2020, several crew members behind the show confirmed on Twitter that they were now working on the show from home due to the ongoing COVID-19 Pandemic shutting down the studio. [25] The show was also menitoned along with numerous other animated series that are still continuing production amidst the virus in a Deadline article. [26]
Likewise on May 2nd, 2020, Rob Paulsen confirmed on his Instagram Live stream that the cast is recording some lines from their homes. He also reaffirmed the Fall 2020 release window. It's currently unknown if scoring is being done remotely as well.
Closer to Release
On June 11, 2020, Rob Paulsen said in an Ask Fandom livestream that the estimated release window as of now is September-October, but no exact date due to COVID. He also confirmed the show is a revival and that the Warners have been locked away in the tower since the 90s ("They are self-aware that they had been locked-down for 25 years"). [27] [28]
In an interview with Animation Magazine, Rob Paulsen confirmed that as of July 2020 the show is now in post-production. He also confirmed that Squit and Dr. Scratchansniff will be returning. New ancillary characters will also be introduced.[29]
On July 19th, 2020, more reboot news dropped courtesy of Animanicast's sources. [30]
The following was revealed:
Theme song is the same as the original with modified lyrics.
First season is decent with ups and downs with a "spectacular" second season.
Pilot episode is stellar.
The Goodfeathers will seemingly have cameos, so far only Squit is confirmed to be voiced.
Wellesley Wild is working to honor the original show to satisfy old and new audiences with modern stuff as well as to make his children happy.
Slappy, Skippy, Hello Nurse, Minerva Mink, Buttons, Mindy, Rita, and Runt will not appear.
Spielberg's "clean-up" crew had a different role than thought, he was busy for West Side Story for a while before returning with a set of notes. The issue here wasn't with quality but rather time. Additional support was hired to help out.
Thaddeus Plotz will retire and not be present as a new female Latina CEO will take over the studio. [31]
On August 6, Maurice LaMarche tweeted that information on the reboot will be posted onto Hulu's Twitter page the following day. New information was indeed announced, including the release date of November 20th, 2020.
On September 6, a Animaniacs panel was held at Dragon Con. While no footage of the reboot was shown, the cast did drop a few tibits about the reboot.
The Animanicast did confirm that footage for the reboot will be shown at New York Comic Con in October.
On September 9, a panel for Animaniacs was officially announced for New York Comic Con by Hulu. The logo for the reboot was also revealed by Hulu.
On September 13th, the anniversary of the first episode of the original series, a behind the scenes video was posted to Hulu's social media accounts and Warner Bros. Kids' YouTube channel previewing footage of the new intro, some animatics, lines and a script.
Assorted Rumors
Although he isn't writing for the show, there is speculation that Paul Rugg will be guest-starring as either Mr. Director or Freakazoid (most-likely the latter). On December 11th, 2019, he posted to Instagram that he was on his way to the Warner Bros. lot to record some dialogue for a character he never thought he'd voice again. He proceeded to do some "wooshing"-type noises as a vocal warmup very similar to one of Freakazoid's noises. [32] Later on, it was revealed that Freakazoid won't be on Animaniacs, but rather a different show. [33]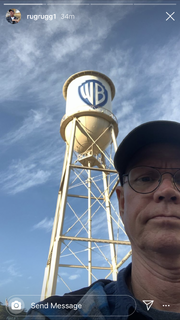 Notes/Trivia
This will be the first native HD production in the Animaniacs franchise and the first entry to be fully widescreen. Prior to the reboot, several episodes of the original show were widescreen such as I'm Mad and Variety Speak.
Yakko and Wakko have had a slight redesign: they now have little tufts of hair on top of their heads similar to Pinky. It might have been a later decision to add these small design tweaks as the teaser poster lacks these.
In pre-production Amazon, Netflix, Hulu and Apple were in a bidding-war for streaming rights to the reboot. Ultimately, Hulu won. [34]
Due to the lack of Hulu in other countries, it's currently unknown if the revival will air internationally on other channels or streaming services.
Maurice LaMarche has teased that Brain has become a little more bitter having not taken over the world after all these years since the original shows ended. The time-skip of course will be acknowledged (go to around 14:23-ish).[35]
Most of the original voice cast has been confirmed to return including Rob Paulsen, Jess Harnell, Tress MacNeille, Maurice LaMarche and Frank Welker. It is also possible Jeff Bennett may also be returning as he was present in a photo confirming the cast's return.

Frank Welker confirmed at a convention that he'll be reprising his role as Ralph T. Guard. It's currently unknown if he will also reprise his other roles such as Chicken Boo and Thaddeus Plotz (due to the presence of a new female CEO character).

Paul Rugg, who wrote for the original series, was originally approached to return to write for the reboot but declined as he felt he already fulfilled his duties for writing for the original show and was more open to new talent writing for the reboot. As mentioned above in the "Assorted Rumors" tab however, there is speculation that he will be guest-voicing.
As of now, there are no Slappy Squirrel segments.
As of now, there are no Goodfeathers segments.[36] Despite this, it appears the Goodfeathers will have some kind of presence as Squit will return according to Rob Paulsen. They will presumably make cameos.
Kyle A. Carrozza, creator of Cartoon Network's Mighty Magiswords whom also storyboarded for the series, and Scott O'Brien, animation director, are technically some of the few original Animaniacs artists to return for the reboot. Kyle initially did clean-ups and inbetweens for the episode "Episode 92: It/Dot - The Macadamia Nut/Bully for Skippy" when he visited Startoons, the studio that animated the episode. Scott did freelance for the series, but his specified role or episode he was involved in has yet to be revealed.[37]
Many of the musicians from the original show are returning to score, including Bryan Pezzone.
Jessica Borutski was slated to be involved with the show initially as an artist but the contract fell-through.
A leak from April 2019 was recently discovered on the YouTube Page of an animator who worked for Snipple Animation Studios, one of the animation studios on the show (picture appears around 7:18 in the video). [38] The picture is also in the gallery below. It's unknown if they also animated the shot of the Warners that was leaked in January 2020.
Acording to Rob Paulsen in Hey Fandom!, The new tone of the revival will keep an adult tone that the original show had. [39]
According to Jess Harnell, Wakko calls a "prominent political leader" a psychopath in the first episode. (29:13 in the video) [40]
Minerva Mink will not be in the reboot.
According to Gabe Swarr, the updated design aspects of the Warners were not only streamlined but were influenced from Tokyo Movie Shinsha Co., Ltd.'s depiction of the characters in the original series.[41]
Gallery
Early Promotional Material
These are earlier promotional materials.
Leaks
Leaks related to the show, both of series screenshots and promotional materials.
More Recent Promotional Material
Promotional material made closer to (and during) the release of the show such as posters and prints.
Screenshots From the Show
A selection of screenshots from the series.
References
Community content is available under
CC-BY-SA
unless otherwise noted.