For information on the original 1993-1998 show, see Animaniacs

For other uses of the term Animaniacs; click here
Animaniacs is an animated slapstick comedy series for Hulu, produced by Amblin Entertainment and Warner Bros. Animation. It is a revival of the 1990s television series of the same name. The series sees the return of Yakko, Wakko and Dot as they wreak havoc in Warner Bros. Studios and more places, and Pinky and the Brain as they try to take over the world.
Plans for a revival began as early as 2017, where Amblin and Warner Bros. were interested in reviving multiple old properties. The reboot was officially announced in 2018 for a two-season run on Hulu along with said service acquiring the streaming rights for the original Animaniacs, Tiny Toon Adventures, Pinky and the Brain, and Pinky, Elmyra and the Brain.
The first season was released on November 20, 2020, with the second season releasing on November 5, 2021[1]. A third season consisting of 10 episodes [2] was announced on February 25th, 2021, with a currently unknown release-window. [3]
Synopsis
They're back! The Warner brothers, Yakko and Wakko, and the Warner sister, Dot-three inseparable, irascible siblings-have a great time wreaking havoc and mayhem in the lives of everyone they meet. After returning to their beloved home, the Warner Bros. Water Tower, the siblings waste no time in causing chaos and comic confusion as they run loose through the studio and beyond, turning the world into their personal playground. Joining Yakko, Wakko and Dot, fan-favorite characters Pinky and The Brain also return to continue their quest for world domination.[4][5]
Premise
As with the original 1993 series, Animaniacs focuses on the adventures of the Warner siblings, Yakko, Wakko, and Dot as they engage in further adventures after being absent from television for 22 years, bringing with them the normal craziness and mayhem they create while adapting to the changes and life of the 21st century. Like the original series, most episodes are consisted of three shorts,: usually the first and third shorts following the adventures of Yakko, Wakko and Dot, with the second featuring Pinky and the Brain—two lab mice, one of whom is intelligent and still wants to take over the world, while the other is dim-witted and clumsy, often messing up his friend's plans. Sometimes, there may be four shorts, and one short may, instead of being another Warner segment, be a different segment with brand-new characters and a different art direction, such as Starbox and Cindy, and The Incredible Gnome in People's Mouths.
Broadcast
Home Media
For more information, see the Home Media Releases page
A DVD release of the show's first season was released on June 1, 2021. [7] During the week of April 5, 2021; the first season was made available for purchase on digital outlets such as Amazon Prime Video, iTunes, and Google Play.
The DVD for the show's second season will release on June 21, 2022.[8]
Album Releases
Segments
Additionally, Episode 11 featured a one-shot cartoon entitled "Things That Go Bump in the Night".
Cast (Main and supporting characters)
Additional Voices
Episodes
Animation Studios
Most of the following studios were confirmed to be animating the show at the Ottawa Animation Festival in 2020.
Introduced in Season 1
Introduced in Season 2
Crew
Crew-members who worked on the original show are bolded in desktop mode.
Showrunner
Executive Producers
Co-Executive Producer
Production Managers
Leigh Culbertson (Senior APM)
Ryan Ramsey (Assistant Production Manager)
Storyboard Artists
Kyle A. Carozza
Tony Craig
Karl Hadrika
Brett Varon (Also Director)
Zach Smith
Meg Syverud
Katie Rice (Also a Director)
Gene Goldstein
Ernie Ochoa
Nick Sumida
Lisa Vandenberg
Zoë Moss
Brock Gallagher
Kevin Cannarile
Andrew Scherman[10]
Jenny Kang[11]
Nicolette Wood[12]
Matthew Yang[13]
Angelica Russell
Writers
Randy Rogel (also a songwriter)
Roddy Hart (also a songwriter)
Tommy Reilly (also a songwriter)
Greg White
Jordan VanDina
Andrew Barbot
Matthew Yang
Jacquie Menville
Directors
Brett Varon
Scott O'Brien[14] (also animation supervisor)
Adriel Garcia
Prop Designer
Character Designers
BG Artists
Freelance Animators
Miscellaneous crew
Music
Roddy Hart (songs)
Tommy Reilly (songs)
Andrew Barbot
Jess Lacher
Clyde Lawrence
Jordan Cohen
Kathleen Chen
Brian Polk
Wellesley Wild
Development
2017
Plans for an Animaniacs reboot surged as early as 2017, where news reporters learned that an Animaniacs reboot entered early development stages, and was expected to be led by Steven Spielberg and made by Amblin TV and Warner Bros. Entertainment, as before.[25] A contributing factor was due to the show experiencing a popularity surge on Netflix. On October 1st, 2017, Netflix removed the original show to make room for other titles (it is commonly theorized they removed the show due to losing the bidding-war for reboot streaming rights to Hulu) . In addition, Rob Paulsen and Randy Rogel's successful Animaniacs Live! concerts were also instrumental in reviving the series as it helped keep the show popular.
2018
Announcement
In 2018, Amblin announced that Animaniacs was subject to a revival, with the show being rebooted for two new seasons which would air on Hulu, alongside the streaming service acquiring the streaming rights for the original Animaniacs series, Pinky and The Brain, Pinky, Elmyra and The Brain and Tiny Toon Adventures, with a release scheduled for 2020.[26]
Production
As of early June 2018, [27] the pilot episode's script was completed and as of July 12, 2018, [28] storyboarding and production has officially started. On August 9, 2018, an interview with Rob Paulsen revealed that there would be 26 new half-hour episodes of the show, and the new season would most likely air in Fall 2020. [29] At the time, it was stated that it was unknown whether the original voice actors would return or their roles would be recast.
2019
More News
In the 157th episode of the fan podcast "Animanicast" on August 18, 2019; new details were revealed on how the process was coming along.[30] According to a summed-up version,[31] it was planned that the reboot will be released in September 14, 2020 , Randy Rogel has returned to write for the show, Steve and Julie Bernstein have returned to compose, and two new songwriters have been hired and have tweeted their involvement. There has been no mention of Slappy Squirrel or Goodfeathers segments being included yet, but there are some new "Good Idea, Bad Idea"-like segments, the original voice actors possibly being involved due to strong hints from Paulsen and LaMarche (but still unconfirmed at the time due to NDA), and an Instagram post from Carlos Alazraqui with him in a recording studio with Paulsen, Jess Harnell and Tress MacNeille that may indicate him being involved in the reboot as well.
On October 8, 2019, in Paulsen's book "Voice Lessons", [32] it was confirmed that he, Harnell, MacNeille and LaMarche were working on the show and returned to provide voices for it, including for Yakko, Wakko, Dot, Pinky and the Brain.
On January 25, 2020, Steve Bernstein returned to conduction with the show's first scoring session, with a leaked image of the new Animaniacs. The show is mostly scored at the same Eastwood Soundstage as the original.
2020
Production Continues
In March 2020, several crew members behind the show confirmed on Twitter that they were now working on the show at home due to the ongoing COVID-19 pandemic shutting down the studio. [33] The show was also mentioned along with numerous other animated series that are still continuing production amidst the virus in a Deadline article. [34]
Likewise on May 2, 2020, Rob Paulsen confirmed on his Instagram Live stream that the cast is recording some lines from their houses. He also reaffirmed the Fall 2020 release window. It's currently unknown if scoring is being done remotely as well.
On June 11, 2020, Rob Paulsen said in an Ask Fandom livestream that the estimated release window as of now is September-October, but no exact date due to COVID-19. He also confirmed the show is a revival and that the Warners have been locked away in the tower since the '90s ("They are self-aware that they had been locked-down for 25 years").
In an interview with Animation Magazine, Rob Paulsen confirmed that as of July 2020 the show is now in post-production. He also confirmed that Squit and Dr. Scratchansniff would be returning. New ancillary characters would also be introduced.[35]
On July 19, 2020, more reboot news dropped courtesy of Animanicast's sources. [36]
The following was revealed:
Theme song is the same as the original with modified lyrics.
First season is decent with ups and downs with a "spectacular" second season.
Pilot episode is stellar.
The Goodfeathers would seemingly have cameos, with Squit being confirmed to be voiced.
Wellesley Wild is working to honor the original show to satisfy old and new audiences with modern stuff as well as to make his children happy.
Slappy, Skippy, Hello Nurse, Minerva Mink, Buttons, Mindy, Rita, and Runt will not appear; however, they eventually cameoed in Good Warner Hunting and Hello Nurse was mentioned in two segments.
Spielberg's "clean-up" crew had a different role than thought, he was busy for West Side Story for a while before returning with a set of notes. The issue here wasn't with quality but rather time. Additional support was hired to help out.
Thaddeus Plotz would retire and not be present as a new female Latina CEO would take over the studio. [37]
Closer to Season 1
On August 6, Maurice LaMarche tweeted that information on the reboot would be posted onto Hulu's Twitter page the following day. A press release from Hulu on August 7 revealed the visuals of the Warners and Pinky and The Brain, with a release date of November 20, 2020.
On September 6, a Animaniacs panel was held at Dragon Con. While no footage of the reboot was shown, the cast did drop a few tibits about the reboot.
The Animanicast did confirm that footage for the reboot would be shown at New York Comic Con in October.
On September 9, a panel for Animaniacs was officially announced for New York Comic Con by Hulu. The logo for the reboot was also revealed by Hulu.
On September 13, the anniversary of the first episode of the original series, a behind the scenes video was posted to Hulu's social media accounts and WB Kids' YouTube channel previewing footage of the new intro, some animatics, lines and a script.
On October 2, new information was revealed at the Ottawa Animation Festival in Canada. This included numerous different designs for the Warners, episode structures, background paintings, and teases on what to expect. [38] The official Twitter and Instagram pages for the show went live on October 9th. Two days later, the NYCC panel was streamed along with a preview clip spoofing Jurassic Park. [39] The trailer went live on October 21 (it can be viewed in the video gallery below), along with a press release containing episode descriptions. [40]
On November 19, 2020, Hulu hosted a special watch party on the Animaniacs Twitter account allowing people to view the first episode for free for three hours, for users exclusively in the United States.
2021
On February 25, 2021, the series was renewed for a third season.[41]
On June 8, 2021, a Teletoon section in a Corus Entertainment press-release mentioned Animaniacs would return to the channel with new episodes in the fall; putting season 2's release within that time-frame. [42]
On August 6, 2021, the second season was announced for a November 5, 2021 release date. A press-release from SyFy mentioned that most of season 1's cast will return along with "some rejected Animaniacs characters that were left on the cutting room floor." [43]
On October 20, 2021, the Animaniacs official Twitter account confirmed that the Season 2 trailer would be released on October 21, 2021.
On November 1, 2021, the Animaniacs social media announced another Twitter livestream for the premiere of Ralph World/My Super Sour Sixteen/How To: Brain Takes Over The World on November 4, 2021, and was available to watch after the premiere for three hours.[44]
Awards and Nominations
Year
Association
Award category
Nominee
Result
2021
Producers Guild of America Awards
Producers Guild of America Award for Outstanding Children's Program
N/A
Nominated
48th Daytime Emmy Awards
Outstanding Performer in an Animated Program
Tress MacNeille as Dot Warner
Nominated
Outstanding Voice Directing for a Animated Series
Sara Jane Sherman
Won
Outstanding Music Direction and Composition for a Preschool, Children's, or Animated Program
Julie Bernstein and Steve Bernstein
Nominated
Outstanding Original Song for a Preschool, Children's, or Animated Program
"Suffragette City"
Won
Outstanding Editing for a Daytime Animated Program
N/A
Won
Outstanding Individual Achievement in Animation
Karl Hadrika (Storyboard Artist)
Won
International Releases
General Notes
In Latin America, the series streams on HBO Max in Español, Brazilian Portuguese, and English. In Canada, the show airs on Teletoon. In Australia, the series streams on Stan.
Español
Cast
General Notes
From the original series' Spanish cast, only Yakko, Wakko and Pinky's voice actors return.
References to Hulu are not changed.
Venezuela used to pay little attention to songs, so actors were hired even if they could not sing.

For this series, auto-tune was occasionally used, specially for Yakko; this is most noticeable in A-Zit.
Some characters such as Brain for instance; have a singing double.
Brazilian Portuguese
Cast
General Notes
Assorted Rumors
Current
Past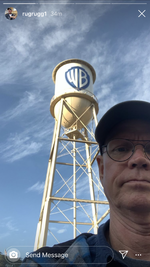 Although he isn't writing for the show, there was speculation that Paul Rugg will be guest-starring as either Mr. Director or Freakazoid. On December 11th, 2019, he posted to Instagram that he was on his way to the Warner Bros. lot to record some dialogue for a character he never thought he'd voice again. He proceeded to do some "wooshing"-type noises as a vocal warm-up very similar to one of Freakazoid's noises. [45] Later on, it was revealed that Freakazoid won't be on Animaniacs, but rather a different show. [46] This was later revealed to be the crossover episode with the series Teen Titans Go! entitled "Huggbees".[47] However, Freakazoid was initially going to make an appearance, but he could not due to scheduling conflicts with Rugg.[48]

However, on November 30, 2021, Rugg tweeted a photo of him in a recording booth on Twitter, saying "You know the show's namey!", implying that he might be in the third season. [49]
Notes/Trivia
Animaniacs (2020) is the first fully-HD production in the Animaniacs franchise and the first entry to be fully widescreen. Prior to the reboot, several episodes of the original show were completed in widescreen such as "I'm Mad" and "Variety Speak".
The trailers for Season 1 and Season 2 have a time gap of over one year, both releasing on October 22, 2020 and 2021, respectively.
On October 21, 2021, the show's feature art on Hulu was changed to feature the key art from Season 2. Alongside it, the accent color for the interface was changed from blue to orange.

On October 21, 2021, the show's Hulu byline was shortened from "A Hulu Original" to simply the Hulu logo.

Yakko, Wakko and Dot receive slight redesigns: Yakko and Wakko now have tufts of hair on top of their heads similar to Pinky, and the amount of petals on Dot's flower were reduced from 5 to 4. Along with those, the skin color for the Warners, Pinky and The Brain were given a warmer color, alongside proportion adjustments. It is assumed that this was a change made later during production as the initial teaser poster lacks the alterations.
In pre-production Amazon, Netflix, Hulu and Apple were in a bidding-war for streaming rights to the reboot. Ultimately, Hulu won. [50] Amazon and Apple would eventually make the show available for purchase on their platforms Prime Video and iTunes in early April, 2021.
Due to the lack of Hulu in other countries, the reboot will air internationally on other channels and/or streaming services.

On 11/12/20 it was confirmed that the show will debut in Canada via Teletoon on the same day as the US release. [51]
In Latin America, the show airs on HBO Max as a Max Original, and is available in various languages. The Hulu Presents logo is replaced by the Max Original logo in the intro; while most Hulu-centric gags remain intact. The "distributed by Hulu" tag in the ending credits also remains, but not the ending Hulu logo animation.
In Australia, the show airs on Stan.

Maurice LaMarche has teased that Brain has become a little more bitter having not taken over the world after all these years since the original shows ended. The time-skip of course will be acknowledged (go to around 14:23-ish).[52]
Paul Rugg, who wrote for the original series, was originally approached to return to write for the reboot but declined as he felt he already fulfilled his duties for writing for the original show and was more open to new talent writing for the reboot. As mentioned above in the "Assorted Rumors" tab however, there is speculation that he will be guest-voicing.
While Slappy, Skippy, the Goodfeathers, Minerva Mink, Buttons, Mindy, Rita, Runt, The Hip Hippos, Chicken Boo, and Katie Ka-Boom do not have their own segments yet, they appear in "Good Warner Hunting". Additionally, Mr. Skullhead appears in the intro in a message board under the name "Mr. Lul Head", The Mime makes a cameo appearance in Gold Meddlers, and Slappy appears on a comic book cover in "Please Submit". Hello Nurse hasn't appeared due to concerns about being outdated; but she was mentioned in two episodes.
Kyle A. Carrozza, creator of Cartoon Network's Mighty Magiswords whom also storyboarded for the series, and Scott O'Brien, animation director, are technically some of the few original Animaniacs artists to return for the reboot. Kyle initially did clean-ups and in-betweens for the episode "Bully for Skippy" when he visited Startoons, the studio that animated the episode. Scott did freelance for the series, coincidentally on the same episode. [53] [54]
Many of the musicians from the original show return to score, including Bryan Pezzone.
While the original series is rated TV–Y (later TV–Y7), this series is rated TV–PG (with occasional sub–ratings).

When Season 2 was released in November 2021, there was an error that gave it a TV-14 rating.

Jessica Borutski was slated to be involved with the show initially as an artist but the contract fell-through.
A screenshot leak was discovered on the YouTube Page of an animator on April 2019 who worked for Snipple Animation Studios, one of the animation studios on the show (picture appears around 7:18 in the video). [55] The picture is also in the gallery below. The shot was later discovered to be test footage identical to a frame from Episode 3.
Confirmed by Rob Paulsen in Hey Fandom!, the revival keeps some adult-oriented humor similar to that of the original show. [56]
According to Jess Harnell, Wakko calls a "prominent political leader" a psychopath in the first episode. (29:13 in the video) [57] This ended up missing from the final episode.
According to Gabe Swarr, the updated design aspects of the Warners were not only streamlined but were influenced from Tokyo Movie Shinsha Co., Ltd.'s depiction of the characters in the original series.[58]
The second season premiered on November 5, 2021. [1]
Unlike the original series and similar to Histeria!, Pinky and the Brain, and Pinky, Elmyra, and the Brain, there are no stingers after the end credits of each episode and cuts straight to the closing logos.
References in other media
See here.
Gallery
Animaniacs Wiki has a collection of images and videos related to Animaniacs (2020 TV series)
External Links
Some Links May Only Be Accessible in Select Countries
References