It's a great big website, but this article's really puny!
This article is a stub.  Please help Animaniacs Wiki by expanding it, adding pictures, and improving existing text.
Silence, Pinky. My work begins!
This article and/or section is currently under construction.  Any help to expand information on pages like these is greatly appreciated by the Animaniacs Wiki.
For more info, see the DC Database
For other uses of the term Animaniacs; click here

Animaniacs is a comic book series based on the TV series of the same name. It was produced by Warner Bros. Family Entertainment and published by DC Comics, and ran for 59 issues between 1995 and 2000 (notably continuing after the original Animaniacs had ended in November 1998).
Issues
Comic 1#:
Global Disorder: Pinky and the Brain
Ice Cream of Genie: The Warners
1492 The True Story: The Warners
Comic 2#:
Ranch Lotta-Doh: The Warners
Win Big: Pinky and the Brain (direct episode adaptation)
Tower Trouble. The Warners
Comic 3#:
Rewriting History: Pinky and the Brain
Coco,Anyone?: The Warners
Guitars and Cadillacs:The Warners
Comic 4#:
Re-Animaniacs: The Warners
Helloooo,Watson:The Warners
Space Case: Pinky and the Brain
Comic 5#:
The Not-So-Model Mother: The Warners
A Wing and a Prayer: The Warners
The Trouble with Trainees: The Warners
Comic 6#:
Egyptian Conniption: The Warners
Pun Fight at the O.K. Corral: The Warners
The Whole Tooth and Nothin but the Tooth: The Warners
Comic 7#:
Total Commitment: The Warners
Mister Director,I Presume: The Warners, Mr. Director
Comic 8#:
Comic 9#: Tarantino-inspired issue
Natural Born Jokers: The Warners (wrap-around based around Natural Born Killers)
Pulped Fractions: The Warners (the brothers crash the filming of a Pulp Fiction-like movie)
Reservoir Mice: Pinky and the Brain (parody of Reservoir Dogs)
Comic 10#:
A Comic Book Is Born: The Warners
The Ice Cream Man Cometh: The Warners
Comic 11#:
Brain for Brain: Pinky and the Brain
Frankly Frankenstein: The Warners
Comic 12#: 1960s-inspired issue
A Blast from Hipsville: The Warners
The Mod Couple: Pinky and the Brain
Comic 13#: Japanese-inspired issue
MangaManiacs: The Warners
The Three Samurai: The Warners
Gigantasaurus Versus the Dot: The Warners
Comic 14#:
A Spy on the Wall: The Warners
Take That: The Warners
Whats the Holdup?
Comic 15#:
Comic 16#:
Wrestlemaniacs: The Warners
The Mean,Green Monster Brain Machine: Pinky and the Brain
Comic 17#:
Beauty or the Beast:Con los hermanos Warner
Minervadrama: Minerva Mink
No Substitute for Laughter: Slappy Squirrel
Comic 18#: France-inspired issue
Dupe Du Jour:
Buena Idea Francesa Idea
French Dressing: Minerva Mink
Slappytime in Paris:Con Slappy
Buena Idea French Idea
La esquina poética francesa de Dot:Con Dot
Comic 19#: X-Files parody
The Y Files: The Warners
Sheep: Warners
Little Green Mice: Pinky and the Cerebro
Comic 20#:
Rebels With :Con los hermanos Warner
East of Burbank: Slappy
Grande: Warners
Comic 21#:
Radio Dazed: The Warners
ER:Emergency Roomies: The Warners
Comic 22#: Employment issue
World Domination-To Go: Pinky and the Brain
Baby Boomer: Katie Ka-Boom
Career Flopportunities: The Warners
Duhhh...Come back here,kidses: The Warners
Comic 23#:
Hello Nurse,Agent of H.U.B.B.A: Hello Nurse
Wakko for President: The Warners
Comic 24#: Brooklyn-inspired issue
Brooklyn Birds: Goodfeathers
Artful Dodgers: Warners
Brooklyn Brain: Pinky and the Brain
Comic 25#:
Silver Jubilee: The Warners
Driving Miss Slappy: Slappy
A Taxing Situation: Minerva Mink
Comic 26#: EC-Inspired Issue
Pancake House of Horror: The Warners
Episode 1#:Bubble Doom: Randy Beaman
A Paw Worth Fighting For: Slappy
Good Things Come in Buckets: Warners
Tickle-Me Evil:Con Buttons and Mindy
Episode 2#:Claw Deal: Randy Beaman
Epilogue :Con los hermanos Warner
Comic 27#:
Plane for Keeps: Slappy
Burbank Place: Warners
Comic 28#:
The Warners Sing Science: The Warners
Brain's Spock: Pinky and the Brain
Natural Chemistry: Minerva Mink
Comic 29#:
The Return of Hello Nurse,Agent of H.U.B.B.A: Hello Nurse
Comic 30#:
Comic 31#:
101 Darnations: Warners
The Usual Boo: Chicken Boo
A Slappy Salute: Slappy
Okay,see,once Randy Beaman laughed so hard that milk came out of his nose
Theme Parks:Buena Idea Mala Idea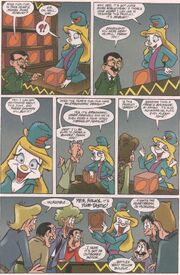 Comic 32#:
Pyjama-Rama: The Warners
Lifestyles of the Old and Cranky: Slappy
Booth Bait: Minerva Mink
Comic 33#:
Long Lost Warner: The Warners
Road Scholars: Slappy
Comic 34#:
Minerxa Warrior Princess: Minerva Mink
The People VS Wakko Warner: The Warners
Hlo...What?...Whaddaya mean the comic books a couple pages short this month?: Slappy
Comic 35#:
Tour Defreak: The Warners, Freakazoid
Move It or Lose It: Slappy
Doctor Boo: Chicken Boo
Comic 36#:
Communication Gap: The Warners
Nature,Parte XIV,Sly Minks: Minerva Mink
Matchmaking Maniacs: The Warners,
Comic 37#:
All my Warners: The Warners
Li-Hippo-Suction: The Hip Hippos
Mr Brains Neighborhood: Pinky and the Brain
Comic 38#:
Swappin Sibs:Con los hermanos Warner
Babyface:Con Botones y Mindy
Cute Only Goes So Far:Con Slappy
Comic 39#: Explosive issue
For Whom Nobel Toils: The Warners
Internal Combustion: Slappy
Control: Katie Ka Boom
Bombshell: Minerva Mink
Comic 40#:
Lost in Spice:Con los hermanos Warner
Talk Therapy:Con Slappy
Traumatic License:Con los hermanos Warner
Comic 41#:
Little Wakko in Snoreburg:Con los hermanos Warner
Dots Spot:Con los hermanos Warner
Hansel and Gretel:Con Randy Beaman
Mother Gooses Goose Is Cooked:Con Slappy
Comic 42#:
(Un)Dressed for Sucess:Con los hermanos Warner
The Lunch Boat:Con Rita y Runt
The Stepford Warners:Con los hermanos Warner
Hooked on Historyonics:Con los hermanos Warner
Comic 43#:
Revenge of the Magi:Con los hermanos Warner
Shoe-In:Con Pinky y Cerebro
The Sound of Coo-sic:Con los palomos emplumados
Comic 44#:
Inquiring Brain: Pinky and the Brain
Fashion Victim: The Warners
Conspiracy Weary: Slappy
Comic 45#:
Warner Twins:Con los hermanos Warner
The Brain Loses His Mind:Con Pinky y Cerebro
Minervas Valentine:Con Minerva Mink
Comic 46#:
Dot the Vampire Slayer:Con los hermanos Warner
Scampoo:Con Pinky y Cerebro
Very Good Things:Con los hermanos Warner
Comic 47#:
Brainita:Con Pinky y Cerebro
Tongue Twisted:Con los hermanos Warner
Boo-peermodel:Con Kikiri Boo
Comic 48#:
Im Not Your Mother,Kid:Con Slappy
Listen to Mother:Con Pinky y Cerebro
If the Arks Arockin:Con los hermanos Warner
Comic 49#:
The Lit-Wit Issue:Con los hermanos Warner
MacBoo:Con Kikiri Boo
Brainwulf:Con Pinky y Cerebro
Pride and Pigeon-ness(aka Coo-less):Con los palomos emplumados
Romeo and Juliet:Con los hermanos Warner
Comic 50#:
Riki-Tiki Terror: Hello Nurse
Comic 51#:
Away with Wurds: The Warners
Crossed Signals: Pinky and the Brain
Monster of the Bride: Katie Ka Boom
Comic 52#:
Baby Bowl:Con Botones y Mindy
Fear and Loathing on Mars:Con los hermanos Warner
I Never Promised You a Kindergarten:Con Pinky y Cerebro
Comic 53#:
Future Shock:Con Pinky y Cerebro
The Contest:Con los hermanos Warner
Coo-La-La:Con los palomos emplumados
The Wolf at the Door:Con los hermanos Warner
Comic 54#:
Minerva and the Seven Dwafs: Minerva Mink
Brain VS Brawn: Pinky and the Brain
Leave It to Skeever: The Warners
Comic 55#:
Theme Park Buttons:Con Botones y Mindy
Waiting for Waiting for Godot:Con los hermanos Warner
Operation:Slumberland:Con Pinky y Cerebro
Comic 56#:
The Britches of Madison County:Con Pinky y Cerebro
This Years Model:Con Slappy
Thanksgiving Boo:Con Kikiri Boo
Things That Go Bonk in the Night:Con los hermanos Warner
Comic 57#:
Bean-Counter Brain:Con Pinky y Cerebro
Once Randy Beaman.he had a creme-filled snack cake once:Con Randy Beaman
Wakkos Untamed Melody:Con los hermanos Warner
Okay,see,um Randy Beaman went to doctor once:Con Randy Beaman
Minks Is Finks:Con Minerva Mink
See,one time Randy Beaman,he got this big part in the school play:Con Randy Beaman
Comic 58#:
From Bad to Nurse:Con Hola Enfermera
Comic 59#:
Far Lap:Con los hermanos Warner
See Also
Animaniacs: A Christmas Special
Animaniacs (Comic) (1995-2000)
Regular Issues
1 •

2

•

3

•

4

•

5

•

6

•

7

•

8

•

9

•

10

•

11

•

12

•

13

•

14

•

15

•

16

•

17

•

18

•

19

•

20

•

21

•

22

•

23

•

24

•

25

• 26 •

27

•

28

•

29

•

30

•

31

•

32

•

33

•

34

•

35

•

36

•

37

•

38

•

39

•

40

•

41

•

42

•

43

•

44

•

45

•

46

•

47

•

48

•

49

•

50

•

51

•

52

•

53

•

54

•

55

•

56

•

57

•

58

•

59
Specials
Animaniacs: A Christmas Special (1994)