General
About Us
We're a community run and maintained by people just like you! Originally founded on October 20, 2007 by Hyperguy152 and maintained by fans for all our visitors; the Animaniacs Wiki is dedicated to creating a comprehensive and informative resource about the Animaniacs franchise -- now on Hulu.
(Check your local listings/availability)
We also have a place for getting to know each other and to talk about Animaniacs in our Discussions. Whether you are here to start editing or to chat with fellow users, you are welcome to sign up for an account! We have a variety of pages, including some that are under-construction, and welcome all to contribute! Make sure to check out the Animaniacs Wiki policies before editing, as well as our article editing guidelines to help you out with how to structure the articles. In addition, you can also find us on Twitter and Instagram.

Read more…

For our Español-equivalent, click here.
History
The Animaniacs Wiki was founded on October 20, 2007 by Hyperguy152. The oldest page on our site is believed to be a template sub-page: Template:Forumheader/Help desk; created by a Default Wiki Bot; while our oldest upload is believed to be Default's Forum new .gif (the initial upload from the Wiki network occurred a year before our Wiki's creation). The site saw a gradual expansion over the next few years. In 2012, the website was adopted by User:TenCents; who lead a project to reorganize the individual short segment cartoons into full episode articles (such as Episode 1: De-Zanitized/The Monkey Song/Nighty-Night Toon). Though small things have changed since then, this structure remains the basis for episode article formats across all Animaniacs-related series. Other admins were appointed as-well, including Rocketmanwikia (now operating under Hamza6529).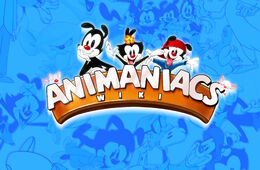 In November 2018, the Wiki was again adopted by CartoonnewsCP (then operating under OrangeMo); and began leading efforts to help patrol the site and update content on the site. These efforts intensified in 2020 with the debut of the Animaniacs reboot, as well as the addition of more admins including IceSeason101, Nickisonlinet, and ConnieBlackwood. Since then, newer templates have been introduced to the site and efforts to document other Animaniacs-related media has risen (especially in regards to episodes from Pinky and the Brain (1995)).
Wiki Logo History
External Links