Featured Articles are articles that have been selected for recognition on the Animaniacs Wiki. After an experienced user chooses an article, the Featured Article will be displayed on the Main Page through a template. The original article should then be tagged using Template:FA, which places a small icon in the top right of the article.
Criteria
Articles are selected for Featured Article status by Admins and Moderators, but a known and experienced user can also choose an article to be featured. Should a chosen article emit a conflict between users, then they should nominate the article on Animaniacs Wiki:Featured Article nominations page to see whether other users see it eligible. A discussion in the wiki forums may also be held. The Featured Article should follow the following rules:
It must have been written primarily by Animaniacs Wiki users, and not copied directly from other sites, such as Wikipedia or the Looney Tunes Wiki.
It must be factually correct, with no false information, and it must have sufficient references to verify its accuracy.
It must be at least a few paragraphs in length.
A Featured Article must stay a Featured Article for at least 30-31 days (28 or 29 days for February); with the exception of the site's very first first Featured Article due to the project beginning late in the month of January 2022.
Also note that an article can be a featured article at least once a year. For example, the Wakko's Wish article can be featured in both 2022 and 2023.
Current Featured Article
Main Page Infobox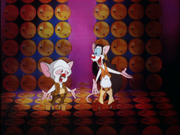 You'll Never Eat Food Pellets In This Town Again is the 30th episode of season 3 of the Pinky and the Brain spin-off series and the 55th episode overall. It originally aired on April 25, 1998. In this change-of-pace cartoon, the mice battle incompetence from network executives, as well as the trials and tribulations of being Hollywood stars.

Notably, this episode was done as commentary by the show's crew against The WB and its programming block Kids' WB!, who had meddled with the production of both this show and Animaniacs. The initial concept around this episode was created to both meet and lampoon the network's own desires to retool the series into more of a "sitcom"-type series.
Read more…
Previously Featured: see here
Past Featured Articles
List of past Featured Articles
2022
•Dot Warner: 05:11, 2 July 2022 (UTC) ‎- 00:00, 1 August 2022‎ (UTC)


• Episode 35: Very Special Opening/In the Garden of Mindy/No Place Like Homeless/Katie Ka-Boo/Baghdad Café: 00:08, 1 June 2022‎ (UTC) - 05:11, 2 July 2022‎
• Episode 65: The Warners' 65th Anniversary Special: 16:32, 1 May 2022 ‎- 00:08, 1 June 2022 (UTC)
• Wakko Warner: 00:24, 1 April 2022‎ (UTC) - 16:32, 1 May 2022‎ (UTC)
• Chicken Boo: 00:03, 1 March 2022 (UTC) - 00:24, 1 April 2022‎ (UTC)
• Wakko's Wish: 01:10, 1 February 2022 (UTC) - 00:03, 1 March 2022 (UTC)
• Yakko Warner: 00:53, 23 January 2022 (UTC) - 01:10, 1 February 2022 (UTC) (Being the first Featured Article and having been selected near the end of the month, Yakko's reign as a Featured Article is shorter than the others in order to ease-into the monthly schedule)