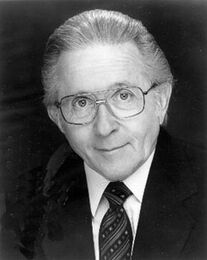 Arte Johnson, also known as Arthur Stanton Eric Johnson, is an American voice actor. He was born on January 20, 1929 in Benton Harbor, MI and passed away on July 3, 2019.
Animaniacs roles

Newt / Delivery Guy / German Dog
- It/Dot: The Macadamia Nut/Bully for Skippy (1997) ... Delivery Guy / German Dog (voice)
- Dot's Entertainment/The Girl with the Googily Goop/Gunga Dot (1996) ... Newt (voice)
- Brain Meets Brawn/Meet Minerva (1994) ... Newt (voice)
Trivia
Began chemotherapy in October 1997 for non-Hodgkin's lymphoma.
Graduate of University of Illinois, 1949.
Has donated his scripts and tapes from "Rowan & Martin's Laugh-In" (1967) to his alma mater's communications school.
Left for New York when no jobs in Chicago ad agencies opened for him. Worked at Viking Press and developed life-long love of reading and book-collecting.
Says he got first showbiz job by just impulsively stepping into an audition line at Broadway theater, where he was almost immediately chosen for role in "Gentlemen Prefer Blondes."
Biography in: "Who's Who in Comedy" by Ronald L. Smith, pg. 228-229. New York: Facts on File, 1992. ISBN 0816023387
Brother of Coslough Johnson.
His stage name "Arte" came about by accident: Originally billed as "Art E. Johnson", his name was mistakenly posted as "Arte" on a playbill. Johnson liked the look and sound of the name, so he kept it.
Personal Quotes
If you remember one sentence for every hour you take [in school], you're a well-rounded person.
Community content is available under
CC-BY-SA
unless otherwise noted.