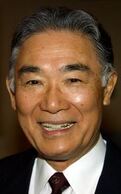 Ito was for many years a dancer with the National Ballet of Canada before turning to acting in the mid-1960s. With a long list of performing credits to his name, he is probably best known for his seven-year role on Quincy, M.E. as forensic lab technician Sam Fujiyama. He also appeared three times (as different characters) in the 1970s TV series Kung Fu; first as a Chinese rail worker in the 2 hour movie that launched the series, then twice in regular hour long episodes, once as a Chinese bandit named Captain Lee in the episode "The Way of Violence Has No Mind" & another time as a Japanese Ninja in the episode entitled "The Assassin".[citation needed] He likewise portrayed two different Korean characters in separate episodes of M*A*S*H in 1972 and 1976.
He played Professor Hikita in The Adventures of Buckaroo Banzai Across the 8th Dimension. He also appeared in the 1976 classic World War II film, Midway, as Minoru Genda, the leader of the attack on Midway Island in June 1942. Ito guest starred on the Star Trek: The Next Generation episode Coming of Age as TAC officer Lt. Chang and on Star Trek: Voyager as John Kim (Harry Kim's father). Ito starred in The X-Files episodes "Nisei" and "731".[citation needed]
Ito voiced characters in such cartoon programmes and films as Avatar: The Last Airbender, Captain Planet and the Planeteers, Animaniacs, Bonkers, Batman: The Animated Series, Jackie Chan Adventures, Fantastic Max, Superman: The Animated Series, SWAT Kats: The Radical Squadron, My Little Pony and Friends, Where on Earth is Carmen Sandiego?, Biker Mice from Mars, Quack Pack, Capitol Critters, ProStars, Justice League, Darkwing Duck, Chip 'n Dale Rescue Rangers, Iron Man, The Karate Kid, A Pup Named Scooby-Doo, Bill & Ted's Excellent Adventures, Rambo and the Forces of Freedom, Savage Dragon, The Amazing Chan and the Chan Clan, TaleSpin, Chuck Norris: Karate Kommandos, The Sylvester and Tweety Mysteries, All Grown Up!, The Mummy: The Animated Series, Teen Titans: Trouble in Tokyo, The Woody Woodpecker Show (the 1999 version), The Wild Thornberrys, Jonny Quest vs. The Cyber Insects and Gargoyles.
---
Animaniacs
(TV Series)
Mr. Kato
- Taming of the Screwy (1993) ... Mr. Kato (voice)
Community content is available under
CC-BY-SA
unless otherwise noted.