"You come up with a lot of silly ideas, Brain!"
— Pinky, in the episode "Pinky's Turn"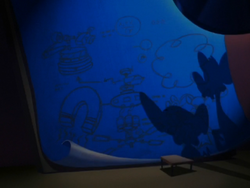 This article is a list of the Brain's various plans to take over the world throughout different Animaniacs-related media. Pinky provides "assistance" with many of these plans.
Some additional plans from other characters are also included in this list (such as Snowball).
Season 1
Season 3
Season 4
Use the stork delivery service to pose as the child of Reggie Rockefeller and his wife, gaining access to their fortune. Fails when Brain is accidentally delivered to Flavio and Marita instead; this turned out to be only a dream. ("Pitter Patter of Little Feet")
Season 5
Mass produce tiny robots from metal shavings, which will march on a U.S. Army Supply Depot, steal a tank, and hold the U.S. President hostage until he signs a surrender note. NEARLY SUCCEEDS; Pinky knocks the plug for the robot-producing machine out of the outlet after only one robot has been made, leading Brain to storm off to recalculate. Pinky then plugs it back in, leading to an army of robots which are within seconds of obtaining the President's signature when an angry Brain, seeing the Lab overrun by robots, deactivates them all—not heeding Pinky's frantic gestures to look at the TV until it's too late. ("The Brain's Apprentice")
Season 1
Season 2
Season 3
Season 4
Use Brain's own clever modifications to the da Vinci screw to fly to the wishing star before everyone else get there, and wish for world domination. Fails when the Goodfeathers crash into the screw, then the mice are captured by King Salazar, and finally Wakko gets to the star first. However, once the Warners take control of Warnerstock, Brain is appointed prime minister, and resumes his planes to seize the kingdom, and then the world.
Season 1
Season 2
References