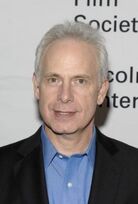 U.S.-born actor, director, writer, musician, and composer best known for his mockumentaries, poking fun at heavy metal music, small town theatre, dog shows, folk music and film-making itself. Christopher Haden-Guest was born February 5, 1948, in New York City to a U.S. mother and a British father, Peter Haden-Guest, the fourth Baron of Saling in the County of Essex.
He received his dramatic arts training at New York City's High School of Arts and Music and at Bard College, and Guest first appeared in minor film roles in a mixture of film genres including The Hot Rock (1972), Death Wish (1974), Lemmings (1973) (V), and The Long Riders (1980). However, he was also dabbling in writing for several T.V. shows, and when filming Million Dollar Infield (1982) (TV), Guest became acquainted with writer-director Rob Reiner and the two collaborated, along with Michael McKean and Harry Shearer, to pen the script and music for the sleeper hit This Is Spinal Tap (1984). He's known for voicing Spongebob's Cousin Stan SquarePants.
Animaniacs roles
- King Yakko (1993) ... Umlatt (voice)
Community content is available under
CC-BY-SA
unless otherwise noted.