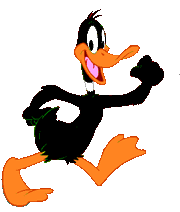 Warner Brothers
cartoon star in
Looney Tunes
and
Merrie Melodies
series. First appeared in
Porkys Duck Hunt
In 1937. Voiced by
Mel Blanc
from 1937 to 1989. Although first appeared solo as a screwy duck, Daffy would have his own personallty-mainly his insane greed { "its mine, mine all mine....I may be a coward, but I'm a Greedy Little Coward" {Ducking the Devil} and "I can't help it-I'm a greedy slob" {Beanstalk Bunny}. A
running gag
is besides his greed, Daffy usually gets the worst of it whenever paired against
Bugs Bunny
such as in
Duck Amuck
;
Show Biz Bugs
;
Rabbit Fire
;
Rabbit Seasoning
and
Duck! Rabbit, Duck!
;
Million_Hare
Daffy also gets the worst of it whenever he is paired against
Marvin the Martian
and
Pesto
.
During World War II Daffy was "drafted" and appears as a mascot for the 600th Bomb Squadron US Army Air Forces
Daffy does have a gift for parody-he has appeared as:
Western Cowboy Hero a parody of the Lone Ranger and Hopalong Cassidy
Duck Twacy a parody of Dick Tracy
Sgt Joe Munday a pardoy of Sgt Joe Friday of Dragnet
Stupor Duck a parody of Superman
Duck Dogers a parody of Buck_Rogers
Robin Hood Daffy a parody of Robin Hood
The_Scarlet_Pumpernickel a parody of The_Scarlet_Pimpernel
In 1988 Daffy stared opposite rival Walt Disney cartoon star Donald Duck who duel each other with pianos in the movie Who_Framed_Roger_Rabbit and also starred in Daffy_Duck%27s_Quackbusters which included a short cartoon The_Night_of_the_Living_Duck"-the last time Mel Blanc voiced cartoons.
In Tiny Toon Adventures Daffy was part of the Loon University staff and was the hero of Plucky Duck
As of May 6, 2011, Daffy appears in The Looney Tunes Show.
Animaniacs Appearances
Community content is available under
CC-BY-SA
unless otherwise noted.