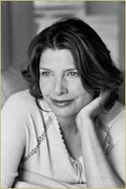 Desirée Goyette
Desiree Goyette (Born December 25,1960) Age 55
is a singer, composer and voice actor that has worked on many Garfield projects. She was the most notably the voice of Nermal in Garfield and Friends.

Animaniacs (TV Series)
Googi Goop
- Episode 80: Dot's Entertainment/The Girl with the Googily Goop/Gunga Dot (1996)
Desirée Goyette (married name Desirée Goyette-Bogas) is a singer, composer, lyricist and voice-over artist. She has been nominated for two Grammy Awards and has voiced such characters as Betty Boop, Barbie, Nermal, Petunia Pig, Honey Bunny and numerous others for radio, television and toys. She graduated from the San Francisco Conservatory of Music and also studied at San Jose State University in the music department.
She was the voice of Googi Goop in Animaniacs,she appears in the episode "The Girl With The Googily Goop"
Television
    A Lot in Common: Composer
    Garfield Gets a Life: Composer
    Garfield's Thanksgiving: Composer
    This is America, Charlie Brown: Music Director, Composer, Singer in the segment "The Music and Heroes of America"
    Garfield's Babes and Bullets: Composer, voice of Tanya
    Garfield: His 9 Lives: Composer, voice of Chloe
    Garfield and Friends: Composer, voice of Nermal, Mother turtle, Mariah, Natalie, Chloe, and others
    A Garfield Christmas Special: Composer, Singer
    Garfield in Paradise: Composer, voice of Owooda
    Wrinkles: In Need of Cuddles: Composer, Associate Director
    Happy New Year, Charlie Brown!: Composer, Singer ("Slow Slow Quick Quick")
    Garfield's Halloween Adventure: Composer, Lyricist, voice of Woman at Door
    Garfield in the Rough: Composer, Lyricist, Singer, voices of Girl Cats
    It's Flashbeagle, Charlie Brown: Composer, Lyricist, Singer
    Garfield on the Town: Composer, Singer, voice of Girl Cat 1
    The Charlie Brown and Snoopy Show: Composer
    Here Comes Garfield: Composer, Singer
    It's an Adventure, Charlie Brown: Composer
    You're a Good Man, Charlie Brown: Associate Producer, Musical Director
    Snoopy!!! The Musical: Musical Director
    You Don't Look 40, Charlie Brown as Herself
    Lou Rawls Parade of Stars as Herself
    Cathy as the voice of Brenda
    No Man's Valley as the voice of Pat the passenger pigeon
    Jem as the voice of Danse
    The Romance of Betty Boop as the voice of Betty Boop
    The New You Asked for It Show: Co-host with Rich Little
Other
    The Little Mermaid II: Return to the Sea: Singer on "Down to the Sea"
    Airforce Delta: Blue Wing Knights as the voice of Ellen McNichol/Collette Le Clerc
    Anubis: Zone of the Enders: as the voice of Angie
    The Nuttiest Nutcracker: as the voice of Sparkle
    Am I Cool or What?: Singer, "Up on a Fence"
Community content is available under
CC-BY-SA
unless otherwise noted.