Hindenburg Cola/Roadent Trip/FLOTUS, FLOTUS: What Do You Know About Us? is the thirteenth episode of the Animaniacs reboot and the finale of the show's 1st season.
Synopsis
The Warners go on a quest for Dr. Scratchansniff. Brain builds a driverless car. Dot sings about all the First Ladies. [1]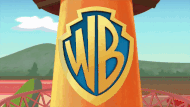 Variable Verse
Wakko: Parents will complain-ey.

Trivia
Hindenburg Cola
Animation by Titmouse, Inc.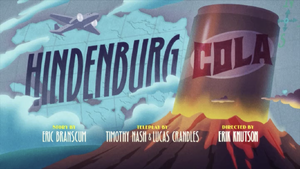 Plot
After getting away from Ralph, Dot, Wakko, and Yakko go to Dr. Scratchansniff's office and find him sick with his face purple with green polka dots, suffering from food poisoning. Wanting to fix the man, the siblings offer to help him out. He asks for Hindenburg Cola, a German soda, that is rare and only sold in one store. After traveling far to the store, the cashier told them of one can being left in the back. The siblings rush to get it but is stopped by Nils Niedhart taking it. They steal it from him and run off, with him chasing them. Nils chases them up a roller coaster and he grabs hold of Wakko's tail when the siblings ride him like a glider. Wakko's tail breaks off, sending Nils plummeting down to the ground and back into Hell. When the Warners return to the lot with the soda, Scratchansniff reveals that he was not sick, it was all a ruse to prank the Warners with a shaken can of soda. After he drinks the soda following his prank attempt, he actually gets sick from drinking the soda. His head turns into a blimp (the Hindenburg of course), and crashes outside into a building.

Crew
Story by

Eric Branscum

Teleplay by

Timothy Nash

and

Lucas Crandles

Directed by

Erik Knutson
Trivia
Rocky V is mentioned multiple times in a derogatory manner, referencing the film's own poor reception to critics and fans.
Hello Nurse's absence is revealed by Dr. Scratchansniff when he mentions she left Warner Bros. to join Doctors Without Borders.
Nils Niedhart, first seen in Gold Meddlers, returns.
The titular cola is a reference to the airship Hindenburg. Scratchansniff's head turning into a blimp and crashing is a spoof of the Hindenburg disaster.
According to Kyle A. Carrozza, whom partially storyboarded this episode, the huddle the Warners briefly made was an in-joke reference to his series on Cartoon Network, Mighty Magiswords.[3] Coincidentally, several Magiswords alumni such as Zoe Moss and Gabe Swarr worked on Animaniacs and several voice actors such as Rob Paulsen worked on Magiswords.

A lot of Kyle's work was scrapped due to storyline changes, as well as his depictions of a sickened Scratchansniff needed to be toned down due to concerns of offending anyone during the COVID-19 pandemic.[4] He also wrote the line where the Warners respond to Dot "Still practicing? Well, he'll figure out how to do it eventually."[5]
Character Animation By Erika Carvalho
Roadent Trip
Animation by Titmouse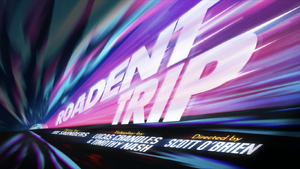 Plot
Brain is working on an invention, while Pinky breaks a vacuum. When Brain looks inside he finds a self navigation chip to complete his invention: a self-driving car. A security guard hears the vacuum and grabs it for repairs at a shop, while Pinky and Brain hide in the car. After the vacuum is sent out for repairs, Brain wants to release himself and Pinky, but he is trapped in the car because he left the release button outside of the car. Brain accidentally turns on the car, and drives it out into the road. Pinky takes it as a road trip, while Brain is worried that they will be in this car for eternity. After a few days, Brain has become fatigued while Pinky still is happy in the car. Pinky asks why he wants to take over the world. Brain explains when he was a child, he was tested by an electroshock plate of cheese. Brain vowed that he would be in control, and not the humans. Pinky says he was tested by eating different types of cheese. Pinky says he read it on a tablet, which he brought. Brain realizes that the whole time he had a tablet, and he needed it to stop the car. Brain and Pinky leave the car, and find that the car was going to the vacuum repair shop to reunite with the vacuum from the lab.

Crew
Story by

Joe Saunders

Teleplay by

Timothy Nash

and

Lucas Crandles

Directed by

Scott O'Brien
Songs
Trivia
The giant truck chasing the car is a parody of Duel, the first film directed by Animaniacs executive producer Steven Spielberg. A major element of Duel was that the truck driver is never seen, thus contributing to the mystery: of which in the case of this episode, revealed to be E.T.
Written on E.T.s hat is Night Skies, this is the name of the original script that parts of which were later developed into E.T and Poltergeist.
Brain's origins are alluded to once again, this time revealing his desire to control stems from frustration at being helpless during experiments.
Brain's baby design would be reused in the season two intro.
Pinky mentions his father in this episode as being incapable of feeling and opening up, in stark contrast to his bumbling and kind personality in the spin-off episode "The Family That Poits Together, Narfs Together". This was most likely an error on the writers' part as they may have been unaware (or forgot) Pinky's father was a character in the spin-off series.
Character Animation By Erika Carvalho
Animation by Titmouse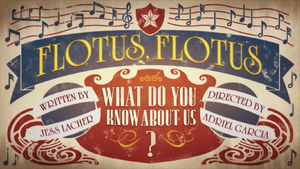 Plot
Dot decides to sing about the First Ladies, but when time runs out to sing the song, Dot has to sing it faster, and even forgets one First Lady named Bea Truman.

Crew
Songs
Trivia
At the beginning of the segment, Dot mentions her full name Princess Angelina Contessa Louisa Francesca Banana Fanna Bo Besca III. This is the first time she has mentioned her original name in the reboot and the first time since Wakko's Wish in 1999.
The theatrical stage present in this cartoon appears to take inspiration from the Walt Disney World Resort's "Hall of Presidents" attraction. The figures of the Presidents and First Ladies also appear to be modeled off the attraction's animatronics, but are more stiff here.
The bill from Schoolhouse Rock gets parodied on this episode.
There are actually more factual errors in the FLOTUS song than just the omission of Bea Truman, such as how due to passing away prior to their husbands taking oath, Martha Jefferson, Rachel Jackson, Hannah Buren, and Ellen Arthur were never First Ladies. Other mistakes that were made include how John Tyler and Woodrow Wilson each had two wives during their times in office (with Wilson's first one, Ellen, being left out), Grover Cleveland served two separate terms, and how James Buchanan was never married while President,
Due to the animation lead time Yakko acknowledged in the first season premiere, the song was unable to acknowledge the then-incoming 46th First Lady of the US, Dr. Jill Biden, who was sworn in exactly two months after the show's premiere, making the song officially outdated only two months after debuting and making the errors listed above even more glaring.
Like some other songs in the series, Dot sometimes sings in Tress MacNeille's regular voice.
Production Notes
All of the segments in this episode (not counting the Theme Song and the brief segment in the Pinky and the Brain intro) are animated by Titmouse, Inc.
This episode was rated TV-PG-LV likely due to the word "hell" being used by Wakko in "Hindenburg Cola." The same situation happened in "Pinko and the Brain."
The two public domain songs in the background are "Ach Du Lieber Augustin"/"The More We Get Together"/"Did You Ever See a Lassie?" and "Hail to the Chief."
Cast
References