Yakko's Big Idea/Mouse Congeniality/Rejected Animaniacs Characters[1] is the 19th episode in the Animaniacs reboot and the 6th episode in its 2nd season.
Synopsis
Yakko has a new idea for an invention. Pinky participates in a "Miss Universe" pageant. The Warners revisit some rejected Animaniacs characters.[2]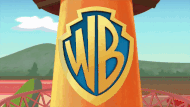 Variable Verse
Wakko: Making gain-eys!

Yakko's Big Idea
Animation by Titmouse, Inc.[3]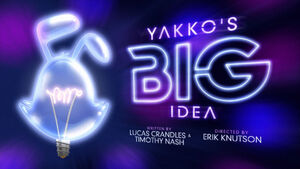 Plot
Yakko has a great, musical new idea for an invention to present to Wakko and Dot.
Crew
Written by Lucas Crandles and Timothy Nash
Directed by Erik Knutson
Songs
Notes
The ABC reality business series Shark Tank is spoofed in this cartoon as "Pitch Me, I'm Dreaming".
Some of the alien designs resemble the Wisps from the video game Sonic Colors.
When Yakko is gaming, sounds from Super Mario Bros. can briefly be heard.
Yakko flies around in his ship from "Yakko's Universe" at several points in the song.
Exoplanets are a real thing and much of the songs lyrics are based off real life Exoplanets.
Notably Pegasi 51-B and Kepler-186f are all actual Exoplanets.

Yakko even sees these planets through the Kepler Space Telescope, a way Exoplanets can be found.
Mouse Congeniality
Animation by Digital eMation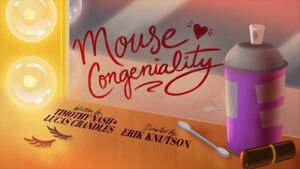 Plot
Brain helps Pinky enter a "Miss Everything" beauty pageant at "Chump Tower", in order to infiltrate a world leader summit upstairs.
Crew
Written by Lucas Crandles and Timothy Nash
Directed by Erik Knutson
Notes
The title of this cartoon is a spoof of the movie Miss Congeniality.
When Pinky wears his blonde wig, he slightly resembles his mother albeit with a slightly different hairstyle.
Television personality and Project Runaway mentor Tim Gunn guest-stars in this cartoon as the host of the pageant.
Second appearance of caricatures of Maduro, Kim and Putin; after their appearance in "The Pinktator".
Rejected Animaniacs Characters
Animation by Titmouse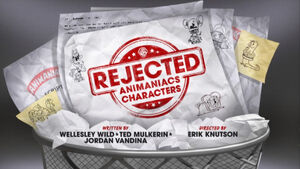 Plot
The Warners revisit rejected characters from the cutting room floor including Aqua-Claus, Mime and Meme, The Office Supplies and Social Butterfly.
Crew
Written by Wellesley Wild, Ted Mulkerin, and Jordan VanDina
Directed by Erik Knutson
Songs
Notes
The living room and kitchen in "Mime and Meme" look very similar to the same rooms in the Griffin household from Family Guy; right down to the purple couch in the living room.

Episode writer and Animaniacs showrunner Wellesley Wild worked on Family Guy; so this may be intentional.

Aqua-Claus makes fun of "Syncro-Vox" animation used in works such as Clutch Cargo.
The mime seen in the "Mime and Meme" skit is not the one usually seen in the show.
The other rejected characters that the Warners discuss at the very end are Gerry Mander the Salamander, Juan Percent the Salsa Tycoon, and Pinocchio the Press Secretary.
Notes/Trivia
Cast
Voice Actors:
Character(s):
Rob Paulsen
Yakko Warner, Pinky, Scrooge
Jess Harnell
Wakko Warner
Tress MacNeille
Dot Warner, Judge #1, Old Woman, Witch
Maurice LaMarche
The Brain,

Aqua-Claus

, Judge #2, Pageant Judge
Frank Welker
Ralph T. Guard

Anthony Carrigan

Vladimir Putin
Chris Cox

Binder

, Truck Driver
Stephanie Escajeda
Woman
Chris Geere
Disgruntled Employee
Jake Green

Correction Fluid

, Pageant Registrar

Tim Gunn

Pageant Host
Zeno Robinson

Gordon

Kari Wahlgren

Stapler

, Social Butterfly
References