Wakkiver Twist Part One/Plight of Hand/Wakkiver Twist Part Two[1] is the 21st episode in the Animaniacs reboot and the 8th episode in its 2nd Season.
Synopsis
The Warners parody Oliver Twist. Pinky's hands have a mind of their own.[2]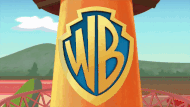 Variable Verse
Dot: This horse's mane-y.

Wakkiver Twist Part One
Animation by Titmouse, Inc.
Plot
In this totally insane-y take on Oliver Twist, the Warners find themselves struggling in poverty as orphans. They then get mixed up with the scheming Dr. Faginsniff.

Crew
Written by Lucas Crandles and Timothy Nash
Directed by Brett Varon
Songs
Notes
This cartoon has one of the more prominent crossovers between the Pinky and the Brain and Yakko, Wakko, and Dot segments.
Certain elements of the Warners' wardrobes in this cartoon have similarities to their outfits from Wakko's Wish.
Wakko splashing the gruel onto him parodies a scene from the 1983 romance drama Flashdance.
Character Animation By Erika Carvalho
Plight of Hand
Animation by Tiger Animation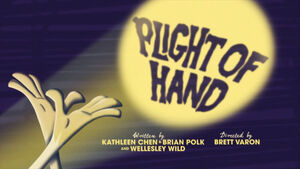 Plot
After one of Brain's experiments goes wrong; Pinky's hands gain sentience and an inordinate amount of strength. Brain tries to use this newly-born brawn to his advantage.

Crew
Written by Kathleen Chen, Brian Polk, and Wellesley Wild
Directed by Brett Varon
Notes
The name is a pun on the phrase, "sleight of hand."
The Pinky and the Brain ending chorus returns at the end of this cartoon; performed by the Warners.
Storyboards By Lisa Vandenberg
Wakkiver Twist Part Two
Animation by Titmouse, Inc.
Plot
The Warners find themselves in trouble after advancing Dr. Faginsniff's money-making scheme, and are put on trial.

Crew
Written by Lucas Crandles Timothy Nash, and Randy Rogel
Directed by Brett Varon
Songs
Notes
This is the first physical and speaking appearance of Thaddeus Plotz in the Animaniacs reboot; he is a judge in this segment and goes under the name "Judge Plotz".
"Yakko's World" is referenced. Again.
Notes/Trivia
The Oliver Twist parody was previously mentioned by Dot in "The Warners' Press Conference" and confirmed earlier in an Instagram post from series animation director Brett Varon.[3]
Cast
References