What Is That?/Mouse Madness/Christopher Columbusted/Fake Medicines is the 22nd episode in the Animaniacs reboot and the 9th episode in its 2nd Season.
Synopsis
The Warners don't know what something is. Brain rigs a college basketball tournament. The Warners question Christopher Columbus' discoveries. The Warners review a prescription medication.[1]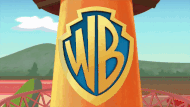 Variable Verse
Yakko: Definitely not Bruce Wayne-y!

Notes
Bat-Yakko running with a bomb is a reference to Batman doing the same thing in the 1966 Batman movie.
What Is That?
Animation by Titmouse, Inc.
Plot
The Warners host the titular segment in order to investigate the titular object, an instrument called a "hang." However, they are not fully knowledgeable on what exactly it is. A short-tempered narrator bickers with them while trying to explain what the object does. Things take a bizarre turn when an alien seemingly shows up.

Crew
Songs
"Hang" (instrumental-only song)
Notes
The item in question is a musical instrument called a "hang".
Title Card Stills
Mouse Madness
Animation by Digital eMation
Additional Animation in Stop-Motion Segment by Screen Novelties
Plot
Brain's plan to make money off of the "May Mania" basketball event goes horribly awry when it begins disrupting the fabric of reality.

Crew
Written by Lucas Crandles and Timothy Nash
Directed by Erik Knutson
Notes
This cartoon's title is a spoof of the basketball event "March Madness".

The "May Mania" event that Brain watches is another spoof of it.

Pinky mentions Doctor Who.
Brain's island lair resembles such "villainous" island lairs like "Bunny Island" from Evil Con Carne.
Smart Pinky's glasses make him resemble cartoon star Mr. Peabody of Rocky and Bullwinkle/Mr. Peabody and Sherman-fame.
Smart Pinky wearing glasses may also very well be a hidden reference to the original concept for Pinky. In early development of Animaniacs, Pinky was going to have glasses and both him and Brain would wear lab coats. These prototype designs were eventually scrapped and refined after a short period of time.
One of the basketball players shares a last name with The Brain's voice actor, Maurice LaMarche.
According to Pinky at the end of this cartoon, both he and Brain are attending therapy together. The therapist recommends that the two engage in healthier activities such as attending a "paint-your-own-pottery" class.
Quotes
The Brain:
"We're going to use the money to buy a pacific island, on which we will build a lair inside a live volcano!
Every super-villain needs one! Just like Dr. No!"
Pinky:
The Brain:
"No, Dr. No.
Pinky:
"Who's a doctor?
The Brain:
"Yes."
Pinky:
"Dr. Yes?"
The Brain:
"No! Dr. No!"
Pinky:
"Ohhh, Dr. No!"
The Brain:
"Yes!"
Pinky:
"I don't get it?"
Christopher Columbusted
Animation by Saerom Animation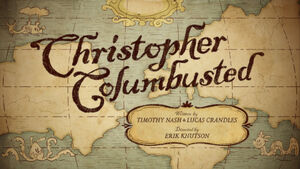 Plot
The Warner siblings take a voyage with the infamous explorer Christopher Columbus.

Crew
Written by Lucas Crandles and Timothy Nash
Directed by Erik Knutson
Songs
Notes
This cartoon was specifically hyped-up by Wellesley Wild and the crew as far back as 2020.
The Columbus nursery rhyme is parodied and rewritten to be a scathing critique of Columbus and his holiday.
The Warner Bros. (and Sister) also "assisted" Columbus in a story in the Animaniacs comic book ("1492: The True Story") published way back in 1995.
This is the second time in the reboot that Yakko's habit of making puns is made fun of, the first being in "WhoDonut."
"Yakko's World" is referenced. Yet again.
Fake Medicines
Animation by Titmouse, Inc.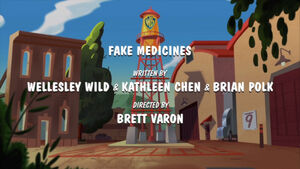 Plot
Yakko, Wakko, and Dot prepare to showcase new medicines. Today's medicine is "Zobroflex", which has rather bizarre side-effects.

Crew
Written by Wellesley Wild, Kathleen Chen, and Brian Polk
Directed by Brett Varon
Notes
The Warners are working in Acme Labs during this cartoon for Acme Pharmaceuticals.
Gallery
Cast
References