This article is incomplete and may require additional information.
You can help the Animaniacs Wiki by expanding it.
A Brief History of History/Gerard/The Prisoners' Dilemma/Math-terpiece Theatre: Beach Balls is the 24th episode in the Animaniacs reboot and the 11th episode in its 2nd Season.
Synopsis
Yakko explains the history of the world. Gerard has a gnome in his mouth. Pinky and Brain are mousenapped by another supervillain. Dot gives a dramatic math lesson about beach balls.[1]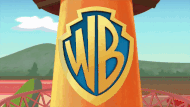 Variable Verse
Yakko: Mirage Arcaney!

A Brief History of History
Animation by Warner Bros. Animation[2]
Musical number by Giant Ant
Plot
Yakko explains the history of the world to an alien race who, crashed into the Water Tower and are seeking knowledge about the planet.

Crew
Written by Lucas Crandles and Timothy Nash
Directed by Erik Knutson
Songs
Trivia
Yakko begins to say a certain swear word that rhymes with "city" before he is cut-off.
Giant Ant's designs of the Warners (and Brain) appear to draw more from their designs in the original Animaniacs.
"The Geologic Clock", a song from the original Animaniacs that went unused, has similar subject matter and would have also been sung by Yakko.
CGI is utilized during portions of the song.
The 2D portions of this cartoon were animated entirely in-house, lead by

Scott O'Brien

.[2]
Gerard
Animation by Titmouse, Inc.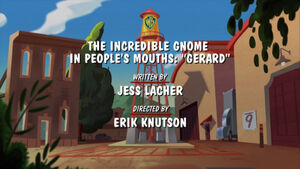 Plot
At a retirement home, an old man named Gerard finds out one of the attendants has been eating his pudding, and it's up to The Incredible Gnome in People's Mouths to sort things out.

Crew
Written by Jess Lacher
Directed by Erik Knutson
The Prisoner's Dilemma
Animation by Tiger Animation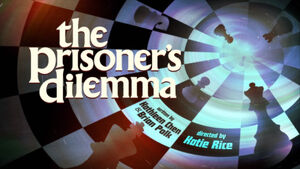 Plot
Pinky and the Brain are taken into a village of super-villains; Dopplerville, led by the mad Doppler! The unhinged antagonist has a masterplan for global domination and needs the help of the mice to enact it.

Crew
Written by Kathleen Chen and Brian Polk
Directed by Katie Rice
Trivia
Pip can be seen on a bus advertisement, sans cheeseballs and Bob Barker.
Much like the "Brainwashed" Trilogy from the Pinky and the Brain spin-off series; this cartoon parodies certain elements of the British series The Prisoner.

Dopplerville is similar to the show's "The Village."
The word font in the title-card is the same one used for The Prisoner logo.

The aesthetics of Alice in Wonderland are also spoofed, with Dr. Doppler presumably taking cues from The Mad Hatter.
Gallery
Animation by Titmouse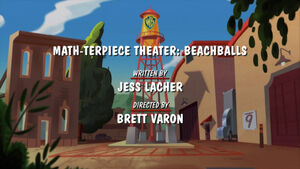 Plot
Dot gives a math dramatic lesson about beach balls.

Crew
Written by Jess Lacher
Directed by Brett Varon
Trivia
Some of the customers are references to characters from other cartoons.
Production Notes
Cast
| Voice Actors: | Character(s): |
| --- | --- |
| Rob Paulsen | Yakko Warner, Pinky, Gerard |
| Jess Harnell | Wakko Warner |
| Tress MacNeille | Dot Warner, Director, Female Villager, Old Woman, Woman |
| Maurice LaMarche | The Brain, Announcer, Ian Malcolm, Marionette |
| Jon Bailey | Alien 1, Alien 2 |
| John DiMaggio | Gnome |
| Maria Bamford | Tammy |
| Kimberly Brooks | Elaine |
| Chris Geere | Dr. Doppler |
| Danny Jacobs | Baldo, Driver, Villager |
| Will Lyman | Narrator |
| Lesley Nicol | Mrs. Kettle |
| Kari Wahlgren | Maria, Phoenicia |
References