Disasterpiece Theatre/Hercule Yakko/Home on De-Nile/A Midsummer Night's Dream is the 25th episode of the original Animaniacs. It originally aired on October 21st, 1993.
Disasterpiece Theatre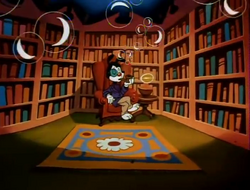 Animation by StarToons
Plot
Yakko does a parody of the program, Masterpiece Theatre, as different disasters unfurl around him. When this wraps-up, Yakko invites the viewers for a viewing of an even bigger disaster: a certain show called Animaniacs!

Trivia
Godzilla appears, along with his actual roar from the films.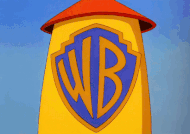 Last line
Yakko, Wakko and Dot:
How urbaney...

Hercule Yakko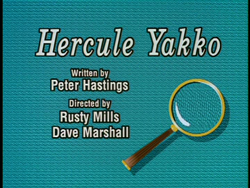 Animation by Wang Film Production
Plot
In this parody of Agatha Christie stories, the Warners help find a diamond necklace that was presumably stolen from the Hip Hippos' ship stateroom. The trio interrogates various members of the Animaniacs ensemble as Yakko vows to get to the "bottom" of this Great Warner Caper.

Crew
Songs
Trivia
Hercule Yakko is a clear parody of Hercule Poirot, while his attire is taken from Sherlock Holmes.
For a brief moment, Yakko changes into Liberace and plays the piano.
Contains a cameo appearance by Chicken Boo and almost every main character in the series.
Minerva Mink makes her debut appearance in this cartoon.
Slappy Squirrel mentions that she once saw Wally Gator dance with a Smurf.
At one point, the infamous crowded stateroom scene from the Marx Brothers film A Night at the Opera is parodied, to which Dot acknowledges chuckling.
A caricature of Colombo appears.
Contains what many consider to be one of the most inappropriate jokes that managed to work its way into an Animaniacs episode (see quote below). According to Tom Ruegger, this exchange came about from improvisation during the recording session: when Rob Paulsen as Yakko delivered the line "No no no, finger prints!" Tress MacNeille quipped, "I don't think so," in response, which somehow made it into the final episode.[1]
Quotes
Yakko: Number one sister, dust for prints.
(sometime later)
Dot: I found Prince! (She is seen carrying the eponymous pop star in her arms)
Yakko: No no no, finger prints.
(She looks at the pop star, who smiles.)
Dot: I don't think so.
(She then tosses him out through the porthole.)
Home on De-Nile
Animation by Tokyo Movie Shinsha, Ltd.
Plot
Rita and Runt are travelling to Palm Springs in search of a wealthy man called Sonny Bono since he likes strays. They mistake the place they wind up in for Palm Springs; The place is Ancient Egypt.
They come across the entrance of the palace of the Cleopatra family. Runt seemingly has to defend himself at first, until the guards notice Rita and start worshipping her. They bring Rita before Cleopatra - who's having trouble finding a worthy cat for an upcoming festival. When she sees Rita, she literally calls her a "give from the Gods." Rita is adopted by the palace while Runt is taken away to help build a temple in Cleopatra and Rita's honour.
Rita heavily enjoys the treatment of the palace and forgets about Runt until it turns out they're in the same bed, to Runt's comfort and Rita's annoyance.
The festival comes and during a speech, Rita is held by Cleopatra above the pit of fire. Runt is happy for Rita until through listening to Cleopatra's speech and looking through a hieroglyph, does he find out that Rita is to be "sacrificed to the Gods of Harvest." Runt jumps in and snatches Rita just as she's thrown. He then escapes from the raged Palace.
Rita and Runt flee "Palm Springs" and begin heading to Vegas. With Runt explaining about the rescue, Rita boasts that she feels "mighty lucky" for the casinos there.

Crew
Songs
Trivia
This is the first episode to have Rita and Runt's theme song play before the episode.
Furrball (a character from Tiny Toon Adventures) makes a cameo appearance as a possible candidate for a sacrificial cat. When he is shown before Cleopatra, he is heavily despised by the ruler and she throws him away.
The song that Marc Antony, a general sings is a parody of "Who's Afraid of the Big Bad Wolf" from the 1933 Walt Disney Silly Symphony Three Little Pigs.
This is the first episode of the segment where Rita and Runt get lost while heading somewhere. This gag would be recurring for the remainder of the segment.
Cleopatra and Marc Antony are caricatures of Elizabeth Taylor and Richard Burton, who played the characters in the 1963 Mankiewicz film. Marc Antony's singing of "Who's Afraid of Cleopatra" is a reference to Taylor and Burton's roles in the 1966 film adaptation of Who's Afraid of Virginia Woolf?.
As always, the Warners and Ralph continue their literal running gag.
A Midsummer Night's Dream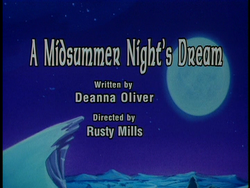 Animation by Tokyo Movie Shinsha
Plot
Yakko acts out Puck's final monologue from A Midsummer Night's Dream, with "translation" by Dot. Meanwhile, Wakko gets a little too comfortable with a pixie in the background.

Crew
Written by William Shakespeare and Deanna Oliver
Directed by Rusty Mills
Trivia
Batman and Robin make a cameo appearance driving the Batmobile.
Soundtrack
Rondeau from "Symphonies and Fanfares for the King's Supper" by Jean-Joseph Mouret
Wintermärchen by Alphons Czibulka
Shortnin' Bread by JW Riley
The Old Folks at Home by Stephen Foster
Chicken Reel (Public Domain)
Light Cavalry Overture by Franz von Suppé
Yankee Doodle (Public Domain)
Humoresque by Antonín Dvorák
The Anvil Chorus by Giuseppe Verdi
The Stars and Stripes Forever by John Philip Sousa aka Be Kind To Your Web Footed Friends
She'll Be Comin' Around the Mountain (Public Domain)
Carry Me Back to Old Virginia by James Allen Bland
Wiegenlied, Op. 49, No. 4 by Johannes Brahms
Dance of the Sugarplum Fairy by Pyotr Ilyich Tchaikovsky
Cast
Transcript
Sources
List of Animaniacs Episodes
Season 1
De-Zanitized / The Monkey Song / Nighty-Night Toon • Yakko's World / Cookies for Einstein / Win Big • H.M.S. Yakko / Slappy Goes Walnuts / Yakko's Universe • Hooked on a Ceiling / Film Projector Transition / Goodfeathers: The Beginning • Taming of the Screwy • Flipper Parody / Temporary Insanity / Operation: Lollipop / What are We? • Piano Rag / When Rita Met Runt • The Warners' Lot Song / The Big Candy Store / Bumbie's Mom • Wally Llama / Where Rodents Dare • King Yakko • No Pain, No Painting / Les Miseranimals • Garage Sale of the Century / Fortunes / West Side Pigeons • Hello Nice Warners / La Behemoth / Little Old Slappy From Pasadena • La La Law / Cat on a Hot Steel Beam • Space-Probed / Battle for the Planet • Chalkboard Bungle / Hurray for Slappy / The Great Wakkorotti: The Master & His Music • Roll Over, Beethoven / The Cat and the Fiddle • Pavlov's Mice / Chicken Boo-Ryshnikov / Nothing But the Tooth • Meatballs or Consequences / A Moving Experience • Hearts of Twilight / The Boids • The Flame / Wakko's America / Davy Omelette / Four Score and Seven Migraines Ago • Guardin' the Garden / Plane Pals • Be Careful What You Eat / Session 1 / Up the Crazy River / Session 2 / Ta Da Dump • Yakko's World of Baldness / Opportunity Knox / Wings Take Heart • Hercule Yakko / Home on De-Nile / A Midsummer Night's Dream • Testimonials / Babblin' Bijou / Potty Emergency / Sir Yaksalot • You Risk Your Life / I Got Yer Can / Jockey for Position • Moby or Not Moby / Mesozoic Mindy / The Good, the Boo, and the Ugly • Draculee, Draculaa / Phranken-Runt • Hot, Bothered and Bedeviled / Moon Over Minerva / Skullhead Boneyhands • O Silly Mio / Puttin' on the Blitz / The Great Wakkorotti: The Summer Concert • Chairman of the Bored / Planets Song / Astro-Buttons • Cartoons in Wakko's Body 1 / Noah's Lark / Cartoons in Wakko's Body 2 / The Big Kiss / Cartoons in Wakko's Body 3 / Hiccup / Cartoons in Wakko's Body Conclusion • Clown and Out / Bubba Bo Bob Brain • Very Special Opening / Animaniacs Stew / In the Garden of Mindy / Pinky and the Cat / We've Been Mixing Up the Scripts / No Place Like Homeless / Katie Ka-Boo / We Found This Old Computer / Dottie the Squirrel / Baghdad Café • Critical Condition / The Three Muska-Warners • Dough Dough Boys / Boot Camping / General Boo-Regard • Spellbound • Smitten with Kittens / Alas Poor Skullhead / White Gloves • Casablanca Opening / Fair Game / The Slapper / Puppet Rulers • Buttermilk, It Makes a Body Bitter / Broadcast Nuisance / Raging Bird • Animator's Alley / Hollywoodchuck • Of Nice and Men / What a Dump! / Survey Ladies • Useless Facts / The Senses Song / The World Can Wait / Kiki's Kitten / • Mary Tyler Dot Song / Windsor Hassle / ...And Justice for Slappy • Turkey Jerky / Wild Blue Yonder • Video Review / When Mice Ruled the Earth • Mobster Mash / Lake Titicaca / Icebreakers • Very Special Opening / A Christmas Plotz / Little Drummer Warners • Slippin' on the Ice / 'Twas the Day Before Christmas / Jingle Boo / The Great Wakkorotti: The Holiday Concert / Toy Shop Terror / Yakko's Universe • Branimaniacs / The Warners and the Beanstalk / Frontier Slappy • Ups and Downs / The Brave Little Trailer / Yes, Always • Drive-Insane / Girlfeathers / I'm Cute • Brain Meets Brawn / Meet Minerva • Gold Rush / A Gift of Gold / Dot's Quiet Time • Schnitzelbank / The Helpinki Formula / Le Bouton et le Ballon / Kung Boo • Of Course You Know, This Means Warners / Up a Tree / Wakko's Gizmo • Oh, Oh, Ethel / Inkblot Test / Meet John Brain / Smell Ya Later • Ragamuffins / Woodstock Slappy • Karaoke Dokie / Cranial Crusader / The Chicken Who Loved Me • Baloney & Kids / Super Buttons / Katie Ka-Boom: The Driving Lesson • Scare Happy Slappy / Witch One / MacBeth • With Three, You Get Eggroll / Mermaid Mindy / Katie Ka-Boom: Call Waiting • Lookit the Fuzzy Heads / No Face Like Home • My Father the Tuna / The Warners' 65th Anniversary Special
Season 2
Take My Siblings, Please / The Mindy 500 / Morning Malaise • We're No Pigeons / Whistle-Stop Mindy / Katie Ka-Boom: The Broken Date • Miami Mama-Mia / Pigeon on the Roof / Coo • I'm Mad / Bad Mood Bobby / Katie Ka-Boom: The Blemish / Fake
Season 3
Super Strong Warner Siblings / Nutcracker Slappy / Wakko's New Gookie / A Quake, a Quake! • Variety Speak / Three Tenors and You're Out / Bingo • Previously on Animaniacs / Deduces Wild / Rest in Pieces / U.N. Me • A Hard Day's Warners / Gimme a Break / Please Please Please Get a Life Foundation • The Tiger Prince / All The Words in the English Language: Part 1 / The Kid in the Lid / All the Words in the English Language: Part 2 / Method to Her Madness / All the Words in the English Language: Part 3 • The Presidents Song / Don't Tread on Us / The Flame Returns • Gimme the Works / Buttons in Ows / Hercules Unwound • This Pun for Hire / Star Truck / Go Fish / Multiplication (song) • The Sound of Warners / Yabba Dabba Boo • My Mother the Squirrel / The Party / Oh! Say Can You See / The Twelve Days of Christmas • Dot's Entertainment / The Girl with the Googily Goop / Gunga Dot • Soccer Coach Slappy / Belly Button Blues / Our Final Space Cartoon, We Promise / Valuable Lesson • Wakko's 2-Note Song / Panama Canal / Hello Nurse / The Ballad of Magellan / The Return of the Great Wakkorotti / The Big Wrap Party Tonight
Season 4
One Flew Over the Cuckoo Clock • Cutie and the Beast / Boo Happens / Noel / Cold Ending • Animani-rats /• Jokahontas / Boids on the Hood / Mighty Wakko at the Bat • A Very Very Very Very Special Show / Night of the Living Buttons / Soda Jerk • From Burbank with Love / Anchors A-Warners / When You're Traveling • Parody Commercials / Papers for Pappa / Amazing Gladiators / Pinky and the Ralph • Ten Short Films About Wakko Warner / No Time for Love / The Boo Network • Pitter Patter of Little Feet / Mindy in Wonderland / Ralph's Wedding
Season 5
Message in a Bottle / Back in Style / Bones in the Body • It / Dot - The Macadamia Nut / Bully for Skippy • Cute First (Ask Questions Later) / Acquaintances / Here Comes Atilla / Boo Wonder • Magic Time / The Brain's Apprentice
Hooray for North Hollywood: (Part I • Part II)
• The Carpool / The Sunshine Squirrels • The Christmas Tree / Punchline (Part 1) / Prom Night / Punchline (Part 2)
The Ultimate Animaniacs Super Special:
(Birds on a Wire / The Scoring Session / The Animaniacs Suite)