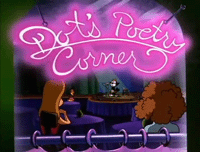 Animation by Freelance Animators, Ltd.
Dot recites her interpretation of "There Was an Old Woman Who Lived in a Shoe", called "The Shoe."


Last line
Yakko: Miss Cellany...

You Risk Your Life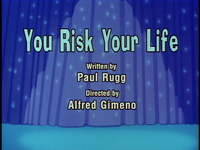 Written by Paul Rugg
Directed by Alfred Gimeno
Animation by Akom Film Production
Synopsis
Yakko hosts and Dr. Scratchansniff announces for a parody of the classic Groucho Marx game/talk show "You Bet Your Life" in front of stock footage of a live-action audience. The contestants are Mrs. Myra Puntridge and Aristotle. The secret word is "Yes", and if you say it, Wakko smashes you on the head with a mallet.
Trivia
Mrs. Myra Puntridge is actually Emily Duff from the Elmyra Duff Family episodes of Tiny Toon Adventures.
When the title was on Netflix, this segment and the theme song were missing. The episode began with the normal WB logo opening and jumped right to Slappy's intro.
Modern Major General from The Pirates of Penzance is heard often times.
I Got Yer Can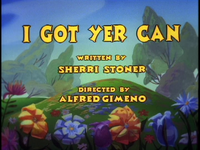 Written by Sherri Stoner
Directed by Alfred Gimeno
Animation by Akom
Synopsis
A discarded soda can sparks an escalating, one-sided battle of wits between Slappy and her neighbor, Candie Chipmunk.
Trivia
The Dance of the Reed Flutes is BGM in this cartoon.
This cartoon is based on a true story. Sherri Stoner moved to a new neighborhood, and she was throwing away her Diet Coke can into another neighbor's bin, but her neighbor asked Sherri to use her own bin.
The game show that Candie appears on is a parody of Let's Make a Deal. The Warners make a cameo and do their "Hello, Nurse!" routine.
At one point, Candie types endlessly on a typewriter "All work and no cans make Candie a dull chipmunk," a parody of the "All work and no play makes Jack a dull boy" scene from the film The Shining.
Skippy says his catchphrase, "Spew!" for the first time.
When she first meets Candie, Slappy says, "Allen Funt is a dead man!" In other words, she briefly believes that she is on Candid Camera, the prank show hosted by Funt.
The game show is hosted by Blink Winkleman, a semi-recurring character from Tiny Toon Adventures and it is also a parody of the game show Let's Make a Deal.
Each time Candie gets the can back, a five-note melody entitled "You're a Horse's Ass" can be heard. This melody is best remembered as the opening music for the Private Snafu shorts during WWII.
Quotes
Slappy: [about Candie] She reminds me of a very young Wilma Flintstone.
Jockey for Position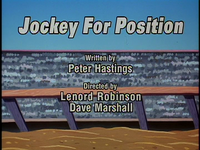 Written by Peter Hastings
Directed by Lenord Robinson and Dave Marshall
Animation by Wang Film Production
Synopsis
Pinky and the Brain race in the Kentucky Derby to win money for their next plan to take over the world.
Trivia
First appearance of Phar Fignewton.
When Pinky is knocked off a horse, he dizzily says, "There's baloney in our slacks..." one of the lines of the theme song.
The shot of Pinky running on the globe would later be used in the title sequence for the Pinky and the Brain spin-off.
Quotes
The Brain: Tomorrow is the running of the Kentucky Derby. Do you know what that is?
Pinky: Um, a very large hat?
The Brian: Promise me something, Pinky, never breed.
Pinky: I'll try.
Pinky: Can't we just ride the pretty one?
[Referring to Phar Fignewton]
The Brain: Good heavens, they're mulitplying!
The Brain: Pinky, are you pondering what I'm pondering?
Pinky: I think so, Brain, but, uh, isn't Regis Philbin already married?
Gallery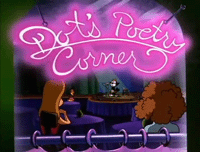 Animation by Freelance
Dot recites her interpretation of
"Fuzzy Wuzzy".

Cast
Voice Actors:
Character(s):
Rob Paulsen
Yakko Warner, Pinky, Dr. Scratchansniff,

Blink Winkleman

, Phar Fignewton,

Louie

,

Louie's Boss

Jess Harnell
Wakko Warner,

Santa Claus

Tress MacNeille
Dot Warner,

Mrs. Myra Puntridge

Sherri Stoner
Slappy Squirrel
Nathan Ruegger
Skippy Squirrel
Gail Matthius
Candie Chipmunk
Maurice LaMarche
The Brain,

Aristotle

,

Jockey

Neil Ross

Announcer
Wine Steward
Stinger
Skippy: Spew!
Soundtrack
Twinkle Twinkle Little Star
Peer Gynt Suite No. 1, 1st Movement (Morning) by Edvard Grieg
Jingle Bells by James Pierpont
Deck the Halls
Frühlingslied (Spring Song) by Felix Mendelssohn Bartholdy
Rock-a-Bye Baby by Effie I. Canning
Romeo and Juliet Fantasy Overture by Pyotr Ilyich Tchaikovsky
Light Cavalry Overture by Franz von Suppé
The Gold Diggers' Song (We're in the Money) by Harry Warren
Camptown Races by Stephen Foster
Danny Boy by Frederick Edward Weatherly
List of Animaniacs Episodes
Season 1
De-Zanitized • The Monkey Song • Nighty-Night Toon • Yakko's World • Cookies for Einstein • Win Big • H.M.S. Yakko • Slappy Goes Walnuts • Yakko's Universe • Hooked on a Ceiling • Goodfeathers: The Beginning • Taming of the Screwy • Temporary Insanity • Operation: Lollipop • What are We? • Piano Rag • When Rita Met Runt • The Warners' Lot Song • The Big Candy Store • Bumbie's Mom • Wally Llama • Where Rodents Dare • King Yakko • No Pain, No Painting • Les Miseranimals • Garage Sale of the Century/West Side Pigeons; Hello Nice Warners/La Behemoth/Little Old Slappy from Pasadena; La La Law/Cat on a Hot Steel Beam; Space-Probed/Battle for the Planet; Chalkboard Bungle/Hurray for Slappy/The Great Wakkorotti: The Master and His Music; Roll Over, Beethoven/The Cat and the Fiddle; Pavlov's Mice/Chicken Boo-Ryshnikov/Nothing But the Tooth; Meatballs or Consequences/A Moving Experience; Hearts of Twilight/The Boids; The Flame/Wakko's America/Davy Omelette/Four Score and Seven Migraines Ago; Guardin' the Garden/Plane Pals; Be Careful What You Eat/Up the Crazy River/Ta Da Dump, Ta Da Dump, Ta Da Dump Dump Dump; Opportunity Knox/Wings Take Heart; Hercule Yakko/Home on De-Nile/A Midsummer Night's Dream; Testimonials (Animaniacs)/Babblin' Bijou Potty Emergency/Sir Yaksalot; You Risk Your Life/I Got Yer Can/Jockey for Position; Moby or Not Moby Mesozoic Mindy The Good, the Boo, and the Ugly Draculee, Draculaa Phranken-Runt Hot, Bothered and Bedeviled Moon Over Minerva Skullhead Boneyhands O Silly Mio Puttin' on the Blitz The Great Wakkorotti: The Summer Concert Chairman of the Bored Planets Song Astro-Buttons Cartoons in Wakko's Body 1 Noah's Lark Cartoons in Wakko's Body 2 The Big Kiss Hiccup Cartoons in Wakko's Body Conclusion Clown and Out Bubba Bo Bob Brain In the Garden of Mindy No Place Like Homeless Katie Ka-Boo Baghdad Cafe Critical Condition The Three Muska-Warners Dough Dough Boys Boot Camping General Boo-Regard Spellbound Smitten with Kittens Alas Poor Skullhead White Gloves Fair Game The Slapper Puppet Rulers Buttermilk, It Makes a Body Bitter Broadcast Nuisance Raging Bird Animator's Alley Can't Buy a Thrill Hollywoodchuck Of Nice and Men What a Dump! Survey Ladies Useless Fact 1 The Senses Song Useless Fact 2 Dot's Poetry Corner The World Can Wait Useless Fact 3 Kiki's Kitten Useless Fact 4 Windsor Hassle ...And Justice for Slappy Turkey Jerky Wild Blue Yonder Video Revue When Mice Ruled the Earth Mobster Mash Lake Titicaca Icebreakers A Christmas Plotz Little Drummer Warners Twas the Day Before Christmas Jingle Boo The Great Wakkorotti: The Holiday Concert Toy Shop Terror Yakko's Universe The Warners and the Beanstalk Frontier Slappy Ups and Downs The Brave Little Trailer Yes, Always Drive-Insane Girlfeathers I'm Cute Brain Meets Brawn Meet Minerva Gold Rush A Gift of Gold Dot's Quiet Time Schnitzelbank The Helpinki Formula Le Bouton et le Ballon Kung Boo Of Course You Know, This Means Warners Up a Tree Wakko's Gizmo Meet John Brain Smell Ya Later Ragamuffins Woodstock Slappy Karaoke-Dokie Cranial Crusader The Chicken Who Loved Me Baloney and Kids Super Buttons Katie Ka-Boom: The Driving Lesson Scare Happy Slappy Witch One MacBeth With Three, You Get Eggroll Mermaid Mindy Katie Ka-Boom: Call Waiting Lookit the Fuzzy Heads No Face Like Home The Warners 65th Anniversary Special
Season 2
Take My Siblings, Please
The Mindy 500
Morning Malaise
Miami Mama-Mia
Pigeon on the Roof
We're No Pigeons
Whistle-Stop Mindy
Katie Ka-Boom: The Broken Date
I'm Mad
Bad Mood Bobby
Katie Ka-Boom: The Blemish
Fake
Season 3
Super Strong Warner Siblings
Nutcracker Slappy
Wakko's New Gookie
A Quake, a Quake!
Variety Speak
Three Tenors and You're Out
Bingo
Deduces Wild
Rest in Pieces
U.N. Me
A Hard Day's Warners
Gimme a Break
Buttons in Ows
Hercules Unwound
This Pun for Hire
Star Truck
Go Fish
Multiplication (song)
The Sound of Warners
Yabba Dabba Boo
My Mother the Squirrel
The Party
Oh Say Can You See
The Twelve Days of Christmas
Dot's Entertainment
The Girl with the Googily Goop
Gunga Dot
Soccer Coach Slappy
Belly Button Blues
Our Final Space Cartoon, We Promise
Valuable Lesson
Wakko's 2-Note Song
Panama Canal
Hello Nurse
The Ballad of Magellan
The Return of the Great Wakkorotti
The Big Wrap Party Tonight
Season 4
One Flew Over the Cuckoo Clock
Cutie and the Beast
Boo Happens
Noel
Jokahontas
Boids on the Hood
Mighty Wakko at the Bat
A Very Very Very Very Special Show
Night of the Living Buttons
Soda Jerk
From Burbank with Love
Anchors A-Warners
When You're Traveling
Papers for Pappa
Amazing Gladiators
Pinky and the Ralph
Ten Short Films About Wakko Warner
No Time for Love
The Boo Network
Pitter Patter of Little Feet
Mindy in Wonderland
Ralph's Wedding
Season 5
Back in Style
Bones in the Body
It
Dot- The Macadamia Nut
Bully for Skippy
Cute First (Ask Questions Later)
Acquaintances
Here Comes Atilla
Boo Wonder
Magic Time
The Brain's Apprentice
Hooray for North Hollywood (Part I)
Hooray for North Hollywood (Part II)
The Carpool
The Sunshine Squirrels
The Christmas Tree
Punchline (Part I)
Prom Night
Punchline (Part II)
Birds on a Wire
The Scoring Session
The Animaniacs Suite