Draculee, Draculaa/Phranken-Runt is the 29th episode of the original Animaniacs. It originally aired on October 29, 1993.
All of the segments in this episode are animated by Tokyo Movie Shinsha Co., Ltd.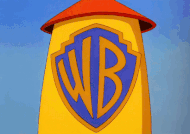 Last line
Wakko: Where's Lon Chaney?

Draculee, Draculaa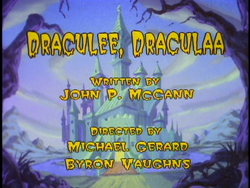 Plot
The Warners head towards their ancestral home of Pennsylvania (since their parents are pencils). Unbeknownst to the three of them, they've actually arrived in Transylvania. They decide to take shelter in a dark and foreboding castle instead of more sensible options. During the night, when Wakko hits the bell with his head, the front door opens and the vampire man exits a car driven by a skeleton. He asks who
they were, while the most mischievous steals his pocket watch. Then the count lets them pass but they close the door in his face. When they enter the place, the count becomes angry at them because the Warners mistake Dracula for an Amish farmer. Luckily, Yakko has seen Witness twice. The count transforms into a vampire but also Wakko, using his hands, flies in the air and, with a baseball bat, he hits him, making him fall to the ground. When he gets up very dizzy, he takes them to their rooms.  
Count Dracula shows them the place where Dot was going to rest, but it is completely full of horrible things like:
Snakes
Creatures under the bed
Skull
Spider webs
Monster statues
Campfire with the face of a creature
Soon Dot goes to bed already sleeping, suddenly Dracula is about to stick his fangs to remove blood but Yakko appears and asks him if he is going to bite her. The count is thinking, for when he is about to do it, she hists with his hands and later using a brush and toothpaste she brushes his teeth. He tries again when Dot goes back to sleep, but Wakko arrives as a dentist and removes all his teeth. Then Dot wakes up, puts them in her hair, and asks if she looks like Sheena Easton. A slumber party breaks out, and the humiliated vampire finds himself in a nightgown and covered in make-up. He flees to the safety of his coffin but, fearing he'll suffocate, the Warners cut it open with a chainsaw. He tells them that their lives have ended. Yakko agrees, since by now the sun has come up, which he reveals by opening a boarded-up window. Even as the count grows weaker, the Warners refuse to leave him alone, blowing a bugle in his ear and shoving an alarm clock into his head. Dracula explodes in anger, which succeeds in destroying his entire castle. The Warners escape with their lives, and finally figure out that they never made it to Pennsylvania to begin with. They try again, but this time end up in Tasmania, where a hungry Wakko scares away the Tasmanian Devil. They now have to find a new map.
Crew
Notes
The title is a parody of either the line 'valderi, valdera' from the song "The Happy Wanderer" or the Italian song "Funiculi, Funicula".
In the end, the Warners end up in Tasmania and meet the Tasmanian Devil. The Taz-Mania theme music is heard in the background during his appearance.
In the beginning, the Warners burrow to Transylvania while Yakko looks at a map and says, "I know we're not rabbits, but it's a Warner Bros. tradition." This is a reference to the way Bugs Bunny traveled, who would always end up in somewhere other than his destination just because he took a wrong "toin at Albukoikee."
Dot's full name, Princess Angelina Contessa Louisa Francesca Banana Fana Bo Besca III, is revealed in this episode.
This was John P. McCann's first script for Animaniacs. It led to his being hired to the show as a series writer.[1]
The fourth wall is broken in this episode, when Yakko says to the viewer "We're not that stupid, we just know the plot."
When Dot introduces herself, you can hear Mindy's theme in the background.
When Dracula introduces himself, Yakko asks "Didn't you used to teach math on Sesame Street?", mistaking him for Count von Count from the hit PBS Kids/HBO series, Sesame Street.
The voice of Count Dracula is Dan Castellaneta, who voices Homer Simpson on The Simpsons and Grandpa Phil from Hey Arnold.
Yakko mentions Batman.
When Wakko hits Dracula with a baseball bat, the baseball bat has a face and bat wings. According to the writers, this was the only way this violent gag would get past standards and practices.
Phranken-Runt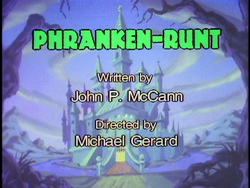 Plot
Dr. Phrankenstein, an evil mad scientist, has intentions to destroy the village off the coast from her castle with her creation, a monstrous dog named Scout. When Phrankenstein finally gets Scout on his way to the village, his circuits get damaged by lightening before he has left the castle, which leads to Phrankenstein in search of a dog brain. The solution comes shortly after.
Rita and Runt are wandering in a night storm. They had been thrown out of another home due to Runt causing an accident. They wait at the doorstep of Phrankenstein's castle. Runt is sucked up into the castle, while Rita is locked out. She finds a way in and gets the idea that Runt is in trouble.
She makes it up into the laboratory to see Runt strapped to a table and about to have his head sawed open. Phrankenstein notices the cat. Using the table, Rita just manages to slam the scientist into an instrument panel, which electrocutes her.
Rita and Runt are chased through the castle by Phrankenstein's pet rat, Mr. Squeak. The chase leads to a balcony and with no option, the two strays jump into the sea. Dr. Phrankenstein and Mr. Squeak are angry with Scout most of all and break Scout's toy ball to prove a point, which leads to Scout attacking them.
On shore, Runt wants to jump off the castle again, leading to Rita to remark that Phrankenstein "couldn't have wanted him for his brain."
Crew
Written by John P. McCann
Directed by Michael Gerard
Songs
Notes
This, along with Les Miseranimals and Home on De-Nile, were the only episodes of Rita and Runt animated at Tokyo Movie Shinsha, Ltd..
The voice of Dr. Phrankenstein is modeled after Madeline Kahn's impression of Marlene Dietritch. She is voiced by series creator Tom Ruegger's ex-wife Adrienne Alexander.
One of the tombs says, "Here Lies a Pooch With a Brain So Small, It Wasn't Any Use At All". This rhyming epitaph was most likely a reference to similar ones seen at the Haunted Mansion at Disney Parks.
The Warners cameo as the floor waxers when Dr. Phrankenstein notices how slippery the floors are.
Notes/Trivia
In some episode guides, this episode's numbering is swapped with Episode 30.
The stinger in this episode is the third stinger to be a callback to a segment featured in this episode
Cast
Transcript
References
List of Animaniacs Episodes
Season 1
De-Zanitized • The Monkey Song • Nighty-Night Toon • Yakko's World • Cookies for Einstein • Win Big • H.M.S. Yakko • Slappy Goes Walnuts • Yakko's Universe • Hooked on a Ceiling • Goodfeathers: The Beginning • Taming of the Screwy • Flipper Parody • Temporary Insanity • Operation: Lollipop • What are We? • Piano Rag • When Rita Met Runt • The Warners' Lot Song • The Big Candy Store • Bumbie's Mom • Wally Llama • Where Rodents Dare • King Yakko • No Pain, No Painting • Les Miseranimals • Garage Sale of the Century • West Side Pigeons • Hello Nice Warners • La Behemoth • Little Old Slappy from Pasadena • La La Law • Cat on a Hot Steel Beam • Space-Probed • Battle for the Planet • Chalkboard Bungle • Hurray for Slappy • The Great Wakkorotti: The Master and His Music • Roll Over, Beethoven • The Cat and the Fiddle • Pavlov's Mice • Chicken Boo-Ryshnikov • Nothing But the Tooth • Meatballs or Consequences • A Moving Experience • Hearts of Twilight • The Boids • The Flame • Wakko's America • Davy Omelette • Four Score and Seven Migraines Ago • Guardin' the Garden • Plane Pals • Be Careful What You Eat • Up the Crazy River • Ta Da Dump, Ta Da Dump, Ta Da Dump Dump Dump • Opportunity Knox • Wings Take Heart • Hercule Yakko • Home on De-Nile • A Midsummer Night's Dream • Testimonials (Animaniacs) • Babblin' Bijou • Potty Emergency • Sir Yaksalot • You Risk Your Life • I Got Yer Can • Jockey for Position • Moby or Not Moby • Mesozoic Mindy • The Good, the Boo, and the Ugly • Draculee, Draculaa • Phranken-Runt • Hot, Bothered and Bedeviled • Moon Over Minerva • Skullhead Boneyhands • O Silly Mio • Puttin' on the Blitz • The Great Wakkorotti: The Summer Concert • Chairman of the Bored • Planets Song • Astro-Buttons • Cartoons in Wakko's Body 1 • Noah's Lark • Cartoons in Wakko's Body 2 • The Big Kiss • Hiccup Cartoons in Wakko's Body Conclusion • Clown and Out • Bubba Bo Bob Brain • Very Special Opening • Animaniacs Stew • In the Garden of Mindy • Pinky and the Cat • We've Been Mixing Up the Scripts • No Place Like Homeless • Katie Ka-Boo • We Found This Old Computer • Dottie the Squirrel • Baghdad Cafe • Critical Condition • The Three Muska-Warners • Dough Dough Boys • Boot Camping • General Boo-Regard • Spellbound • Smitten with Kittens • Alas Poor Skullhead • White Gloves • Fair Game • The Slapper • Puppet Rulers • Buttermilk, It Makes a Body Bitter • Broadcast Nuisance • Raging Bird • Animator's Alley • Can't Buy a Thrill • Hollywoodchuck • Of Nice and Men • What a Dump! • Survey Ladies • Useless Fact 1 • The Senses Song • Useless Fact 2 • Dot's Poetry Corner • The World Can Wait • Useless Fact 3 • Kiki's Kitten • Useless Fact 4 • Mary Tyler Dot Song • Windsor Hassle • ...And Justice for Slappy • Turkey Jerky • Wild Blue Yonder • Video Revue • When Mice Ruled the Earth • Mobster Mash • Lake Titicaca • Icebreakers • A Christmas Plotz • Little Drummer Warners • Twas the Day Before Christmas • Jingle Boo • The Great Wakkorotti: The Holiday Concert • Toy Shop Terror • Yakko's Universe • Branimaniacs • The Warners and the Beanstalk • Frontier Slappy • Ups and Downs • The Brave Little Trailer • Yes, Always • Drive-Insane • Girlfeathers • I'm Cute • Brain Meets Brawn • Meet Minerva • Gold Rush • A Gift of Gold • Dot's Quiet Time • Schnitzelbank • The Helpinki Formula • Le Bouton et le Ballon • Kung Boo • Of Course You Know, This Means Warners • Up a Tree • Wakko's Gizmo • Meet John Brain • Smell Ya Later • Ragamuffins • Woodstock Slappy • Karaoke Dokie • Cranial Crusader • The Chicken Who Loved Me • Baloney and Kids • Super Buttons • Katie Ka-Boom: The Driving Lesson • Scare Happy Slappy • Witch One • MacBeth • With Three, You Get Eggroll • Mermaid Mindy • Katie Ka-Boom: Call Waiting • Lookit the Fuzzy Heads • No Face Like Home • My Father the Tuna • The Warners' 65th Anniversary Special
Season 2
Take My Siblings Please • The Mindy 500 • Morning Malaise • We're No Pigeons • Whistle-Stop Mindy • Katie Ka-Boom: The Broken Date • Miami Mama-Mia • Pigeon on the Roof • I'm Mad • Bad Mood Bobby • Katie Ka-Boom: The Blemish • Fake
Season 3
Super Strong Warner Siblings • Nutcracker Slappy • Wakko's New Gookie • A Quake, a Quake! • Variety Speak • Three Tenors and You're Out • Bingo • Previously on Animaniacs • Deduces Wild • Rest in Pieces • U.N. Me • A Hard Day's Warners • Gimme a Break • Please Please Please Get a Life Foundation • The Tiger Prince • All The Words in the English Language: Part 1 • The Kid in the Lid • All the Words in the English Language: Part 2 • Method to Her Madness • All the Words in the English Language: Part 3 • The Presidents Song • Don't Tread on Us • The Flame Returns • Gimme the Works • Buttons in Ows • Hercules Unwound • This Pun for Hire • Star Truck • Go Fish • Multiplication (song) • The Sound of Warners • Yabba Dabba Boo • My Mother the Squirrel • The Party • Oh! Say Can You See • The Twelve Days of Christmas • Dot's Entertainment • The Girl with the Googily Goop • Gunga Dot • Soccer Coach Slappy • Belly Button Blues • Our Final Space Cartoon, We Promise • Valuable Lesson • Wakko's 2-Note Song • Panama Canal • Hello Nurse • The Ballad of Magellan • The Return of the Great Wakkorotti • The Big Wrap Party Tonight
Season 4
One Flew Over the Cuckoo Clock • Cutie and the Beast • Boo Happens • Noel • Animani-rats • Jokahontas • Boids on the Hood • Mighty Wakko at the Bat • A Very Very Very Very Special Show • Night of the Living Buttons • Soda Jerk • From Burbank with Love • Anchors A-Warners • When You're Traveling • Papers for Pappa • Amazing Gladiators • Pinky and the Ralph • Ten Short Films About Wakko Warner • No Time for Love • The Boo Network • Pitter Patter of Little Feet • Mindy in Wonderland • Ralph's Wedding
Season 5
Back in Style • Bones in the Body • It • Dot- The Macadamia Nut • Bully for Skippy • Cute First (Ask Questions Later) • Acquaintances • Here Comes Atilla • Boo Wonder • Magic Time • The Brain's Apprentice
Hooray for North Hollywood: (Part I • Part II)
• The Carpool • The Sunshine Squirrels • The Christmas Tree • Punchline (Part I) • Prom Night • Punchline (Part II)
The Ultimate Animaniacs Super Special:
(Birds on a Wire • The Scoring Session • The Animaniacs Suite)