Newsreel of the Stars
See Episode 1
Music: Traditional
Lyrics: Randy Rogel
Director: Rusty Mills
Animated By: Tokyo Movie Shinsha
Synopsis
Yakko sings a (now outdated) song set to the tune of the Mexican-hat-dance about the nations of the world.
Characters
Narrator, Yakko Warner
Goofs
Haiti is the same color as the Dominican Republic.
Puerto Rico is not a nation; it is a territory of the United States.
Belize is the same color as Mexico.
Bermuda is not a nation; it is a territory of the United Kingdom.
Guam is not a nation: it is a territory of the United States.
San Juan is not a nation; it is a city within Puerto Rico, as mentioned earlier.
French Guiana is not even a territory; it is a department of France.
New Guinea and Hawaii are not depicted when Guam is shown.
Switzerland is represented bigger than the real size
Albania is the same color as Yugoslavia.
The Soviet Union had broken up when the song was released. It is, however, accepted due to the time it took to animate.
Bulgaria is the same color as Romania, after being the same color as Greece.
Hungary is the same color as Czechoslovakia.
Iraq is the same color as Syria and Kuwait.
Scotland is the same color as England.
Oman is bigger than song representation
Jordan's geographic location is wrong.
Bhutan is the same color as India and Nepal; there is also no border dividing them.
There is; however, a border separating Northeast China (with Russian and North Korean borders) from China
Yakko says "Asia" yet Asia is a continent, not even a country
Yakko says "Korea" yet Korea has been divided into South Korea and North Korea since 1948.
South Africa has a border running through it, yet South Africa was not even mentioned.
The Spanish Sahara had been gone for over ten years before this song was written.
The Spanish Sahara is called now West Sahara
Algiers is a city in Algeria.
Dahomey was Benin until 1904
Abu Dhabi is a city in the United Arab Emirates.
Crete is an island.
At this time, part of Yugoslavia has broken up into several countries
Transylvania is a region of Romania.
Trivia
The song misses over 40 nations, not including ones that were created after the song was written.
This song is a favorite of Yakko's voice actor, Rob Paulsen, who performs it at various public events.
This song includes Palestine and Taiwan, which is still negotiated to this day, and aren't independent countries, yet.
The world map shows Russia with Soviet-era borders. This is inaccurate even for the time, as the former Soviet republics had gained independence in 1991. Similarly, Czechoslovakia had been split up for eight months at the time the episode aired (due to the lead time required for animation, it's likely the split hadn't taken place at the time the song was actually written).
This song mentions the United Kingdom as "Scotland" and then "England." Wales and Northern Ireland are not mentioned, it is also noted that when Yakko points to England, the whole island of Great Britain lights up, that includes Scotland.
This song has become a popular internet meme.
As of 2018 Swaziland is now known as Eswatini.
Cookies for Einstein (406-810)
Written by Paul Rugg
Directed by Alfred Gimeno
Animated By: Tokyo Movie Shinsha
Synopsis
The Warners in 1905 Germany, inadvertently help Albert Einstein discover the theory of relativity through their attempts to sell him cookies with The Acme Song.
Characters
Narrator, Yakko Warner, Wakko Warner, Dot Warner, Swiss Miss, Albert Einstein, Nobel Prize Presenter
Trivia
The theory of relativity that Einstein describes is actually the mass-energy conversion formula (e=mc

2

). This error is referenced in the "Please Please Please Get a Life Foundation" cartoon.
The Kid Scouts are a parody of Boy Scouts and Girl Scouts (mostly Girl Scouts, due to the concept of selling cookies).
This was the first short to feature the Warners in a location and time other than the Warner Bros. Not in the present day.
When Einstein closes a window shade, the Warners appear on them, looking like Goombas from Nintendo's Super Mario franchise.
Win Big (406-805)
Story by Tom Ruegger
Written by Peter Hastings
Directed by Dave Marshall and Rusty Mills
Animated By: Wang Film Production
Synopsis
Brain wants to win $99,000 so he can finish his device to take over the world on the show Gyp-Parody, but ultimately loses when he doesn't know what classic TV character was known for saying, "Bang! Zoom! Right in the Kisser!" (which Pinky does know).
Characters
Pinky, The Brain, Alex Quebec, Cab Driver, Gyp-Parody contestants (Alvey, Matilda, Deloris), Dot Warner (run-through), Wakko Warner (run-through), Yakko Warner (run-through), Ralph the Guard (run-through)
Trivia
This was the first Pinky and the Brain short produced and the first aired, acting as a pilot for the mice. Many of the familiar elements (such as the "are you pondering what I'm pondering?" dialogue) were intended by writer Peter Hastings to be one-time gags, but supervising story editor Sherri Stoner convinced him to bring them back in future scripts.[1]
This short introduces Pinky's nonsense words "Narf" and "Poit," as well as his exclamation, "Egad, Brain!"
Yakko, Wakko, and Dot make a cameo where they run on top of the taxi the Brain is taking, being chased by Ralph, beginning a literal running gag throughout the series.
Gyp-Parody obviously parodies Jeopardy!
This short features the first appearance of Brain's human suit, which was featured in various episodes of the spin-off. Writer Peter Hastings actually had a replica of the human suit in his office.
This episode is a parody of The Honeymooners episode "The $99,000 Answer", in which Ralph Kramden repeatedly tells Norton to stop playing the song "Swanee River," and then loses a game show over that song. Similarly, the Brain loses here over Ralph's famous catch phrase from The Honeymooners.
Although Peter Hastings has stated that he always tried to have Brain threaten to hurt Pinky but never actually hit him (because he felt this was both funnier and truer to the character), Tom Ruegger and the other producers would often have Brain actually hit Pinky. Even in this very first short, the Brain does follow through.
This episode would be retold in the Animaniacs comic, but one difference is that Brain's human suit would be attired with a jacket and tie as opposed to the more formal tuxedo, which made somewhat better sense for going out in public during casual events.
Quotes
Brain: Pinky, are you pondering what I'm pondering?
Pinky: I think so, Brain, but, where are we gonna find a duck and a hose at this hour?
Gallery
---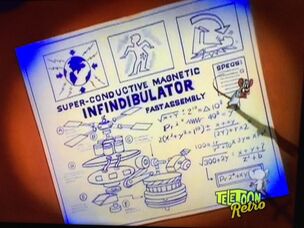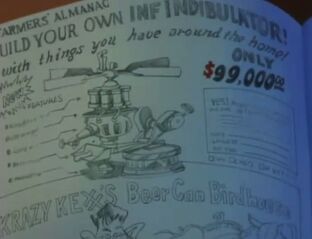 The moral of today's story is: "If at first you don't succeed, blame it on your parents."

Trivia
First "Wheel of Morality" gag.
The Wheel of Morality is not just a parody of the Wheel of Fortune, but also a satire on the suggestions by the FCC to add some moral and educational value to children's shows.
Music By
Cast
| | |
| --- | --- |
| Voice Actors: | Character(s): |
| Rob Paulsen | Yakko Warner, Pinky, Alex Quebec, Award Presenter |
| Jess Harnell | Wakko Warner, Alvey, Cabby |
| Tress MacNeille | Dot Warner, German Woman, Matilda |
| Paul Rugg | Albert Einstein |
| Maurice LaMarche | The Brain, Ralph Kramden, Announcer |
| Frank Welker | Narrator, Newsreader |
References
List of Animaniacs Episodes
Season 1
De-Zanitized • The Monkey Song • Nighty-Night Toon • Yakko's World • Cookies for Einstein • Win Big • H.M.S. Yakko • Slappy Goes Walnuts • Yakko's Universe • Hooked on a Ceiling • Goodfeathers: The Beginning • Taming of the Screwy • Temporary Insanity • Operation: Lollipop • What are We? • Piano Rag • When Rita Met Runt • The Big Candy Store]] • Bumbie's Mom; Wally Llama/Where Rodents Dare; King Yakko; No Pain, No Painting/Les Miseranimals; Garage Sale of the Century/West Side Pigeons; Hello Nice Warners/La Behemoth/Little Old Slappy from Pasadena; La La Law/Cat on a Hot Steel Beam; Space-Probed/Battle for the Planet; Chalkboard Bungle/Hurray for Slappy/The Great Wakkorotti: The Master and His Music; Roll Over, Beethoven/The Cat and the Fiddle; Pavlov's Mice/Chicken Boo-Ryshnikov/Nothing But the Tooth; Meatballs or Consequences/A Moving Experience; Hearts of Twilight/The Boids; The Flame/Wakko's America/Davy Omelette/Four Score and Seven Migraines Ago; Guardin' the Garden/Plane Pals; Be Careful What You Eat/Up the Crazy River/Ta Da Dump, Ta Da Dump, Ta Da Dump Dump Dump; Opportunity Knox/Wings Take Heart; Hercule Yakko/Home on De-Nile/A Midsummer Night's Dream; Testimonials (Animaniacs)/Babblin' Bijou Potty Emergency/Sir Yaksalot; You Risk Your Life/I Got Yer Can/Jockey for Position; Moby or Not Moby Mesozoic Mindy The Good, the Boo, and the Ugly Draculee, Draculaa Phranken-Runt Hot, Bothered and Bedeviled Moon Over Minerva Skullhead Boneyhands O Silly Mio Puttin' on the Blitz The Great Wakkorotti: The Summer Concert Chairman of the Bored Planets Song Astro-Buttons Cartoons in Wakko's Body 1 Noah's Lark Cartoons in Wakko's Body 2 The Big Kiss Hiccup Cartoons in Wakko's Body Conclusion Clown and Out Bubba Bo Bob Brain In the Garden of Mindy No Place Like Homeless Katie Ka-Boo Baghdad Cafe Critical Condition The Three Muska-Warners Dough Dough Boys Boot Camping General Boo-Regard Spellbound Smitten with Kittens Alas Poor Skullhead White Gloves Fair Game The Slapper Puppet Rulers Buttermilk, It Makes a Body Bitter Broadcast Nuisance Raging Bird Animator's Alley Can't Buy a Thrill Hollywoodchuck Of Nice and Men What a Dump! Survey Ladies Useless Fact 1 The Senses Song Useless Fact 2 Dot's Poetry Corner The World Can Wait Useless Fact 3 Kiki's Kitten Useless Fact 4 Windsor Hassle ...And Justice for Slappy Turkey Jerky Wild Blue Yonder Video Revue When Mice Ruled the Earth Mobster Mash Lake Titicaca Icebreakers A Christmas Plotz Little Drummer Warners Twas the Day Before Christmas Jingle Boo The Great Wakkorotti: The Holiday Concert Toy Shop Terror Yakko's Universe The Warners and the Beanstalk Frontier Slappy Ups and Downs The Brave Little Trailer Yes, Always Drive-Insane Girlfeathers I'm Cute Brain Meets Brawn Meet Minerva Gold Rush A Gift of Gold Dot's Quiet Time Schnitzelbank The Helpinki Formula Le Bouton et le Ballon Kung Boo Of Course You Know, This Means Warners Up a Tree Wakko's Gizmo Meet John Brain Smell Ya Later Ragamuffins Woodstock Slappy Karaoke-Dokie Cranial Crusader The Chicken Who Loved Me Baloney and Kids Super Buttons Katie Ka-Boom: The Driving Lesson Scare Happy Slappy Witch One MacBeth With Three, You Get Eggroll Mermaid Mindy Katie Ka-Boom: Call Waiting Lookit the Fuzzy Heads No Face Like Home The Warners 65th Anniversary Special
Season 2
Take My Siblings, Please
The Mindy 500
Morning Malaise
Miami Mama-Mia
Pigeon on the Roof
We're No Pigeons
Whistle-Stop Mindy
Katie Ka-Boom: The Broken Date
I'm Mad
Bad Mood Bobby
Katie Ka-Boom: The Blemish
Fake
Season 3
Super Strong Warner Siblings
Nutcracker Slappy
Wakko's New Gookie
A Quake, a Quake!
Variety Speak
Three Tenors and You're Out
Bingo
Deduces Wild
Rest in Pieces
U.N. Me
A Hard Day's Warners
Gimme a Break
Buttons in Ows
Hercules Unwound
This Pun for Hire
Star Truck
Go Fish
Multiplication (song)
The Sound of Warners
Yabba Dabba Boo
My Mother the Squirrel
The Party
Oh Say Can You See
The Twelve Days of Christmas
Dot's Entertainment
The Girl with the Googily Goop
Gunga Dot
Soccer Coach Slappy
Belly Button Blues
Our Final Space Cartoon, We Promise
Valuable Lesson
Wakko's 2-Note Song
Panama Canal
Hello Nurse
The Ballad of Magellan
The Return of the Great Wakkorotti
The Big Wrap Party Tonight
Season 4
One Flew Over the Cuckoo Clock
Cutie and the Beast
Boo Happens
Noel
Jokahontas
Boids on the Hood
Mighty Wakko at the Bat
A Very Very Very Very Special Show
Night of the Living Buttons
Soda Jerk
From Burbank with Love
Anchors A-Warners
When You're Traveling
Papers for Pappa
Amazing Gladiators
Pinky and the Ralph
Ten Short Films About Wakko Warner
No Time for Love
The Boo Network
Pitter Patter of Little Feet
Mindy in Wonderland
Ralph's Wedding
Season 5
Back in Style
Bones in the Body
It
Dot- The Macadamia Nut
Bully for Skippy
Cute First (Ask Questions Later)
Acquaintances
Here Comes Atilla
Boo Wonder
Magic Time
The Brain's Apprentice
Hooray for North Hollywood (Part I)
Hooray for North Hollywood (Part II)
The Carpool
The Sunshine Squirrels
The Christmas Tree
Punchline (Part I)
Prom Night
Punchline (Part II)
Birds on a Wire
The Scoring Session
The Animaniacs Suite
Community content is available under
CC-BY-SA
unless otherwise noted.