"Tokyo Grows/That Smarts/Brainstem" is third overall episode of the Pinky and the Brain spin-off series, and the first one to contain multiple cartoons. It originally aired on September 17th, 1995. All of the cartoons in this episode were animated by Wang Film Productions Co., Ltd..
Tokyo Grows
Plot
In 1950's Japan, Brain modifies the lab's shrink ray into a grow ray and enlarges himself and Pinky. As giants, Pinky poses as "Pinkzilla" (a take on the local giant monster "Gollyzilla") while Brain poses as "Brainodo", defender of Japan and enemy to Pinkzilla. Brain attempts to stage a fight between himself and "Pinkzilla" to make Brain appear to be the hero of Japan and eventually gain control of the country as a reward.
Crew
Notes
That Smarts
Plot
Brain deduces that Pinky's poor intelligence is the reason why all of his plans fail. To amend this, Brain invents a convoluted device that makes Pinky smarter. At first things seem to be moving along nicely but things unravel when Pinky is now shown to be the smarter one of the duo.

Crew
Notes
Brainstem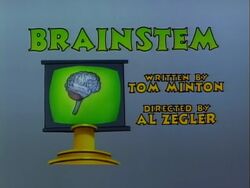 Plot
To the tune of Camptown Races, Pinky and Brain perform a song that teaches the viewers about the parts of the brain.

Crew
Songs
Notes
Cast
References
Special thanks to Brian Norman's "Bunches of References Accumulated In a Nutshell" (B.R.A.I.N) reference guide for aiding in documenting this episode's references.