The Warners' 65th Anniversary Special is the 65th episode and season finale of Season 1 of the original Animaniacs. This cartoon, along with its cold open and intros were animated by Tokyo Movie Shinsha Co., Ltd..
My Father the Tuna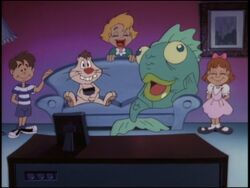 Plot
Baynarts Charlton Woodchucks informs the viewers that My Father the Tuna will not be seen tonight in favor of the following special presentation...

Trivia
Very Special Opening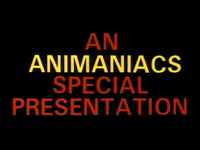 The Warners' 65th Anniversary Special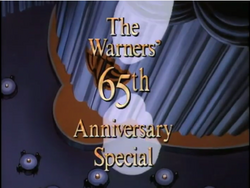 Plot
A "live" special that highlights the anniversary of the Warners' creation, from their original roles as sidekicks to the early Looney Tunes character Buddy through their golden age and their occasional breakouts prior to recent times. Behind the scenes, though, a mysterious adversary is plotting their demise.

Crew
Songs
"Introducing the Warners" (reprise)
Trivia
The special is said to be hosted at the "Dorothy Chandelier Pavilion," a parody of the Dorothy Chandler Pavilion.
Viza Mizzelli is a parody of the famous singer "Liza Minnelli"
Buddy is a real Warner Bros. animation character who was created to replace Bosko after Hugh Harman and Rudolf Ising left the studio and took the character with them. Apparently, Warner Bros. was not shy to admit the failure of the character. However Buddy was created in 1933, not 1929 (which was when the first Bosko cartoon was originally produced).

Another thing that is off about the supposed cartoon history in this show was that Lon Borax claimed to remember drawing the Warner siblings in the morning of February 30th, which is a non-existent calendar date save for the Soviet Revolutionary calendar that was used between 1929 and 1931 in a faulty effort to improve the industry in the Soviet Union of Russia, and even then THAT calendar was preferably ignored in favor of a proper Gregorian calendar to allow Sunday rest. Then again, this crazy claim from an animator who's gone nuts could just be another in-show attempt to deny the existence of the Warners, as those who claim something happened on February 30th are usually meaning to say, in a sarcastic manner, that it never happened at all.

For Buddy's "evil" voice, Jim Cummings uses a voice similar to his Doctor Robotnik voice from Sonic the Hedgehog (SatAM).
All celebrity caricatures who were interviewed are identified under the characters they made famous in their movies. Spartacus is a caricature of Kirk Douglas, Prof. Kingsfield is a caricature of John Houseman, the Gipper is Ronald Reagan, George Bailey is Jimmy Stewart, and Baby Jane is Bette Davis.

Bugs Bunny, Foghorn Leghorn, Tweety, Porky Pig, Daffy Duck and Yosemite Sam made cameos in the show, and each of them would tell about the Warners' reckless behavior. It should be noted that all of these characters were created after 1929, so it is impossible that the Warners would ever cross paths with them.

The Warners' appearance on A Really Big Shew is a parody of the Beatles' first appearance on The Ed Sullivan Show. The song they sing, "Make a Gookie", is a parody of Simon & Garfunkel's "The 59th Street Bridge Song (Feelin' Groovy)".
Bob Hope calls Dot "Dottie", but Dot does not say, "Call me 'Dottie' and you die" or act upon that threat. This could be because she was asleep when the camera panned over to the Warners.
Parts of the opening and closing song for this episode would be used (set to different clips of the Warner siblings) as the introduction to Cartoon Network's Animaniacs marathon celebrating the show having joined the channel's line-up.
Dot tells Bob Hope, "Maybe you should retire". Hope did indeed retire in 1998 before dying at the age of 100 in 2003.
Chicken Boo's alias in this episode is Irving "Swifty" LaBoo, a reference to Irving "Swifty" Lazar, a famous agent whose clients ranged from Cary Grant, Cher, Ernest Hemingway, Madonna, and Richard Nixon.
Goofs
Tweety's name is misspelled as "Tweetie Bird".
Quotes
Yakko: These people will clap at anything.
Wakko: Hey, everybody! Wanna hear me play "Yankee Doodle" with my armpits?!
[no response]
Yakko: Uhhhhhhh, almost anything.
Dot: Can we go now?
Scratchansniff: Vy vould you vant to go? Zees tribute is vun of ze entertainment industry's greatest gifts!
Yakko: Can we return it and get a chia pet instead?
Memlo: The next day, we were supposed to show the cartoon to the studio brass. But I couldn't find Lon around anywhere. Later, I found out he went all... funny in the head. But I hear he's getting better.
Borax: WE'RE HAVING SOUP TODAY!!!
Daffy: It was an okay cartoon for a short, but this thing went on for eight hours! Eight hours!
Tweety Pie: Ooh, Weed was awways scweaming and yewwing at dem. In fact, in da second cawtoon, if you wisten vewy cawefuwwy, you can hear Weed scweaming at Wakko.
Memlo: NO, NO!!! USE THE SPOON! USE THE SPOON! NO, SPIT OUT THE SPOON! SPIT OUT THE SPOON! DON'T LOOK AT ME!! DO SOMETHING!!!
Plotz: So I had to take Weed off the Warner cartoons. But he went on to direct hygiene films for the navy.
Memlo: (deadpan) I won an award for How to Shampoo and the sequel, How to Rinse.
Gallery
Production Notes
Cast
Voice Actors:
Character(s):
Rob Paulsen
Yakko Warner, Dr. Scratchansniff,

Joseph Stalin

Tress MacNeille
Dot Warner, Viza Vizzelli, Baby Jane, Page Sister #1
Jess Harnell
Wakko Warner,

Norman Feinman

Frank Welker
Thaddeus Plotz, Bob Hope, Chicken Boo, George Bailey, Prof. Kingsfield
Maurice LaMarche
Spartacus, John Wayne,

Ed Sullivan

Jim Cummings
Buddy, Announcer, Winston Churchill, Vern Turtletaub
Jeff Bennett
Weed Memlo, Baynarts Charlton Woodchucks, The Gipper, Lt. Gen. Patrick Nugner,

FDR

, Lou Amalongada
Paul Rugg
Lon Borax, Mr. Director
Sherri Stoner
Slappy Squirrel
Nathan Ruegger
Skippy Squirrel
Cree Summer
Elmyra Duff, Page Sister #2
John Mariano

Guenther Hundhosen

Greg Burson
Bugs Bunny, Daffy Duck, Tweety, Porky Pig, Yosemite Sam, Foghorn Leghorn
Gag Credits
City Desk Editor: Lou Grant
Storyboards: Bucky Beaver, Jerry Mathers as the Beaver
Sheet Timing: Jeff Hall, Monty Hall, Kids in the Hall, Norm McCabe, McCabe & Mrs. Miller, Tom Ray, Man Ray, Sting Ray, Bob & Ray, Ray Stevens, Darrin Stevens, Larry Tate.
Slugger: Bill Knoll, Grassy Knoll.
Louisville Slugger: Baseball Bat.
Slug: Slimey Gooey Thing.
B.G. Key Design: Dan McHugh, Marty Strudler, Apple Strudler, Peach Cobbler.
B.G.s.: Barry, Robin & Maurice Gibb.
Spectrum Colors: Roy G. Biv.
Color Key: Bunny Munns, Richard Daskas, Carolyn Guske, Robin Kane, Charles Foster Kane Chris Naylor, Eric Nordberg, Linda Redondo, Redondo Beach, Florida.
Bathroom Key: Cannot Be Duplicated.
Francis Scott Key: National Anthem Writer.
Key Largo: Starring Humphrey Bogart & Lauren Bacall.
Mark Up: Jea DuBois, Lisa Leonardi, Valerie Walker, & Clint Walker as "Cheyenne".
Mark Down: "Goof Troop" Tapes at K-Mart.
Animation Checking: Jan Browning, Elizabeth Barrett Browning, Brenda Brummet, Brenda Brummet Browning, Elizabeth Brummet Browning, Jennifer Damiani, Jennifer Damiani Browning, Bunty Dranko, Elizabeth Barrett Bunty, H.M.S. Bunty, Karl Jacobs, Karl Jacobs Jingleheimer Schmidt, Howard Schwartz, John Jacob Jingleheimer Schwartz.
Interest Free Checking: With a $2000 Deposit.
Production Administrator: Alyson Brown, Charlie Brown, He's a Clown, That Charlie Brown.
Copying & Shipping: Carlton Batten, Carlton Batten Browning, Carlton Batten Down the Hatches, Ana Durand, Duran Duran, Ana Duran Duran, Que Sera Sera, Whatever Will Be, Will Be, The Future's Not Ours to See, Ana Duran Duran, What Will Be, Will Be.
Digital Production: Alan G. Brown, Sweet Georgia Brown, Sweet Elizabeht Barrett Georgia Browning.
Guy Who Cuts Out All the Borning Stuff: Joe "Snippy, the Animator's Best Friend" Gall.
Additional Film Editing: Al Breitenbach, Kelly Ann Foley, Theresa Gilroy-Nielson, Leslie Nielsen.
Sound Reading: Bradley Carow, Denise Whitfield, Steve Siracusa, N.Y.
The Sound Mix is By...
The Trail Mix is By: Nabisco.
Monkey Screech SFX by: Russell Brower, Robert Hargreaves, Matt Thorne, "Thorny" Thornberry, Ozzy's Zany Next Door Neighbor.
Dialogue Editors: Mark Keatts, Mick Brooling, Bob Lacivita, Andrew I. King, Aaron L. King, Alan King, Martin Luther King, Chicken a la King, Old King Cole, Larry King Live, Don King, Don Corleone, Don Juan, Don Quixote, Don Wilson, Dondi, Dondi Duran Duran, Whatever Will Be, Will Be.
Voice Recording Engineer: Harry Andronis, of the Chicago Androniseseseses, Danny Shaw, 2nd Engineer, Casey Jones, Train Engineer.
Amblin Story Consultant: Douglas Wood, Mary Woods, Natalie Wood, James Woods, Ed Wood, Jr.
Laboratory Services: C.F.I.
Lavoratory [sic] Services: Mr. Potty Man.
Animaniacs Nutritional Information Per Serving
| | | with 8 oz. milk | with 8 oz. cola | with 8 oz. Weed Memlo |
| --- | --- | --- | --- | --- |
| Fat | 4g | 65g | 73g | 84g |
| Calories | 143 | 213 | 475 | 512 |
| Protein | 1g | 12g | 14g | 17g |
| Carbohydrate | 17g | 15g | 17g | 39g |
Kathryn Page: Kathryn Page.
Episode Adopted by: Bette Midler.
Production Assistants: Geno GuBois, Dustin Foster, Bobbie Page, John Morris, Paul "Godzilla is My Friend" Trandahl.
Donors - $10 or More: Jon McClenahan, Dave Marshall, The Gimeno Family, Nick Hollander, Kirk Tingblad, Elizabeth Barrett Tingblad.
Organ Donors: Thomas, Baldwin, Vox, Wurlitzer.
Favorite Lawrence Welk Quote: "When you have a minute, I want to see you right now."
If You're Counting: This Has Been Episode #65.
Chicken Boo Appears Courtesy of: Zacky Farms.
Promotional Fee Paid By: "Ouchies" - The Sharp, Prickly Toy You Bathe With.
Special Thanks to: Ojai Constorium, Memlo Memorial Archive - Mary Margret Memlo, Curator, the Smellog Foundation, Craig T. Nelson & All His "Coach" Co-Stars, The Pew Charitable Truss.
Bean Counter: Chuck Ansel.
Beans Counted: 235, Definitely 235.
Announcer: "Hey, Warners, you've just finished the 65th episode of Animaniacs. What are you gonna do now?"
Warners: "We're going to Euro-Disney!"
Executive in Charge of Production: Jean MacCurdy.
Executive in Charge of Prodding: Liza-Ann Warren.
Executive in Charge of Bazooka: Tim Sarnoff.
Executive in Charge of Overseas Production: Ken Duer.
Executive in Charge of the Writers: Barbara Simon Dierks.
Transcript
See Also
References
List of Animaniacs Episodes
Season 1
De-Zanitized / The Monkey Song / Nighty-Night Toon • Yakko's World / Cookies for Einstein / Win Big • H.M.S. Yakko / Slappy Goes Walnuts / Yakko's Universe • Hooked on a Ceiling / Film Projector Transition / Goodfeathers: The Beginning • Taming of the Screwy • Flipper Parody / Temporary Insanity / Operation: Lollipop / What are We? • Piano Rag / When Rita Met Runt • The Warners' Lot Song / The Big Candy Store / Bumbie's Mom • Wally Llama / Where Rodents Dare • King Yakko • No Pain, No Painting / Les Miseranimals • Garage Sale of the Century / Fortunes / West Side Pigeons • Hello Nice Warners / La Behemoth / Little Old Slappy From Pasadena • La La Law / Cat on a Hot Steel Beam • Space-Probed / Battle for the Planet • Chalkboard Bungle / Hurray for Slappy / The Great Wakkorotti: The Master & His Music • Roll Over, Beethoven / The Cat and the Fiddle • Pavlov's Mice / Chicken Boo-Ryshnikov / Nothing But the Tooth • Meatballs or Consequences / A Moving Experience • Hearts of Twilight / The Boids • The Flame / Wakko's America / Davy Omelette / Four Score and Seven Migraines Ago • Guardin' the Garden / Plane Pals • Be Careful What You Eat / Session 1 / Up the Crazy River / Session 2 / Ta Da Dump • Yakko's World of Baldness / Opportunity Knox / Wings Take Heart • Hercule Yakko / Home on De-Nile / A Midsummer Night's Dream • Testimonials / Babblin' Bijou / Potty Emergency / Sir Yaksalot • You Risk Your Life / I Got Yer Can / Jockey for Position • Moby or Not Moby / Mesozoic Mindy / The Good, the Boo, and the Ugly • Draculee, Draculaa / Phranken-Runt • Hot, Bothered and Bedeviled / Moon Over Minerva / Skullhead Boneyhands • O Silly Mio / Puttin' on the Blitz / The Great Wakkorotti: The Summer Concert • Chairman of the Bored / Planets Song / Astro-Buttons • Cartoons in Wakko's Body 1 / Noah's Lark / Cartoons in Wakko's Body 2 / The Big Kiss / Cartoons in Wakko's Body 3 / Hiccup / Cartoons in Wakko's Body Conclusion • Clown and Out / Bubba Bo Bob Brain • Very Special Opening / Animaniacs Stew / In the Garden of Mindy / Pinky and the Cat / We've Been Mixing Up the Scripts / No Place Like Homeless / Katie Ka-Boo / We Found This Old Computer / Dottie the Squirrel / Baghdad Café • Critical Condition / The Three Muska-Warners • Dough Dough Boys / Boot Camping / General Boo-Regard • Spellbound • Smitten with Kittens / Alas Poor Skullhead / White Gloves • Casablanca Opening / Fair Game / The Slapper / Puppet Rulers • Buttermilk, It Makes a Body Bitter / Broadcast Nuisance / Raging Bird • Animator's Alley / Hollywoodchuck • Of Nice and Men / What a Dump! / Survey Ladies • Useless Facts / The Senses Song / The World Can Wait / Kiki's Kitten / • Mary Tyler Dot Song / Windsor Hassle / ...And Justice for Slappy • Turkey Jerky / Wild Blue Yonder • Video Review / When Mice Ruled the Earth • Mobster Mash / Lake Titicaca / Icebreakers • Very Special Opening / A Christmas Plotz / Little Drummer Warners • Slippin' on the Ice / 'Twas the Day Before Christmas / Jingle Boo / The Great Wakkorotti: The Holiday Concert / Toy Shop Terror / Yakko's Universe • Branimaniacs / The Warners and the Beanstalk / Frontier Slappy • Ups and Downs / The Brave Little Trailer / Yes, Always • Drive-Insane / Girlfeathers / I'm Cute • Brain Meets Brawn / Meet Minerva • Gold Rush / A Gift of Gold / Dot's Quiet Time • Schnitzelbank / The Helpinki Formula / Le Bouton et le Ballon / Kung Boo • Of Course You Know, This Means Warners / Up a Tree / Wakko's Gizmo • Oh, Oh, Ethel / Inkblot Test / Meet John Brain / Smell Ya Later • Ragamuffins / Woodstock Slappy • Karaoke Dokie / Cranial Crusader / The Chicken Who Loved Me • Baloney & Kids / Super Buttons / Katie Ka-Boom: The Driving Lesson • Scare Happy Slappy / Witch One / MacBeth • With Three, You Get Eggroll / Mermaid Mindy / Katie Ka-Boom: Call Waiting • Lookit the Fuzzy Heads / No Face Like Home • My Father the Tuna / The Warners' 65th Anniversary Special
Season 2
Take My Siblings, Please / The Mindy 500 / Morning Malaise • We're No Pigeons / Whistle-Stop Mindy / Katie Ka-Boom: The Broken Date • Miami Mama-Mia / Pigeon on the Roof / Coo • I'm Mad / Bad Mood Bobby / Katie Ka-Boom: The Blemish / Fake
Season 3
Super Strong Warner Siblings / Nutcracker Slappy / Wakko's New Gookie / A Quake, a Quake! • Variety Speak / Three Tenors and You're Out / Bingo • Previously on Animaniacs / Deduces Wild / Rest in Pieces / U.N. Me • A Hard Day's Warners / Gimme a Break / Please Please Please Get a Life Foundation • The Tiger Prince / All The Words in the English Language: Part 1 / The Kid in the Lid / All the Words in the English Language: Part 2 / Method to Her Madness / All the Words in the English Language: Part 3 • The Presidents Song / Don't Tread on Us / The Flame Returns • Gimme the Works / Buttons in Ows / Hercules Unwound • This Pun for Hire / Star Truck / Go Fish / Multiplication (song) • The Sound of Warners / Yabba Dabba Boo • My Mother the Squirrel / The Party / Oh! Say Can You See / The Twelve Days of Christmas • Dot's Entertainment / The Girl with the Googily Goop / Gunga Dot • Soccer Coach Slappy / Belly Button Blues / Our Final Space Cartoon, We Promise / Valuable Lesson • Wakko's 2-Note Song / Panama Canal / Hello Nurse / The Ballad of Magellan / The Return of the Great Wakkorotti / The Big Wrap Party Tonight
Season 4
One Flew Over the Cuckoo Clock • Cutie and the Beast / Boo Happens / Noel / Cold Ending • Animani-rats /• Jokahontas / Boids on the Hood / Mighty Wakko at the Bat • A Very Very Very Very Special Show / Night of the Living Buttons / Soda Jerk • From Burbank with Love / Anchors A-Warners / When You're Traveling • Parody Commercials / Papers for Pappa / Amazing Gladiators / Pinky and the Ralph • Ten Short Films About Wakko Warner / No Time for Love / The Boo Network • Pitter Patter of Little Feet / Mindy in Wonderland / Ralph's Wedding
Season 5
Message in a Bottle / Back in Style / Bones in the Body • It / Dot - The Macadamia Nut / Bully for Skippy • Cute First (Ask Questions Later) / Acquaintances / Here Comes Atilla / Boo Wonder • Magic Time / The Brain's Apprentice
Hooray for North Hollywood: (Part I • Part II)
• The Carpool / The Sunshine Squirrels • The Christmas Tree / Punchline (Part 1) / Prom Night / Punchline (Part 2)
The Ultimate Animaniacs Super Special:
(Birds on a Wire / The Scoring Session / The Animaniacs Suite)