Animaniacs Episode 78
Air date:
November 18, 1995
Season:
3

---

Variable verse:
Yakko, Wakko and Dot: Meet Mark Twainy...

---

Gag credit(s):
Scratchansniff's Head
Was That Thing Lumpy Or What?

---

Closing tag:
Yakko, Wakko & Dot: AAAAAHHHH!!!! RUSH LIMBAUGH'S ON YOUR SOFA!!!!! AAAAAAAAAHHHHHHHH!!!!! Just kidding. [laugh]

---

Prev:
Episode 77
Next:
Episode 79
List of Animaniacs Episodes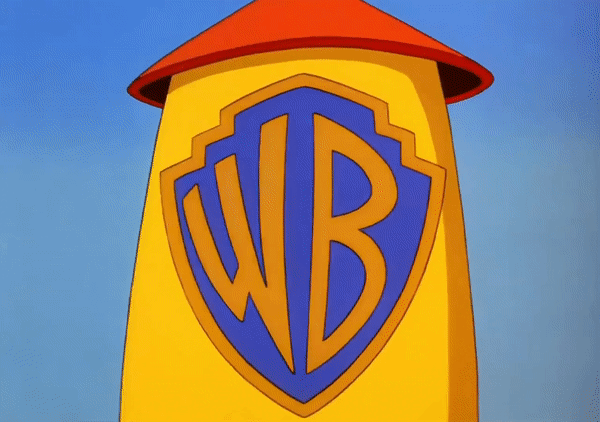 Last line
Yakko, Wakko and Dot: Meet Mark Twainy...

The Sound of Warners (406-680)
Written by Paul Rugg
Directed by Alfred Gimeno and Charles Visser
Animation by Wang Film Production
Synopsis
In this parody of The Sound of Music, the Warners get a new extremely nice singing nanny named Prunela Flundergust.
Trivia
When the Warners are sleeping, Yakko can be heard having a nightmare about flubbing the lyrics to "Yakko's World".
Since this is a parody of The Sound of Music, Prunela Flundergust is a parody of Julie Andrews' character "Maria".
Yakko does the longest "Uhh..." of the show.
In the end, there's a reference of another Julie Andrews' character named "Mary Poppins"
In this episode, it is revealed that the Warners don't use their force or trickery when a person being nice and kind to them, only when they are mean or rude to the Warners or to other people. Slappy Squirrel on the other hand...
Dot's mumbling of "Newt Gingrich" in her sleep is a reference to a deleted song called "Dear Mr. Gingrich".
This is the only Warner episode where it switches animation. Wang did most of it, while Akom did the segment where the dad and daughter are watching the episode.
Slappy, alone, makes a cameo at some point in the 2nd half of this segment.
The helicopter circling around Prunella during her first song is a reference to the helicopter that circled around Maria behind the scenes of The Sound of Music during her opening song, "The Hills Are Alive".
Yabba Dabba Boo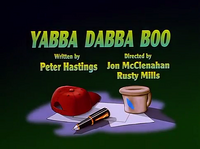 Written by Peter Hastings
Directed by Jon McClenahan and Rusty Mills
Animation by Wang Film Production with additional work by StarToons
Synopsis
Chicken Boo plays a script doctor for the Flintstones movie.
Trivia
The Chicken Boo theme song is changed. Instead of "You wear a disguise to look like human guys", the line is "You're jumbo-sized and you wear a disguise."
The writers are modeled after the real-life Animaniacs writers, including creator Tom Ruegger, Nicholas Hollander (referred to as "Shecky", Hollander's real life nickname), Peter Hastings, and Sherri Stoner, the only writer who provides her own voice.
The Amblin building is essentially a redesigned version of Acme Looniversity from Tiny Toon Adventures.
Chicken Boo's fake name is Larry Gelboo, named after Larry Gelbart, a TV writer best known for creating the hit series M*A*S*H.
This is one of the cartoons that StarToons storyboarded with Wang animating. This is because at the time, StarToons was recovering from financial troubles and couldn't fully animate until season 5.
Cast
| | |
| --- | --- |
| Voice Actors: | Character(s): |
| Rob Paulsen | Yakko Warner, Dr. Scratchansniff, Tom Ruegger, Intern |
| Jess Harnell | Wakko Warner, Nicholas Hollander |
| Tress MacNeille | Dot Warner, Hello Nurse, Prunella Flundergust, Mary Poppins |
| Sherri Stoner | Slappy Squirrel, Ricola, Herself |
| Frank Welker | Chicken Boo, Thaddeus Plotz, Ralph T. Guard, Ricola's Dad, Peter Hastings |
| Paul Rugg | Captain von Trapp (uncredited) |
Gag Credits
This is Episode #78.
Scratchansniff's Head
Was That Thing Lumpy Or What?
Stinger
Yakko, Wakko & Dot: AAAAAHHHH!!!! RUSH LIMBAUGH'S ON YOUR SOFA!!!!! AAAAAAAAAHHHHHHHH!!!!! Just kidding. [laugh]
Trivia
This stinger is a redubbed version of the "Horrible Bug on Your Shoulder" stinger.
List of Animaniacs Episodes
Season 1
De-Zanitized/The Monkey Song/Nighty-Night Toon; Yakko's World/Cookies for Einstein/Win Big; H.M.S. Yakko/Slappy Goes Walnuts/Yakko's Universe; Hooked on a Ceiling/Goodfeathers: The Beginning; Taming Of The Screwy; Temporary Insanity/Operation: Lollipop/What are We?; Piano Rag/When Rita Met Runt; The Big Candy Store/Bumbie's Mom; Wally Llama/Where Rodents Dare; King Yakko; No Pain, No Painting/Les Miseranimals; Garage Sale of the Century/West Side Pigeons; Hello Nice Warners/La Behemoth/Little Old Slappy from Pasadena; La La Law/Cat on a Hot Steel Beam; Space-Probed/Battle for the Planet; Chalkboard Bungle/Hurray for Slappy/The Great Wakkorotti: The Master and His Music; Roll Over, Beethoven/The Cat and the Fiddle; Pavlov's Mice/Chicken Boo-Ryshnikov/Nothing But the Tooth; Meatballs or Consequences/A Moving Experience; Hearts of Twilight/The Boids; The Flame/Wakko's America/Davy Omelette/Four Score and Seven Migraines Ago; Guardin' the Garden/Plane Pals; Be Careful What You Eat/Up the Crazy River/Ta Da Dump, Ta Da Dump, Ta Da Dump Dump Dump; Opportunity Knox/Wings Take Heart; Hercule Yakko/Home on De-Nile/A Midsummer Night's Dream; Testimonials (Animaniacs)/Babblin' Bijou Potty Emergency/Sir Yaksalot; You Risk Your Life/I Got Yer Can/Jockey for Position; Moby or Not Moby Mesozoic Mindy The Good, the Boo, and the Ugly Draculee, Draculaa Phranken-Runt Hot, Bothered and Bedeviled Moon Over Minerva Skullhead Boneyhands O Silly Mio Puttin' on the Blitz The Great Wakkorotti: The Summer Concert Chairman of the Bored Planets Song Astro-Buttons Cartoons in Wakko's Body 1 Noah's Lark Cartoons in Wakko's Body 2 The Big Kiss Hiccup Cartoons in Wakko's Body Conclusion Clown and Out Bubba Bo Bob Brain In the Garden of Mindy No Place Like Homeless Katie Ka-Boo Baghdad Cafe Critical Condition The Three Muska-Warners Dough Dough Boys Boot Camping General Boo-Regard Spellbound Smitten with Kittens Alas Poor Skullhead White Gloves Fair Game The Slapper Puppet Rulers Buttermilk, It Makes a Body Bitter Broadcast Nuisance Raging Bird Animator's Alley Can't Buy a Thrill Hollywoodchuck Of Nice and Men What a Dump! Survey Ladies Useless Fact 1 The Senses Song Useless Fact 2 Dot's Poetry Corner The World Can Wait Useless Fact 3 Kiki's Kitten Useless Fact 4 Windsor Hassle ...And Justice for Slappy Turkey Jerky Wild Blue Yonder Video Revue When Mice Ruled the Earth Mobster Mash Lake Titicaca Icebreakers A Christmas Plotz Little Drummer Warners Twas the Day Before Christmas Jingle Boo The Great Wakkorotti: The Holiday Concert Toy Shop Terror Yakko's Universe The Warners and the Beanstalk Frontier Slappy Ups and Downs The Brave Little Trailer Yes, Always Drive-Insane Girlfeathers I'm Cute Brain Meets Brawn Meet Minerva Gold Rush A Gift of Gold Dot's Quiet Time Schnitzelbank The Helpinki Formula Le Bouton et le Ballon Kung Boo Of Course You Know, This Means Warners Up a Tree Wakko's Gizmo Meet John Brain Smell Ya Later Ragamuffins Woodstock Slappy Karaoke-Dokie Cranial Crusader The Chicken Who Loved Me Baloney and Kids Super Buttons Katie Ka-Boom: The Driving Lesson Scare Happy Slappy Witch One MacBeth With Three, You Get Eggroll Mermaid Mindy Katie Ka-Boom: Call Waiting Lookit the Fuzzy Heads No Face Like Home The Warners 65th Anniversary Special
Season 2
Take My Siblings, Please
The Mindy 500
Morning Malaise
Miami Mama-Mia
Pigeon on the Roof
We're No Pigeons
Whistle-Stop Mindy
Katie Ka-Boom: The Broken Date
I'm Mad
Bad Mood Bobby
Katie Ka-Boom: The Blemish
Fake
Season 3
Super Strong Warner Siblings
Nutcracker Slappy
Wakko's New Gookie
A Quake, a Quake!
Variety Speak
Three Tenors and You're Out
Bingo
Deduces Wild
Rest in Pieces
U.N. Me
A Hard Day's Warners
Gimme a Break
Buttons in Ows
Hercules Unwound
This Pun for Hire
Star Truck
Go Fish
Multiplication (song)
The Sound of Warners
Yabba Dabba Boo
My Mother the Squirrel
The Party
Oh Say Can You See
The Twelve Days of Christmas
Dot's Entertainment
The Girl with the Googily Goop
Gunga Dot
Soccer Coach Slappy
Belly Button Blues
Our Final Space Cartoon, We Promise
Valuable Lesson
Wakko's 2-Note Song
Panama Canal
Hello Nurse
The Ballad of Magellan
The Return of the Great Wakkorotti
The Big Wrap Party Tonight
Season 4
One Flew Over the Cuckoo Clock
Cutie and the Beast
Boo Happens
Noel
Jokahontas
Boids on the Hood
Mighty Wakko at the Bat
A Very Very Very Very Special Show
Night of the Living Buttons
Soda Jerk
From Burbank with Love
Anchors A-Warners
When You're Traveling
Papers for Pappa
Amazing Gladiators
Pinky and the Ralph
Ten Short Films About Wakko Warner
No Time for Love
The Boo Network
Pitter Patter of Little Feet
Mindy in Wonderland
Ralph's Wedding
Season 5
Back in Style
Bones in the Body
It
Dot- The Macadamia Nut
Bully for Skippy
Cute First (Ask Questions Later)
Acquaintances
Here Comes Atilla
Boo Wonder
Magic Time
The Brain's Apprentice
Hooray for North Hollywood (Part I)
Hooray for North Hollywood (Part II)
The Carpool
The Sunshine Squirrels
The Christmas Tree
Punchline (Part I)
Prom Night
Punchline (Part II)
Birds on a Wire
The Scoring Session
The Animaniacs Suite
Community content is available under
CC-BY-SA
unless otherwise noted.