This article is incomplete and may require additional information.
You can help the Animaniacs Wiki by expanding it.
Papers for Papa/Amazing Gladiators/Pinky and the Ralph is 88th episode of the original Animaniacs, as the 6th episode of the show's 4th season.
It originally aired on October 19, 1996.
Parody Commercials
Animation by Wang Film Productions Co., Ltd.
Plot
Flavio Hippo stars in various ads for different products. These include:

Choco-Dot Candies (Cold Open)
Soak Soda (Right after the theme song)
"Working Out" (Right after "Papers for Papa")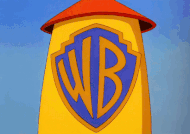 Last line
Dot: Quiche lorrainey...

Papers for Papa
Animation by Akom Film Production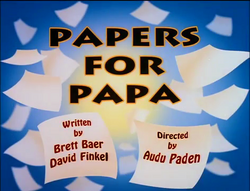 Plot
The Warners deliver office supplies to Ernest Hemingway just as he has sworn off of writing due to a bad case of writer's block.

Crew
Songs
Trivia
Amazing Gladiators
Animation by Wang Film Production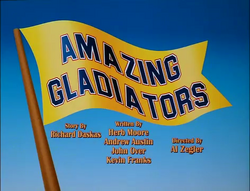 Plot
The beloved Hip Hippos make their long-awaited return and compete on the intense competition program, Amazing Gladiators. The two compete against The Punishing Petersons.

Crew
Trivia
Animation by Wang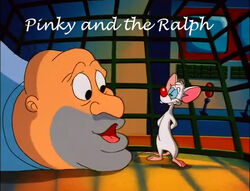 Plot
A promo for a fake spin-off starring Pinky and Ralph T. Guard is shown. The two struggle to find an activity to do for the evening.

Songs
Trivia
In some syndicated airings, the line "Coming Soon to the Kids' WB!" is removed but it occasionally re-appears (such as on Hub Network). Additionally, the line is kept intact on all home and streaming releases.
This cartoon marks the only time the extended version of the Pinky and the Brain theme can be heard on Animaniacs. It plays in the background as an instrumental for this cartoon.
Soundtrack
The French national anthem
Row Row Row Your Boat
Carmen's Toreador Song by Georges Bizet
Cast
| | |
| --- | --- |
| Voice Actors: | Character(s): |
| Rob Paulsen | Yakko Warner, Pinky |
| Jess Harnell | Wakko Warner, Pie Eating Man |
| Tress MacNeille | Dot Warner, Marita Hippo, Shari Lewis, Lamb Chop, Mrs. Peterson |
| Frank Welker | Flavio Hippo, Ralph T. Guard, Narrator |
| Jeff Glen Bennett | Ernest Hemmingway |
| Rebecca Gilchrist | Maebelle |
| Jim Cummings | Announcer, Cannonball Peterson, Butler |
Stinger
Yakko, Wakko & Dot: Sayonara! (redubbed "Ciaoabunga" stinger)
List of Animaniacs Episodes
Season 1
De-Zanitized / The Monkey Song / Nighty-Night Toon • Yakko's World / Cookies for Einstein / Win Big • H.M.S. Yakko / Slappy Goes Walnuts / Yakko's Universe • Hooked on a Ceiling / Film Projector Transition / Goodfeathers: The Beginning • Taming of the Screwy • Flipper Parody / Temporary Insanity / Operation: Lollipop / What are We? • Piano Rag / When Rita Met Runt • The Warners' Lot Song / The Big Candy Store / Bumbie's Mom • Wally Llama / Where Rodents Dare • King Yakko • No Pain, No Painting / Les Miseranimals • Garage Sale of the Century / Fortunes / West Side Pigeons • Hello Nice Warners / La Behemoth / Little Old Slappy From Pasadena • La La Law / Cat on a Hot Steel Beam • Space-Probed / Battle for the Planet • Chalkboard Bungle / Hurray for Slappy / The Great Wakkorotti: The Master & His Music • Roll Over, Beethoven / The Cat and the Fiddle • Pavlov's Mice / Chicken Boo-Ryshnikov / Nothing But the Tooth • Meatballs or Consequences / A Moving Experience • Hearts of Twilight / The Boids • The Flame / Wakko's America / Davy Omelette / Four Score and Seven Migraines Ago • Guardin' the Garden / Plane Pals • Be Careful What You Eat / Session 1 / Up the Crazy River / Session 2 / Ta Da Dump • Yakko's World of Baldness / Opportunity Knox / Wings Take Heart • Hercule Yakko / Home on De-Nile / A Midsummer Night's Dream • Testimonials / Babblin' Bijou / Potty Emergency / Sir Yaksalot • You Risk Your Life / I Got Yer Can / Jockey for Position • Moby or Not Moby / Mesozoic Mindy / The Good, the Boo, and the Ugly • Draculee, Draculaa / Phranken-Runt • Hot, Bothered and Bedeviled / Moon Over Minerva / Skullhead Boneyhands • O Silly Mio / Puttin' on the Blitz / The Great Wakkorotti: The Summer Concert • Chairman of the Bored / Planets Song / Astro-Buttons • Cartoons in Wakko's Body 1 / Noah's Lark / Cartoons in Wakko's Body 2 / The Big Kiss / Cartoons in Wakko's Body 3 / Hiccup / Cartoons in Wakko's Body Conclusion • Clown and Out / Bubba Bo Bob Brain • Very Special Opening / Animaniacs Stew / In the Garden of Mindy / Pinky and the Cat / We've Been Mixing Up the Scripts / No Place Like Homeless / Katie Ka-Boo / We Found This Old Computer / Dottie the Squirrel / Baghdad Café • Critical Condition / The Three Muska-Warners • Dough Dough Boys / Boot Camping / General Boo-Regard • Spellbound • Smitten with Kittens / Alas Poor Skullhead / White Gloves • Casablanca Opening / Fair Game / The Slapper / Puppet Rulers • Buttermilk, It Makes a Body Bitter / Broadcast Nuisance / Raging Bird • Animator's Alley / Hollywoodchuck • Of Nice and Men / What a Dump! / Survey Ladies • Useless Facts / The Senses Song / The World Can Wait / Kiki's Kitten / • Mary Tyler Dot Song / Windsor Hassle / ...And Justice for Slappy • Turkey Jerky / Wild Blue Yonder • Video Review / When Mice Ruled the Earth • Mobster Mash / Lake Titicaca / Icebreakers • Very Special Opening / A Christmas Plotz / Little Drummer Warners • Slippin' on the Ice / 'Twas the Day Before Christmas / Jingle Boo / The Great Wakkorotti: The Holiday Concert / Toy Shop Terror / Yakko's Universe • Branimaniacs / The Warners and the Beanstalk / Frontier Slappy • Ups and Downs / The Brave Little Trailer / Yes, Always • Drive-Insane / Girlfeathers / I'm Cute • Brain Meets Brawn / Meet Minerva • Gold Rush / A Gift of Gold / Dot's Quiet Time • Schnitzelbank / The Helpinki Formula / Le Bouton et le Ballon / Kung Boo • Of Course You Know, This Means Warners / Up a Tree / Wakko's Gizmo • Oh, Oh, Ethel / Inkblot Test / Meet John Brain / Smell Ya Later • Ragamuffins / Woodstock Slappy • Karaoke Dokie / Cranial Crusader / The Chicken Who Loved Me • Baloney & Kids / Super Buttons / Katie Ka-Boom: The Driving Lesson • Scare Happy Slappy / Witch One / MacBeth • With Three, You Get Eggroll / Mermaid Mindy / Katie Ka-Boom: Call Waiting • Lookit the Fuzzy Heads / No Face Like Home • My Father the Tuna / The Warners' 65th Anniversary Special
Season 2
Take My Siblings, Please / The Mindy 500 / Morning Malaise • We're No Pigeons / Whistle-Stop Mindy / Katie Ka-Boom: The Broken Date • Miami Mama-Mia / Pigeon on the Roof / Coo • I'm Mad / Bad Mood Bobby / Katie Ka-Boom: The Blemish / Fake
Season 3
Super Strong Warner Siblings / Nutcracker Slappy / Wakko's New Gookie / A Quake, a Quake! • Variety Speak / Three Tenors and You're Out / Bingo • Previously on Animaniacs / Deduces Wild / Rest in Pieces / U.N. Me • A Hard Day's Warners / Gimme a Break / Please Please Please Get a Life Foundation • The Tiger Prince / All The Words in the English Language: Part 1 / The Kid in the Lid / All the Words in the English Language: Part 2 / Method to Her Madness / All the Words in the English Language: Part 3 • The Presidents Song / Don't Tread on Us / The Flame Returns • Gimme the Works / Buttons in Ows / Hercules Unwound • This Pun for Hire / Star Truck / Go Fish / Multiplication (song) • The Sound of Warners / Yabba Dabba Boo • My Mother the Squirrel / The Party / Oh! Say Can You See / The Twelve Days of Christmas • Dot's Entertainment / The Girl with the Googily Goop / Gunga Dot • Soccer Coach Slappy / Belly Button Blues / Our Final Space Cartoon, We Promise / Valuable Lesson • Wakko's 2-Note Song / Panama Canal / Hello Nurse / The Ballad of Magellan / The Return of the Great Wakkorotti / The Big Wrap Party Tonight
Season 4
One Flew Over the Cuckoo Clock • Cutie and the Beast / Boo Happens / Noel / Cold Ending • Animani-rats /• Jokahontas / Boids on the Hood / Mighty Wakko at the Bat • A Very Very Very Very Special Show / Night of the Living Buttons / Soda Jerk • From Burbank with Love / Anchors A-Warners / When You're Traveling • Parody Commercials / Papers for Pappa / Amazing Gladiators / Pinky and the Ralph • Ten Short Films About Wakko Warner / No Time for Love / The Boo Network • Pitter Patter of Little Feet / Mindy in Wonderland / Ralph's Wedding
Season 5
Message in a Bottle / Back in Style / Bones in the Body • It / Dot - The Macadamia Nut / Bully for Skippy • Cute First (Ask Questions Later) / Acquaintances / Here Comes Atilla / Boo Wonder • Magic Time / The Brain's Apprentice
Hooray for North Hollywood: (Part I • Part II)
• The Carpool / The Sunshine Squirrels • The Christmas Tree / Punchline (Part 1) / Prom Night / Punchline (Part 2)
The Ultimate Animaniacs Super Special:
(Birds on a Wire / The Scoring Session / The Animaniacs Suite)