Animation by Wang Film Production
The Warners do a parody of the theme song to the 1960s television series, Gilligan's Island.
Trivia
Hello Nurse is given her name in this song.
The Professor and Mary Anne, characters from Gilligan's Island, are mentioned.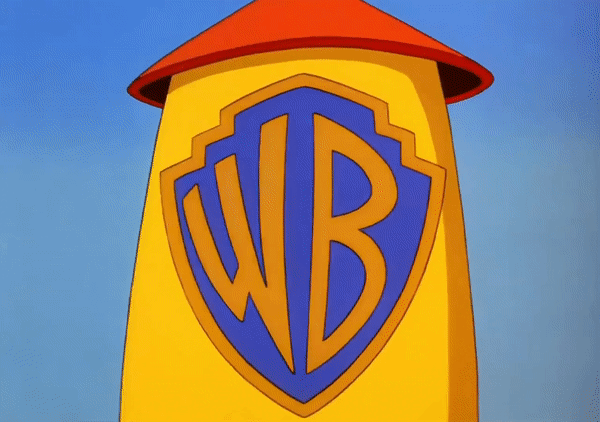 Last line
Dot: Here's the show's name-y...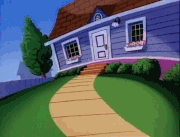 Colin
tells about how
Randy Beaman
's mother once had a dream she was eating a giant marshmallow.
Trivia
The Big Candy Store (406-703)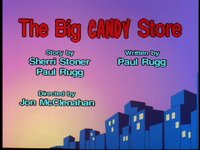 Story by Sherri Stoner and Paul Rugg
Written by Paul Rugg
Directed by Jon McClenahan
Animation by StarToons
Synopsis
The Warners go to Flaxseed's Totality of Candy hoping to steal some candy, but the owner, Flaxseed, will clearly not allow this.
Trivia
The title is a play on the 1941 Marx Brothers film The Big Store.
Fitting with the candy theme, the music playing at the beginning of the cartoon (following title card) is "Dance of the Sugar Plum Fairy" from Tchaikovsky's score of The Nutcracker.
The Goodfeathers make a cameo at the beginning of the cartoon.
Also if you look close to where the Goodfeathers are perched, they are sitting behind a cheese store which has a little sign that reads "Yes we will cut the cheese.", to cut the cheese is to pass gas.
The Warners' song to Flaxseed is a parody of "The Candy Man" from the film Willy Wonka & the Chocolate Factory.
Goofs
Paramount accidentally added the year 2005 on the screener VHS and Paramount reissued this in December 2016 or January 2017.
Randy Beaman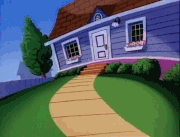 Colin returns with a melting ice cream cone to talk about how Randy Beaman's aunt reacted to whatever was licking her feet. As his ice cream melts, he draws a smiley face on it, which disappears. As he attempts to lick it, the ice cream drops to the ground.
Bumbie's Mom (406-619)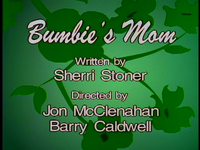 Written by Sherri Stoner
Directed by Jon McClenahan and Barry Caldwell
Animation by StarToons
Synopsis
Slappy and Skippy are watching the film Bumbie the Dearest Deer. At a pivotal point in the film when the title character's mother gets shot and killed, Skippy is traumatized and begins to cry uncontrollably. To stop his crying, Slappy takes Skippy to New Mexico to meet Vina Walleen, the actress who played Bumbie's mom and long-time friend of Slappy's.
Trivia
Bumbie the Dearest Deer is a parody of the 1942 Disney film Bambi.
Sherri Stoner says this episode was based on her actual childhood trauma of watching the infamous scene from Bambi (when Bambi's mom gets shot).
When Slappy is awakened by Skippy's crying, she blurts out "Pat, I'd like to buy a vowel!". This is a reference to the game show Wheel of Fortune.
Hello Nurse makes a cameo as the flight attendant, and the Warners, naturally, follow her. Slappy replies by stating "That was pointless!"
When Slappy and Skippy reach New Mexico, they see Wile E. Coyote chasing the Road Runner. Slappy then demands a stop to the "gratuitous cameos".
To make Skippy's laughter sound more genuine, Nathan Ruegger (the voice of Skippy) had his father Tom Ruegger tickle him.
At one point, a house falls on a cartoon dog, a parody of a scene from the 1939 film, The Wizard of Oz.
There are many Hanna-Barbera references in this cartoon. Slappy mentions that Vina Walleen dated George Jetson from The Jetsons. Skippy says that Slappy claimed that Magilla Gorilla was a woman. The punchline to Vina's recollection to Slappy is, "So Pebbles says, 'Get your own Bamm-Bamm, lady!'"
In a "Here we go again" gag at the end, the squirrels watch Old Yellow, a parody of the film Old Yeller.
Regarding Skippy's crying whenever she mentions Bumbie's mom, Slappy remarks "Pavlov would love this kid." This is a refrencee to Ivan Pavlov, a psychologist known for his experiments of classical conditioning, who was also parodied in a Pinky & the Brain short.
The line "That is not Bumbie's mom, she is old!" may have been inspired by a Dennis the Menace short. In the comic, Dennis is a fan of Cowboy Bob, a Western star. However, Dennis failed to realize that Westerns are rarely made today and the films he is seeing are actually old re-releases. In one story arc Dennis' parents had invited the actor who played Cowboy Bob, now retired, to their party and thought it would be nice to introduce him to Dennis. Dennis however, thought he was meeting "Cowboy Bob's grandpa"!
This is Wakko's second beach ball pop.
Quotes
Hello Nurse: Would you like anything?
Slappy: Perhaps a sedative?
Hello Nurse: Huh? I don't get it.
Slappy: Go away.
Yakko and Wakko: Hello, nurse!
Slappy: That was pointless.
Road Runner: (after outsmarting Wile E. Coyote) Beep Beep!
Slappy: Enough with the gratuitous cameos!
Skippy: But Bumbie's mom is.... (cries)
Skippy: That's not Bumbie's Mom! She's old!
Slappy: Tactless, yet rude.
Chase Ending
Animation by Tokyo Movie Shinsha, Ltd.
The Warners get back up to the Water Tower using a catapult. When Ralph uses the catapult, he gets slammed to the ground. The Warners shrug and go back into the tower.
Cast
Racoon Keeper
Stinger
Yakko, Wakko & Dot: Goodbye, Nurse!
List of Animaniacs Episodes
Season 1
De-Zanitized/The Monkey Song/Nighty-Night Toon; Yakko's World/Cookies for Einstein/Win Big; H.M.S. Yakko/Slappy Goes Walnuts/Yakko's Universe; Hooked on a Ceiling/Goodfeathers: The Beginning; Taming Of The Screwy; Temporary Insanity/Operation: Lollipop/What are We?; Piano Rag/When Rita Met Runt; The Big Candy Store/Bumbie's Mom; Wally Llama/Where Rodents Dare; King Yakko; No Pain, No Painting/Les Miseranimals; Garage Sale of the Century/West Side Pigeons; Hello Nice Warners/La Behemoth/Little Old Slappy from Pasadena; La La Law/Cat on a Hot Steel Beam; Space-Probed/Battle for the Planet; Chalkboard Bungle/Hurray for Slappy/The Great Wakkorotti: The Master and His Music; Roll Over, Beethoven/The Cat and the Fiddle; Pavlov's Mice/Chicken Boo-Ryshnikov/Nothing But the Tooth; Meatballs or Consequences/A Moving Experience; Hearts of Twilight/The Boids; The Flame/Wakko's America/Davy Omelette/Four Score and Seven Migraines Ago; Guardin' the Garden/Plane Pals; Be Careful What You Eat/Up the Crazy River/Ta Da Dump, Ta Da Dump, Ta Da Dump Dump Dump; Opportunity Knox/Wings Take Heart; Hercule Yakko/Home on De-Nile/A Midsummer Night's Dream; Testimonials (Animaniacs)/Babblin' Bijou Potty Emergency/Sir Yaksalot; You Risk Your Life/I Got Yer Can/Jockey for Position; Moby or Not Moby Mesozoic Mindy The Good, the Boo, and the Ugly Draculee, Draculaa Phranken-Runt Hot, Bothered and Bedeviled Moon Over Minerva Skullhead Boneyhands O Silly Mio Puttin' on the Blitz The Great Wakkorotti: The Summer Concert Chairman of the Bored Planets Song Astro-Buttons Cartoons in Wakko's Body 1 Noah's Lark Cartoons in Wakko's Body 2 The Big Kiss Hiccup Cartoons in Wakko's Body Conclusion Clown and Out Bubba Bo Bob Brain In the Garden of Mindy No Place Like Homeless Katie Ka-Boo Baghdad Cafe Critical Condition The Three Muska-Warners Dough Dough Boys Boot Camping General Boo-Regard Spellbound Smitten with Kittens Alas Poor Skullhead White Gloves Fair Game The Slapper Puppet Rulers Buttermilk, It Makes a Body Bitter Broadcast Nuisance Raging Bird Animator's Alley Can't Buy a Thrill Hollywoodchuck Of Nice and Men What a Dump! Survey Ladies Useless Fact 1 The Senses Song Useless Fact 2 Dot's Poetry Corner The World Can Wait Useless Fact 3 Kiki's Kitten Useless Fact 4 Windsor Hassle ...And Justice for Slappy Turkey Jerky Wild Blue Yonder Video Revue When Mice Ruled the Earth Mobster Mash Lake Titicaca Icebreakers A Christmas Plotz Little Drummer Warners Twas the Day Before Christmas Jingle Boo The Great Wakkorotti: The Holiday Concert Toy Shop Terror Yakko's Universe The Warners and the Beanstalk Frontier Slappy Ups and Downs The Brave Little Trailer Yes, Always Drive-Insane Girlfeathers I'm Cute Brain Meets Brawn Meet Minerva Gold Rush A Gift of Gold Dot's Quiet Time Schnitzelbank The Helpinki Formula Le Bouton et le Ballon Kung Boo Of Course You Know, This Means Warners Up a Tree Wakko's Gizmo Meet John Brain Smell Ya Later Ragamuffins Woodstock Slappy Karaoke-Dokie Cranial Crusader The Chicken Who Loved Me Baloney and Kids Super Buttons Katie Ka-Boom: The Driving Lesson Scare Happy Slappy Witch One MacBeth With Three, You Get Eggroll Mermaid Mindy Katie Ka-Boom: Call Waiting Lookit the Fuzzy Heads No Face Like Home The Warners 65th Anniversary Special
Season 2
Take My Siblings, Please
The Mindy 500
Morning Malaise
Miami Mama-Mia
Pigeon on the Roof
We're No Pigeons
Whistle-Stop Mindy
Katie Ka-Boom: The Broken Date
I'm Mad
Bad Mood Bobby
Katie Ka-Boom: The Blemish
Fake
Season 3
Super Strong Warner Siblings
Nutcracker Slappy
Wakko's New Gookie
A Quake, a Quake!
Variety Speak
Three Tenors and You're Out
Bingo
Deduces Wild
Rest in Pieces
U.N. Me
A Hard Day's Warners
Gimme a Break
Buttons in Ows
Hercules Unwound
This Pun for Hire
Star Truck
Go Fish
Multiplication (song)
The Sound of Warners
Yabba Dabba Boo
My Mother the Squirrel
The Party
Oh Say Can You See
The Twelve Days of Christmas
Dot's Entertainment
The Girl with the Googily Goop
Gunga Dot
Soccer Coach Slappy
Belly Button Blues
Our Final Space Cartoon, We Promise
Valuable Lesson
Wakko's 2-Note Song
Panama Canal
Hello Nurse
The Ballad of Magellan
The Return of the Great Wakkorotti
The Big Wrap Party Tonight
Season 4
One Flew Over the Cuckoo Clock
Cutie and the Beast
Boo Happens
Noel
Jokahontas
Boids on the Hood
Mighty Wakko at the Bat
A Very Very Very Very Special Show
Night of the Living Buttons
Soda Jerk
From Burbank with Love
Anchors A-Warners
When You're Traveling
Papers for Pappa
Amazing Gladiators
Pinky and the Ralph
Ten Short Films About Wakko Warner
No Time for Love
The Boo Network
Pitter Patter of Little Feet
Mindy in Wonderland
Ralph's Wedding
Season 5
Back in Style
Bones in the Body
It
Dot- The Macadamia Nut
Bully for Skippy
Cute First (Ask Questions Later)
Acquaintances
Here Comes Atilla
Boo Wonder
Magic Time
The Brain's Apprentice
Hooray for North Hollywood (Part I)
Hooray for North Hollywood (Part II)
The Carpool
The Sunshine Squirrels
The Christmas Tree
Punchline (Part I)
Prom Night
Punchline (Part II)
Birds on a Wire
The Scoring Session
The Animaniacs Suite
Community content is available under
CC-BY-SA
unless otherwise noted.