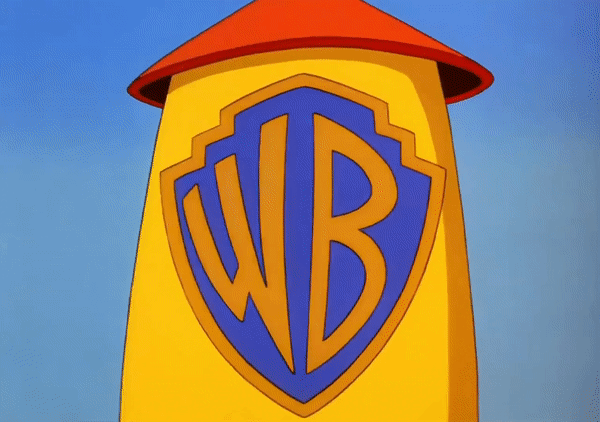 Last line
Wakko: Chicken chow meiny...

Cute First (Ask Questions Later)
Written by Ralph Soll
Directed by Liz Holzman
Synopsis
In this parody of both Snow White and Lifestyles of the Rich and Famous, Snow inherits her wicked stepmother's magic mirror and captures Dot when she finds out that Dot is cuter than her.
Trivia
Acquaintances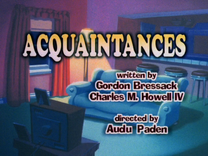 Written by Gordon Bressack and Charles M. Howell IV
Directed by Audu Paden
Synopsis
Well, it had to happen. The one where the Warners move in with the cast of a Friends parody.
Trivia
The ending is a parody of Seinfeld.
In the middle of the cartoon, there is a parody of The Brady Bunch theme.
Also in the middle of this segment, this is the second time the "Kabong" sound from Hanna-Barbera's Quick Draw McGraw is heard twice (the first being One Flew Over the Cuckoo Clock, albeit only once) in a normal and low pitch when Dot "tunes" the guitar.
Here Comes Attila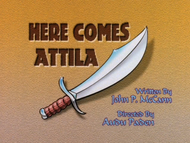 Written by John P. McCann
Directed by Audu Paden
Synopsis
To the tune of "Get Out the Way, Old Dan Tucker", the Warners sing all about the tyrant Attila the Hun.
Trivia
The final line of the song references the theme song to The Magilla Gorilla Show.
Although this short aired in 1997, John McCann had written the song three years earlier, in 1994.[1]
Boo Wonder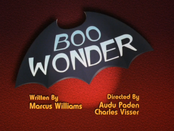 Written by Marcus Williams
Directed by Audu Paden and Charles Visser
Synopsis
Chicken Boo plays the sidekick of the Caped Crusader.
Trivia
This cartoon parodies the 1960s Batman TV show. Adam West, who played Batman on the show, essentially reprises his role here.
This is a reversal of other Chicken Boo cartoons. Usually, only one person knows that Chicken Boo is a giant chicken. here only one person thinks that Chicken Boo is not a chicken while everyone else knows he is a chicken, I tell ya! A giant CHICKEN!!!!
Cast
| | |
| --- | --- |
| Voice Actors: | Character(s): |
| Rob Paulsen | Yakko Warner, Jerry Seinfeld, Punchline, Dwarf #1 |
| Jess Harnell | Wakko Warner, Chandler, Dwarf #2 |
| Tress MacNeille | Dot Warner, Mary Hartless, Monica, Evil Queen, Statue of Liberty |
| Frank Welker | Chicken Boo, Magic Mirror, Robin Leach, Alligator |
| Jeff Glen Bennett | The Butler, Mr. Crazy Person, The Commissioner, The Prince, Minion |
| Adam West | Spruce Wayne/Caped Crusader |
| Gail Matthius | Phoebe, Rachel, Snow White |
| Quinton Flynn | Joey, Ross |
Gag Credits
Insert Funny Joke Credit
(Here)
Trivia
When this episode is shown overseas, it has a different gag credit:
Today's Anagaram
Blah
Stinger
Yakko, Wakko & Dot: Sayonara!
References
John P. McCann Blog