"The future's waiting for you!"
This article contains information about an upcoming Animaniacs-related release.

The content of the article will most likely change as more information becomes available. Please back-up any info with sources.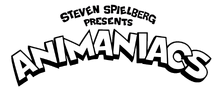 The following page is an episode guide for the Animaniacs reboot, which has been running since 2020. Most descriptions are provided by Hulu, while the thumbnails are sourced from the episodes themselves through Hulu.
Seasons
Season 1 (2020)
Press Release
They're back! The Warner brothers, Yakko and Wakko, and the Warner sister, Dot-three inseparable, irascible siblings-have a great time wreaking havoc and mayhem in the lives of everyone they meet. After returning to their beloved home, the Warner Bros. Water Tower, the siblings waste no time in causing chaos and comic confusion as they run loose through the studio and beyond, turning the world into their personal playground. Joining Yakko, Wakko and Dot, fan-favorite characters Pinky and The Brain also return to continue their quest for world domination.[1][2]
Episodes
Thumbnail Image
Title
Original airdate
Season Episode
TV rating
Episode 1: Jurassic Lark/Suspended Animation Part 1/Of Mice and Memes/Suspended Animation Part 2
November 19, 2020[3]
1
TV-PG-V
The Warner Brothers (& Warner sister!) return. Brain's meme fails to achieve world domination.
Episode 2: Warners Unbound/How to Brain Your Dragon/Suffragette City
November 20, 2020[4]
2
TV-PG-V
The Warners vacation in Ancient Greece. Pinky & the Brain try using a dragon to rule the world.
Episode 3: Gold Meddlers/Pinko and the Brain/Math-Terpiece Theater: Apples
November 20, 2020
3
TV-PG-LV
The Warners compete in games of skill. Brain gets busted time-travelling. Dot gives a dramatic math lesson.
Episode 4: Bun Control/Ex-Mousina/Bloopf
November 20, 2020
4
TV-PG-V
The Warners fight a rabbit infestation. Brain's robot "son" turns on him. A new app is born.
Episode 5: Good Warner Hunting/No Brainer/Ralph Cam
November 20, 2020
5
TV-PG-V
The Warners are stalked by a hunter. Pinky & the Brain break into the NSA. Ralph falls asleep.
Episode 6: The Cutening/Close Encounters of the Worst Kind/Equal Time
November 20, 2020
6
TV-PG-V
Dot discovers a recipe for cuteness. Aliens don't share Brain's goals. Odd political ads.
Episode 7 (Reboot): Warner She Wrote/France France Revolution/Gift Rapper
November 20, 2020
7
TV-PG-V
The Warners investigate a dognapping & accidentally start the French Revolution. Yakko channels Shakespeare to save hip-hop.
Episode 8: WhoDonut/Mousechurian Candidate/Starbox and Cindy
November 20, 2020
8
TV-PG-V
The Warners hunt a donut thief. Brain creates a perfect FLOTUS. Starbox fails to escape Cindy's adoring grasp.
Episode 9: Here Comes Treble/That's Not the Issue/Future Brain/The Incredible Gnome in People's Mouths
November 20, 2020
9
TV-PG-V
The Warners butt heads with a conductor and a talk show host. Brain is humbled by his future self. Marsha has a gnome in her mouth.
Episode 10: Anima-Nyet/Babysitter's Flub/The Warners' Press Conference
November 20, 2020
10
TV-PG-V
The Warners discover an unauthorized version of their show in Russia. Brain battles a toddler for a meteorite. Also, a press conference.
Episode 11: Phantomaniacs/Fear and Laughter in Burbank/Bride of Pinky/Things That Go Bump in the Night
November 20, 2020
11
TV-PG-V
Halloween in Burbank: The Warners haunt a television and encounter a scary clown. Brain frightens a whole village into submission. Spooky monsters get claustrophobic.
Episode 12: A Zit!/1001 Narfs/Manny Manspreader
November 20, 2020
12
TV-PG-V
The inner life of a pimple. Pinky & the Brain entertain a Sultana. A man lacks a sense of personal space.
Episode 13: Hindenburg Cola/Roadent Trip/FLOTUS, FLOTUS: What Do You Know About Us?
November 20, 2020
13
TV-PG-LV
The Warners go on a quest for Dr. Scratchansniff. Brain builds a driverless car. Dot sings about all the First Ladies.
Season 2 (2021)
Press Release
They're back again-y! Yakko, Wakko and Dot return for all-new big laughs and the occasional epic takedown of authority figures in serious need of an ego check. The Emmy® award-winning series is packed with enough comedy sketches, pop culture parodies, musical comedy, and self-referential antics to fill a water tower. Joining the Warners are Starbox & Cindy on their latest play date while Pinky and the Brain's ideas for world domination lead them to all new adventures. [5]
Episodes
Thumbnail Image
Title
Original airdate
Season Episode
TV rating
Episode 14: Rome Sweet Rome/Backwards Pinky/Wakko's Short Shorts: Now Loading
November 5, 2021
1
TV-PG
The Warners deal with Nero. Brain and Pinky accidentally become conjoined. Wakko waits for his new game to load. [6]
Episode 15: Please Submit/The Flawed Couple/Everyday Safety
November 5, 2021
2
TV-PG
The Warners are harassed by spam. Nora must fill the segment time by airing failed, never-before-seen Pinky & The Brain pilots. The Warners give safety advice.
Episode 16: Rug of War/Run Pinky Run/The Hamburg Tickler
November 5, 2021
3
TV-PG
The Warners go inside the Bayeux Tapestry. Pinky needs to get money to save Brain, and fast! Scratchansniff tries to teach the Warners a lesson about lying.
Episode 17: Ralph World/My Super Sour Sixteen/How To: Brain Takes Over The World
November 4, 2021[7]
4
TV-PG
Ralph parody. The Warners ruin a super sweet 16 party. Pinky makes a how to video about taking over the world.
Episode 18: The Warners Are Present/The Pinktator/Know Your Scroll
November 5, 2021
5
TV-PG
The Warners heckle an artist at a museum. Brain wants to become a dictator. The Warners try to find something to watch on a streaming service.
Episode 19: Yakko's Big Idea/Mouse Congeniality/Rejected Animaniacs Characters
November 5, 2021
6
TV-PG
Yakko has a new idea for an invention. Pinky participates in a "Miss Universe" pageant. The Warners revisit some rejected Animaniacs characters.
Episode 20: Yakko Amakko/The Longest Word/Happy Narfday/Magna Cartoon
November 5, 2021
7
TV-PG
Yakko goes head-to-head with an animator. The Warners fight over who knows the longest word. Brain is forced to celebrate Pinky's birthday. The Warners sing a song about the Magna Carta.
Episode 21: Wakkiver Twist Part One/Plight of Hand/Wakkiver Twist Part Two
November 5, 2021
8
TV-PG
The Warners parody Oliver Twist. Pinky's hands have a mind of their own.
Episode 22: What Is That?/Mouse Madness/Christopher Columbusted/Fake Medicines
November 5, 2021
9
TV-PG
The Warners don't know what something is. Brain rigs a college basketball tournament. The Warners question Christopher Columbus' discoveries. The Warners review a prescription medication.
Episode 23: Exercise Minute/Reichenbrain Falls/Targeted Ads/Bathtime
November 5, 2021
10
TV-PG
The Warners lead a mandatory exercise break. Brain's plan to take over the ISS is foiled by an old adversary. The Warners cue up some targeted ads. Starbox fails to escape Cindy during bath time.
Episode 24: A Brief History of History/Gerard/The Prisoners' Dilemma/Math-Terpiece Theatre: Beach Balls
November 5, 2021
11
TV-PG
Yakko explains the history of the world. Gerard has a gnome in his mouth. Pinky and Brain are mousenapped by another supervillain. Dot gives a dramatic math lesson about beach balls.
Episode 25: Warner's Ark/The Apology/Narf Over Troubled Water/The Warner's Vault
November 5, 2021
12
TV-PG
The Warners pick up a bunch of stranded, mythical creatures before a flood. The Warners apologize to their viewers. Pinky & Brain try to take over the world with music in the 60s. The Warners revisit some archival footage.
Episode 26: 80's Cats/All About the Benjamin/23 and WB
November 5, 2021
13
TV-PG
The Warners take on a retro look. The Warners work as Benjamin Franklin's apprentices. The Warners take a DNA test, only to find out they're related to the CEO.
Season 3
Press Release
TBA
Episodes
Trivia
To differentiate from episode articles for the other shows on this wiki, episode articles for this series follow this labeling format: "Episode # (Reboot)"
Seasons 1 and 2 consist of 13 episodes each. A third season was announced on February 25th, 2021; and will consist of 10 episodes.[9]
Thumbnail images for seasons 1 and 2 are screenshots sourced directly from Hulu.
The Season 1 DVD was released on June 1, 2021. It can also be purchased on iTunes, Amazon Prime Video, the Google Play Store, and other digital on-demand stores. The Season 2 DVD released on June 21, 2022; with a digital release currently unscheduled.[10]
When they were first listed, all Season 2 episodes were incorrectly labelled with a TV-14 rating on Hulu.[11] It was corrected with it's TV-PG rating a few days later.

Similarly, the Season 2 DVD uses a Canadian "14A" Rating; which recommends adult-supervision for people below the age of 14.
See Also
References