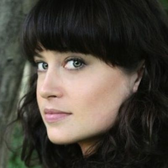 Animaniacs (TV Series) Mary - The Tiger Prince/All the Words in the English Language/The Kid in the Lid/Method to Her Madness (1995) ... Mary (voice)
Fiona Landers was almost born in a yellow, 1964 Ford Thunderbird convertible, but her parents made it to the birth center in Culver City just in time (phew). She studied acting and singing at Circle in the Square Theatre School in NYC, guitar and composition at the New York Conservatory of Music and Shakespeare at the Royal Academy of Dramatic Art in London. Fiona has performed her original songs all over New York City and Los Angeles at venues like Bowery Ballroom, Rockwood Music Hall, Highline Ballroom, Hotel Cafe and the Bootleg Theatre.
Her television credits include playing a Russian bodyguard on Burn Notice, voicing characters for Animaniacs and Batman Beyond, and playing the role of Sophia in a very pivotal Valentine's Day episode of Full House.
She began studying at UCBTLA in 2009 and has performed in UCB shows like Maude Night, Quick & Funny Musicals, Diamond Lion, The Sunshine Gang, UCB Mixtape, Smug Rock Nation, Christmas Tonight with Santa Clause, Let's Do This, Not Too Shabby, and Princess Fiona and the Apple (a solo show), directed by Julie Brister.
Currently, she is very proud to be performing with UCB Super Maude team, Oh, Brother! every second Wednesday of the month. She is also thrilled to be filming her first screenplay, Maybe Another Time, which stars Gia Mantegna and Jack Wallace.
Community content is available under
CC-BY-SA
unless otherwise noted.