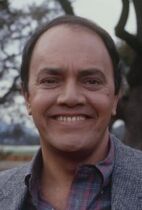 George DiCenzo was an actor.
DiCenzo was born in New Haven, Connecticut. He appeared in more than thirty feature films, including Close Encounters of the Third Kind, Back to the Future, The Ninth Configuration, The Exorcist III, and About Last Night.... He stated that one of his favorite roles was when he starred in Helter-Skelter, where he played Vincent Bugliosi, the prosecutor in the Charles Manson mass murder trial. DiCenzo also appeared in Hotel directed by Mike Figgis with an all-star cast, and Tempted, directed by Bill Bennett and starring Burt Reynolds and Saffron Burrows. He recently played the late baseball commissioner, A. Bartlett Giamatti, in the ESPN made-for-television movie Hustle, about disgraced baseball great Pete Rose. In 2002 George plays Ennio Salieri in Mafia: The City of
In the 1981–1982 television season, DiCenzo was a regular on NBC's McClain's Law, with James Arness and Marshall Colt. He also made regular appearances on Murder, She Wrote and NYPD Blue. His own series included Equal Justice and Joe's Life in the early and mid-1990s. He appeared as a guest star in the Law & Order: Criminal Intent episode "Semi-Professional".
In the early 1990s, DiCenzo appeared on Broadway with Nathan Lane in On Borrowed Time directed by his friend George C. Scott.
DiCenzo's voice can be heard on many commercials, books on tape, and cartoon series. Notable in regards to the third is his work for Filmation; his roles include the title character in BlackStar, and Hordak in She-Ra: Princess of Power.
DiCenzo was also an acting teacher in New York City and Philadelphia for several years. He apprenticed under his mentor Milton Katselas at the Beverly Hills Playhouse in California. In addition, DiCenzo frequently privately coached students, and actors appearing on the New York stage. Burt Reynolds on an episode of Inside the Actors Studio referred to George DiCenzo as the best acting teacher in America.
Cousin of New Haven, Ct native Ronald DeBrigita
He died on August 9, 2010, at the age of 70.
Animaniacs roles
Community content is available under
CC-BY-SA
unless otherwise noted.