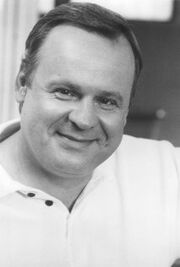 George Dzundza played Commander Daskal in The Beast. His other major film roles include The Deer Hunter, White Hunter Black Heart, Basic Instinct, Crimson Tide, and Dangerous Minds. He played the part of Max Greevey on Law & Order for one season before leaving the show. Dzundza had his own sitcom series Open All Night, about the owner of a convenience store located in southern California.[5]
His other, lesser known acting roles include an appearance on The Waltons (1975), the Archie Bunker-like father in the short-lived Christina Applegate sitcom Jesse, and the voice of supervillain Ventriloquist in Batman: The Animated Series and Perry White in Superman: The Animated Series, as well as numerous minor roles within both shows. His Broadway theatre credits include Terrence McNally's The Ritz.
He portrayed American Nazi leader Frank Collin in the 1981 made-for-television movie Skokie.
In 2005, he played Anubis (aka "Jim") in the Stargate SG-1 Season 8 episode "Threads".
More recently, Dzundza portrayed George O'Malley's father on Grey's Anatomy.
Community content is available under
CC-BY-SA
unless otherwise noted.