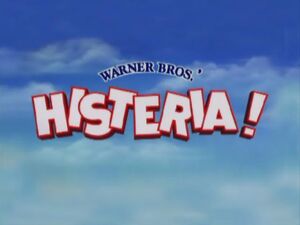 Histeria! is an animated series created by Animaniacs creator Tom Ruegger and produced by Warner Bros. Animation. Like many of its predecessors, Histeria! derived most of humor from its slapstick comedy and satire, with the distinction of combining historical figures and events (as the show was made in part due to the FCC's demands for more educational programs on television). Episodes commonly featured a large cast of children and typecast adults in comedic skits and song parodies. 65 episodes were planned, but due to budget concerns, production was cancelled at 52 episodes.
The World's Oldest Woman and Lucky Bob, two characters prominently featured on Histeria!, notably debuted in Animaniacs segments that aired years before Histeria! premiered. A few (but not all) of the historical caricatures from Animaniacs were notably also reused for Histeria!
References to Histeria! on Animaniacs and Pinky and the Brain
Image
Episode
Description
Pinky, Elmyra and the Brain
"Gee, Your Hair Spells Terrific"
Loud Kiddington, Kip Ling, the Bow-Haired Girl, Lydia Karaoke, Pepper Mills, Cho-Cho, Aka Pella, and Lucky Bob can be seen in the audience when Elmyra spells the word "absurd".
References to Animaniacs on Histeria!
| Image | Episode | Description |
| --- | --- | --- |
| | "The Wild West" | During the song about the Gold Rush, Yakko can be seen on the TV that Father Time is watching. |
| | "Really Oldies But Goodies" | Loud, Charity, Aka, and Pule sing about Alexander the Great to the tune of the Animaniacs theme song. |
| | "More Explorers" | Montezuma plans to give most of his gold to Hernán Cortez, but will not give up a gold statue of Dot since she's his favorite character. |
Connections
Community content is available under
CC-BY-SA
unless otherwise noted.