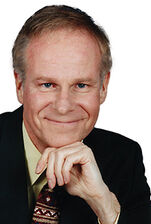 John Roarke is an actor. His unique ability to stunningly morph into a myriad of public figures has prompted US Magazine to salute him as "the new man of 1000 faces".
John's talent first emerged while attending La Salle Academy in Providence. On the day before Christmas vacation he was reluctantly pushed to the front of the class by a fellow classmate who had seen John's renditions of the teachers. The school's proud tradition of order and decorum temporarily vanished as John cut loose and hysterics took the room. The teacher, John Cerra was laughing so hard he collapsed to all fours, nearly choked, and had to be helped up. From then on, Mr. Cerra gave John "stage time" near the end of class, and he began to learn his craft.
As John began to cast his net wider to include our national celebs and politicians, he knew that to perform in front of a much larger class he would have to move to Holly- wood. Soon afterwards, his first big break came when he, along with Michael Richards was chosen to join the cast of Fridays,  ABC's Saturday Night Live clone. As the show's resident impressionist it was initiation under fire because the show was nationally telecast live each week. These two and a half years of warp speed comedy by-the-seat-of-his-pants provided the seasoning he needed to go onto many other starring and guest appearances on TV that include; The Tonight Show with Jay Leno, Fresh Prince of Bel Aire, Evening at the Improv, Columbo, and Out of This World (NBC), to name a few. On the big screen he is featured in "Naked Gun 2 ½, "Courage Under Fire", and "Silence of the Hams".
In addition to his work on the big and little screens, John is perfectly positioned to offer a unique and valuable package to corporate and private events. Drawing on his extensive TV and film experience, John tastefully weaves a company's meeting objectives and messaging into humorous presentations by his characters. The attendees are both inform-ed and entertained, which results in greater enthusiasm and performance. Pepsi-Cola, Anheuser-Busch, and Apple Computers comprise a very partial list of John's corporate clients.
John also enjoys performing his electrifying one person show at corporate events, casinos, on cruises, and in clubs nationwide. It features over 100 celebrities and politicians in a fast paced world where show biz and politics meet. Imagine "President David Letter-man" crank calling world leaders. John's show stopping "50 classic TV shows in four minutes" is a real crowd pleaser, and his address by President George W. Bush takes comedy from the sublime to the subliminable. This rollicking roller coaster ride is always appropriate, and leaves them laughing in the isles no matter what side they're from.
Animaniacs roles
References
Community content is available under
CC-BY-SA
unless otherwise noted.