Animaniacs (TV Series)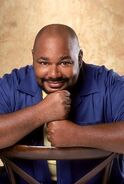 Almond Rocha / Cab Driver
- The Christmas Tree/Punchline: Part I/Prom Night/Punchline: Part II (1998)
... Almond Rocha / Cab Driver (voice, as Kevin M. Richardson)
BIO
Well-known, king-sized actor and voice artist Kevin Michael Richardson was born in Bronx, New York. He is, perhaps mostly recognizable for his deep voice, which he uses in many of his works.
Richardson is a classically trained actor. He first gained recognition as one of only eight U.S. high school students selected for the National Foundation for the Arts' "Arts '82" program, later he earned a scholarship to Syracuse University.
Kevin is well-known by various voice works, mostly villainous. He lent his voice to based-upon video game film Mortal Kombat (1995) as Goro, he was also in Matrix Revolutions (2003) as Deus Ex Machina, and made a brief appearance in Clerks II (2006)as police officer. To mention that he did a brief additional voices for mega hit Transformers: Revenge of the Fallen (2009).
Community content is available under
CC-BY-SA
unless otherwise noted.