It's time for...
Animaniacs!
They're back again-y!
Look out; the Warners are back! You've just jumped from the world of reality and into the wacky, zany, totally insane-y world of the Animaniacs Wiki, the wiki devoted to the award-winning cartoon franchise Animaniacs!
Sit back, relax and come join the Warner brothers; Yakko and Wakko, and the Warner sister Dot, who have a great time wreaking havoc and mayhem in the lives of everyone they meet. 
Straight out of their home of the Warner Bros. Water Tower, the siblings waste no time in causing chaos and comic confusion as they run loose through the studio, turning the world into their personal playground.
Joining Yakko, Wakko and Dot; there are many other fan-favorite characters such as Pinky and the Brain- who are on a quest for world domination.
Catch-up on all their great cartoon adventures in Animaniacs (1993-1998), Pinky and the Brain (1995-1998), and the ongoing Animaniacs reboot (2020-present) on Hulu!
(Check your local listings/availability)
Featured Article

Episode 35: Animaniacs Stew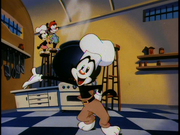 Very Special Opening/In the Garden of Mindy/No Place Like Homeless/Katie Ka-Boo/Baghdad Café is the 35th episode of the original Animaniacs. It originally aired on November 5, 1993. This episode is themed around experimental combinations between characters.
In the Animaniacs Test Kitchen, Yakko is cooking up something. He sings that the ingredients are all the stars of the show. The Warners look in the cauldron to see what they have come up with.
Animaniacs Media
The Animaniacs franchise is a large one that consists of many different entries. Here is some of the more popular Animaniacs media.
The Stars
Newsreel of the Stars, Dateline: Hollywood 2022 - Animaniacs is proud to introduce the stars of our show: The Warners, Pinky, and the Brain! Let the anvils ring!
More of our Animaniacs!
While the 2020 series stars Yakko, Wakko and Dot — and Pinky and The Brain, we at this wiki still celebrate characters from the original version of the show!
Meet the Rest of Our Cast!
Our main stars aren't alone- check out their supporting casts!
Our Segments!
Here are some of the more popular segments from both eras of Animaniacs.
To write a new article, just enter the article title in the box above. If you are not sure where to start, read through our policies and guidelines. For editing help, see our general editing guidelines to get some general knowledge about editing in our wiki's environment. Then lend us a hand with some of these: