Boot up the reboot!
on Hulu!
They're back again-y!
Look out; the Warners are back! You've just jumped from the world of reality and into the wacky, zany, totally insane-y world of the Animaniacs Wiki, the wiki devoted to the award-winning cartoon franchise Animaniacs!
Sit back, relax and come meet the Warner brothers; Yakko and Wakko, and the Warner sister Dot, who have a great time wreaking havoc and mayhem in the lives of everyone they meet. 
After returning to their beloved home, the Warner Bros. Water Tower, the siblings waste no time in causing chaos and comic confusion as they run loose through the studio, turning the world into their personal playground.
Joining Yakko, Wakko and Dot, fan-favorite characters Pinky and the Brain also return to continue their quest for world domination.
The Animaniacs reboot will consist of three seasons, and they're all in HD! And widescreen!
Check in with the brand new Season 2 episodes, streaming alongside the rest of the series now on Hulu!
The Stars
Newsreel of the Stars 2020 - Hulu's Animaniacs is proud to introduce the stars of our show: The Warners, Pinky, and the Brain! Let the anvils ring!
Blasts from the past
While the 2020 series stars Yakko, Wakko and Dot — and Pinky and The Brain, we at this wiki still celebrate characters from the original version of the show!
More about the good old days!
The original 1990s version of Animaniacs was what used to be called an umbrella title. It was a single title, "sheltering" several different, related segments. Here is some of the more popular media of the original era of Animaniacs.
About Us
We're a community run and maintained by people just like you! Originally founded on October 20, 2007 and created by fans, for fans; the Animaniacs Wiki is dedicated to creating a comprehensive and informative resource about Animaniacs -- now on Hulu.
We also have a place for getting to know each other and to talk about Animaniacs in our Discussions. Whether you are here to start editing or to chat with fellow users, you are welcome to sign up for an account! We have a variety of pages, including some that are under-construction, and welcome all to contribute! Make sure to check out the Animaniacs Wiki policies before editing.
For our Español-equivalent, click here.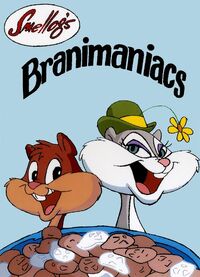 Sponsored by Branimaniacs
For that get up and go feeling!
It's the cereal that attacks all of your digestive tracts! Chock-filled with tasty bran, crunchy fiber, natural roughage and...tiny sugar cubes shaped like Slappy's head!
Slappy eats them, shouldn't you too?
Discord
If you see this, your JavaScript might be disabled or DiscordIntegrator plugin isn't working. If the latter, please contact a wiki administrator.