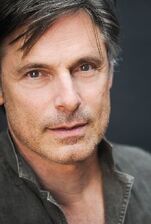 Nicholas Guest was born in New York City, the son of Peter Haden-Guest, a British United Nations diplomat who later became the 4th Baron Haden-Guest, and his second wife, Jean Pauline Hindes, a former vice president of casting at CBS. Guest's maternal grandparents were Jewish immigrants from Russia. His paternal grandfather, Leslie, Baron Haden-Guest, was a Labour Party politician who was a convert to Judaism, and his paternal grandmother's father was Colonel Albert Goldsmid, a British officer who founded the Jewish Lads' and Girls' Brigade and the Maccabaeans. Both of Guest's parents had become atheists, and Guest had no religious upbringing. More than a decade before he was born, his uncle David Guest, a lecturer and Communist Party member, was killed in the Spanish Civil War fighting in the International Brigades.
Nicholas Guest spent parts of his childhood in his father's native England. He is the brother of Christopher Guest, the brother-in-law of Jamie Lee Curtis and the half brother of the British American writer Anthony Haden-Guest.
Animaniacs roles
External links
Community content is available under
CC-BY-SA
unless otherwise noted.