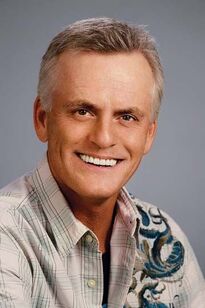 Robert Fredrick "Rob" Paulsen III (born March 11, 1956 in Detroit, Michigan) is an American voice actor and singer. who has worked on many classic shows from the eighties, nineties and today. He's best known as Raphael from the original Teenage Mutant Ninja Turtles series; Yakko and Dr. Otto Scratchinsniff from Animaniacs; Pinky from Pinky and the Brain; Carl Wheezer from Jimmy Neutron; Gordon from Catscratch; Young Hathi from Jungle Cubs; and Donatello from the 2012 series Teenage Mutant Ninja Turtles. Those who know him, know, he is quick witted with a dry sense of humor, yet extremely kind hearted and down to earth. He is a sponsor for Camp Will-A-Way, and is involved in GOALmodels, a project aimed at adolescents to help them find a great path in life.
Biography
On March 11, 1956, Vocal Magic was born to Lee Paulsen and Robert Paulsen and was named Robert Fredrick Paulsen, III. Originally from Detroit, Michigan, Rob loved cartoons as a kid. In an interview with a Chicago TV station, Paulsen described himself as "a singer who decided to become an actor". Growing up in Grand Blanc, Michigan, Paulsen sang in choir throughout his youth and adolescence and began performing in plays in grammar school. However, his idol growing up was Gordie Howe of the Detroit Red Wings; he considered the arts to be a secondary career choice, primarily interested in becoming a professional hockey player. His beginnings start in the early 1980s doing various characters on G.I. Joe, The Transformers and Hadji on The New Adventures of Johnny Quest, before landing his long-term role being the voice of the witty Raphael on Teenage Mutant Ninja Turtles. He was then signed on with Warner Bros. for the series Animaniacs, where he developed the voices of Yakko Warner, Dr. Otto von Scratchansniff, and Pinky. Impressed by his vocal abilities, in 2001, Nickelodeon contacted him to do the voice of Carl Wheezer in a new, computer animated movie, which eventually became a series on the network. Still working with Nickelodeon, Rob Paulsen was signed to a new animated series that debuted in July 2005, Catscratch, as he voices Gordon. Since then, Warner Bros. has asked him back to do two new animated series... Coconut Fred on Coconut Fred's Fruit Salad Island! and Rev Runner on Loonatics Unleashed.
"I'm getting paid to do what I got in trouble for in the 7th grade," jests Rob Paulsen, who won a Daytime Emmy in 1999 as "Outstanding Performer in an Animated Program" for Pinky and The Brain (WB). Though nominated twice previously, the victory was especially sweet due to the most formidable competition ever - fellow nominees Louie Anderson, Ernest Borgnine, Dom DeLuise, and Jeffery Tambor. In addition to his Emmy, Rob won back-to-back Annie Awards in 1997 and 1998. "I absolutely love what I do and thank my lucky stars for twenty-five years of full-time employment in this business," he admits.
"It's a treat to portray a complex character," Rob explains about Pinky, a gangling mouse with funny teeth, a head filled with clouds and an inane imagination that is punctuated with a staccato laugh. "Besides ... where else could I find a job where emotional outbursts and odd exclamations like 'Egad!', 'Narf!', 'Zoit!', 'Boink!' and 'Zort!' are allowed?" With over 2,000 half-hours of animation to his credit, Rob's versatility shines in his starring role as the voice of Yakko on the Peabody and the two-time Emmy award-winning series Animaniacs.
The goal of bringing absolute believability to a fictional character, live-action or animated, is what every actor strives for. Those committed to their career who combine experience, passion and skill are likely to succeed.
Those gifted with exceptional talent who focus on maximizing their potential by finding their own niche, quickly break apart from the pack. After years of honing their craft and consistently delivering memorable performances in which the character impacts an indelible image on the viewer, the public and the industry take notice, singling out the best.
Paulsen's extensive credits include on-camera roles in numerous motion pictures including Body Double, Stewardess School, Eyes of Fire, The Perfect Match, and Warlock. His television acting credits include guest-starring roles on MacGyver and St. Elsewhere. Additionally, he is one of the most sought-after voice actors in the commercial arena, performing in over 1000 of them.
Realizing how fortunate he is and passionate about giving back, Rob supports various charitable organizations, particularly those benefiting children and cancer research. Rob's volunteer work with GOALmodels is particularly rewarding. GOALmodels, a high school program in Reseda, Ohio, is designed to inspire ninth graders to set goals and overcome obstacles in life. Blending his life experiences with passion for his work, his presentations are informative, entertaining and inspiring. In his leisure time, Rob enjoys golf, ice hockey, and riding his motorcycle. He spends the majority of his free time with his wife, Parrish, son Ash and two Yorkshire terriers, Pooshie and Tala.
Roles