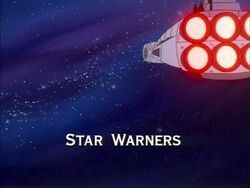 Synopsis
What would happen if Star Wars and Animaniacs were put in a blender? The final Pinky and the Brain episode, Star Warners is the answer. The episode, which includes many of the Animaniacs cast is a Star Wars parody of A New Hope, Empire Strikes Back, and Return of the Jedi with Pinky and the Brain (as 3-PinkEO and Brain2-Me2) planning to use the Mega Star for their galactic domination plans.
Cast
Cameo Characters
Yosemite Sam
Duck Dodgers
Marvin the Martian
Fanboy
Mo-Ron
Gossamer
Hugo the Abominable Snowman
Thumb
Monstar Pound
Monstar Bang
Monstar Nawt
Monstar Bupkus
Monstar Blanko
K-9
Mr. Skullhead
Alien
Egghead Jr.
Trivia
This cartoon was rarely seen in reruns.
Despite being the final episode of Pinky and the Brain, this was promoted on-air by Kids' WB as The Ultimate Animaniacs Super Special, probably due to the rest of the Animaniacs cast appearing.
Like Wakko's Wish, many regular and Looney Tunes characters appear throughout.
Wakko's Luke Skywalker costume looks similar to an outfit he wears in "Hercule Yakko".
If this episode were for the Animaniacs, then this would count as their 100th episode.
Community content is available under
CC-BY-SA
unless otherwise noted.