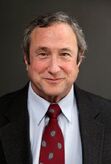 Stuart Pankin is an American actor, who is well-known for his role as Bob Charles in "Not Necessarily the News" and for providing the voice of Earl Sinclair, the blustery father, on the Emmy award-winning "Dinosaurs." (He sang on, and composed two songs for, the Disney album "Dinosaurs: The Big Songs", and performed Earl on the "Dinosaurs: Classic Tales" tape release.)
Best-known film (member: AMPAS) credits include "Honey We Shrunk Ourselves" (the very first live action made-for-video feature), "The Hollywood Knights," "Mannequin on the Move," "The Dirt Bike Kid," "Second Sight," "Encounter in the Third Dimension" and "Misadventures in 3-D" (IMAX 3-D movies) as the live Professor, and voice of the adorable animated robot.
A series regular on nine prime time television productions and pilots (member: ATAS), he has guest starred on over 300 television shows.
---
Animaniacs
(TV Series)
Ed
- The Carpool/The Sunshine Squirrels (1998) ... Ed (voice)
Community content is available under
CC-BY-SA
unless otherwise noted.