Tiny Toon Adventures is a show created by Tom Ruegger and executive produced by Steven Spielberg in the early '90s. The show follows toons in their teens as they attend Acme Looniversity. After the show went off the air, many references to the show were made on Animaniacs. Also, some of the characters make cameos in the show and also retain their original voice actors.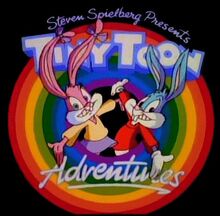 Airing
The show aired its pilot on CBS, while the show itself aired in syndication for its first two seasons. Its third season was broadcast on FOX's Fox Kids block. Tiny Toon Adventures aired from September 1990 to May 1995; Animaniacs, for comparison, started airing almost 3 years later, in September 1993.
It managed to spinoff into a 3 month long series called The Plucky Duck Show, which was mostly composed of Tiny Toons shorts based around Plucky (with possible exceptions).
Premise
Tiny Toon Adventures is set in a quaint place called Acme Acres, originally a rocky terrain settled by ancient versions of the protagonists. Now Acme Acres is populated by funny animals based off the original Looney Tunes, who still exist (even Bosko and Honey). Most of the original Looney Tunes serve as mentors and teachers to the Tiny Toons. In the middle of Acme Acres Acme Looniversity does prominently stand, filled with funny faculty. Cartoon violence is very common in Tiny Toon Adventures, involving free use of heavy objects, cannons, explosives and impact from high places.
Main Characters
Buster Bunny- A blue anthropomorphic male rabbit with a red shirt and white gloves, who is the star of the show. He is a cheerful, energetic, and plucky young rabbit who often greets the audience as "Toonsters" and introduces the show. Buster does make cameos on Animaniacs.
His mentor is Bugs Bunny, and his voice actor used to be Charlie Adler until he walked away in a dispute on how he didn't get a recurring role in Animaniacs while other people playing more minor roles in Tiny Toons got bigger roles in Animaniacs.(Examples include Frank Welker, voice of Gogo Dodo, Furrball, Little Beeper, Byron Basset and Barky Marky in Tiny Toons, and Plotz, Ralph, Runt, Buttons, and Flavio Hippo in Animaniacs, Maurice LaMarche, voice of Dizzy Devil, Yosemite Sam, Brain and Squit, and Rob Paulsen, voice of Arnold the Pit Bull, Concord Condor and Fowlmouth in TTA, and Pinky, Scratchansniff and Yakko in Animaniacs) John Kassir ended up playing him for the third season.
Babs A. Bunny - A pink anthropomorphic female rabbit with a yellow shirt and purple shirt, who is costar to Buster, and probably a lot loonier than Buster, whereas Buster represents the planning wit of Bugs. She is able to transform her attire by spinning around, do impressions of various figures (Wyoming? Well I say whynotoming?) and crack jokes faster than an egg. Babs does make cameos on Animaniacs.
She found a female mentor in the really old black and white character of Honey, who shares her personality. Her voice actor is Tress MacNeille. Tress MacNeille was the exception to the people playing minor roles in Tiny Toons getting a major role in Animaniacs as she played major roles in both series'. She would voice Dot Warner in Animaniacs after the show was cancelled.
Plucky Duck - A green anthropomorphic male duck with a white tank top. He has an extreme desire for... um... stuff, which he doesn't actually succeed in getting. So to get this stuff, he sometimes works for Montana Max. He plays a sidekick in TTA, except in a superhero costume, where he plays a hero.
His mentor is Daffy Duck, and he is voiced by Joe Alaskey.
Hamton J. Pig - A pink anthropomorphic male pig with blue overalls. He is obsessed with cleanliness, lacks self-esteem, and is naive, leaving him vulnerable to Plucky, who manipulates him on many occasions. He can't rap, either. He is the straight man of the the show, except as a sidekick to Plucky (in an outfit, like as Batduck, a ninja or as a Samurai Slug) where he's still a straight man, but only compared to everyone else.
His mentor is Porky Pig, and he is voiced by Don Messick. Don Messick passed away in 1997.
Shirley McLoon - An anthropomorphic psychic white loon wearing a pink shirt and a pink ribbon. She is mainly pursued romantically by Plucky and to a lesser extent Fowlmouth (who Shirley doesn't like due to his swearing habits). She seems to be reasonably intelligent compared to most characters on the show, but this is eclipsed somewhat by a thick Valley Girl accent and an obsession with New Age paraphernalia.
She wasn't really based off of any Looney Tunes characters, so she doesn't have a mentor; her voice actor is Gail Matthius.
Elmyra Duff - A human girl, with a blue blouse, black shoes, white socks, an orange wig, and a light blue ribbon in her wig with a skull in the middle. She has a lot of pets under her care, including most of the tiny toon animal cast at one point, except Babs, Shirley, Gogo, Little Beeper, Arnold, Fowlmouth, Bookworm, Concord.
She was also incorporated into the 7-month long series Pinky, Elmyra and the Brain, which was so controversial that Peter Hastings left Warner Brothers over it.
Her mentor is Elmer Fudd, who acts very differently (accentuated in Looniversity Daze). Her voice actor is Cree Summer.
Gogo W. Dodo - An anthropomorphic green dodo, with blue shoes, a small purple collar, and an umbrella on his head. He is known as the last dodo, surrealist of a Daliesque landscape; son of the original Yoyo Dodo, from Porky in Wackyland/Dough for the Dodo.
He does like to take a break from wackiness occasionally, like when designing a film or to discuss important issues.
He doesn't really have a mentor. He is voiced by Frank Welker.
Gogo does not make any appearances on Animaniacs.
Sweetie Bird  - A small pink canary, who puts up a tender facade to get food, with her high-pitched trill; however, Bookworm, her main target, is too smart to fall for it. Whenever she is about to harm something, her voice quickly turns deeper, and she adopts a sadistic grin.
The prey almost always wins; based on this theorem, we know that Sweetie Pie is almost always outsmarted by Bookworm, but manages to hurt Furrball to no end.
Her mentor is Tweety Bird, and her voice actor is Candi Milo.
Fifi La Fume - A purple anthropomorphic skunk with a pink bowed ribbon in her hair and a white stripe down her back. She has a massive tail larger than she is, which produces her powerful odor, guaranteed to drive away most potential love interests; however, like her mentor, Pepé Le Pew, she will not take no for an answer. However, her odor manages to keep out of the way when it is not needed to advance the plot.
She is voiced by Kath Soucie.
Little Beeper  - A road runner with red feathers who rarely speaks a word besides "Meep", a word he uses often as a signal for when he wants to sprint. Like his mentor, the Road Runner, his main pastime is outspeeding Calamity's ingenious schemes (which work much better than Calamity's mentor, Wile E. Coyote's). He also has a part time job as a pizza delivery man in summer.
He is voiced by Frank Welker.
Calamity Coyote - A gray anthropomorphic coyote wearing pink high tops, trusted for his scientific knowledge, who can design any machine perfectly, without any flaws; he is a meticulous planner, who can brilliantly aid anyone, except himself; when it comes to his own needs he is as lucky with machinery as Furrball. To his credit, he does keep trying, but only a few times does he succeed in causing Beeper harm. His name is accurate though. He manages to cause calamities, where he takes all of the pain.
He is voiced by by Frank Welker.
Dizzy Devil  - A Pesto-colored Tasmanian Devil with a propeller hat. He's a very active (dare I say it) fur ball that has two main activities; to consume and to party. He can find any party and party all night, after others have long become tired. He can also eat land mines, stealth bombers, and jet-powered skateboards.
His mentor is Taz, who often gives him lessons about his own behavior. He is voiced by Maurice LaMarche.
Furrball - The theme song says Furrball is unlucky; well, he was homeless, then he found a home with Elmyra. But first things first; Furrball is an anthropomorphic blue cat who is unlike his mentor, Sylvester, in many ways. However, like Sylvester, he just cannot catch a mouse. He is a very versatile character, who gets into various misadventures involving birds, fleas, and various other things.
He is voiced by Frank Welker. 
Montana Max - A young human guy with brown hair, a green shirt, grey jacket and pants, and black shoes. Montana Max gets his dislike for rabbits from his mentor, Yosemite Sam, but without the Western-like speech impediment. The main antagonist of the series, he's got a nasty temper, helped by his vast riches, and greed for even more. He doesn't really like anyone on the show; however, he manages to find uses for Plucky and Elmyra, who he uses to help pester the two bunnies. However, he almost always gets his just desserts when he manages to tick Buster off. Elmyra is extremely... enthusiastic about Montana, but after she moves to Pinky, Elmyra, and the Brain, she no longer is interested in him.
He is voiced by Danny Cooksey.
Montana Max does not make any appearances on Animaniacs.
Running Gags
Buster and Babs are depicted as boyfriend and girlfriend.

This is confirmed in the last episode.

Buster and Babs commonly say in unison, "No relation" when introducing themselves.
A lot of characters end up showing traits of other characters, that they don't exhibit most of the time.
Shirley ends up being right, sometimes.
Babs does lots and lots of impressions of famous celebrities.
Plucky's beak is prone to falling off. Luckily, it's adjustable, for just such an emergency.
Plucky loves to flush toilets as a baby.
Tiny Toons References in Animaniacs
(Note: Don't add Looney Tunes references)
General
In Newsreel of the Stars, Hamton J Pig can be seen as a drawing.
Whenever Mr. Plotz's office is shown a Tiny Toons character photo appears.
Season 1
Season 2
In Take My Siblings, Please, Wakko sings the theme song to Tiny Toon Adventures, before he decides that he is tired of the song and sings the Animaniacs theme instead.
Season 3
In A Hard Day's Warners, Elmyra is one of the fans who chase Yakko, Wakko and Dot. Within the same cartoon, a Tiny Toon Adventures booth can be seen with a man in a Buster Bunny costume.
In Please Please Pleese Get a Life Foundation, the bedroom contains not only Animaniacs and Pinky and the Brain merchandise, but also Tiny Toon Adventures merchandise. At the end, Yakko tells the viewer to call before they rewind to see what was in the first shot.
In The Big Wrap Party Tonight, Henny Youngman's rooster likeness from Tiny Toons can be seen with Slappy. And let's not forget the entire cast of Tiny Toons, especially Buster, Babs and Plucky shaking hands with the Warners.
Season 4
The Warners reprise the "Do the funny thing that you do" routine from the Tiny Toon Adventures episode segment "It's All Relatives" from the episode "Pledge Week" in Cutie and The Beast.
Season 5
Community content is available under
CC-BY-SA
unless otherwise noted.