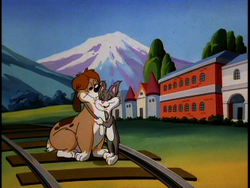 Together is a song Rita sings three times in the Rita and Runt segment, Puttin' on the Blitz. The song dedicated to the more lovely side of Rita that Runt believes in.
Lyrics (by Rita)
First
Just look into my eyes
Tell me what you see
This looks more like Van Nuys Than Burbank to me
Just listen to the call… Oh, and ain't it sweet?
No matter how we fall, we land on our feet
Oh, you and I, we're like a masquerader
Who travels incognito with a friend
No matter where you go… You'll see me later!
I know we'll be together In the end…
Second
Don't leave it up to fate
For the odds are slim
Don't gamble with your life. You can never win…
We'll see her to the train
Then we'll leave Warsaw
After the child is reconciled with her papa…
Third
You know I should have my head examined
The fact is I could not go without you
I'm fond of your slow wit and your hairdo…
We'll always be together, me and you…
Community content is available under
CC-BY-SA
unless otherwise noted.