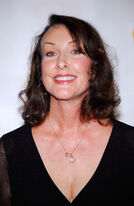 Tress MacNeille (born June 20, 1951 in Chicago, Illinois) is an American voice actress and singer, best known for providing various voices on the animated series The Simpsons, Futurama, Tiny Toon Adventures, Animaniacs, Disney's House of Mouse, Chip 'n Dale Rescue Rangers, and Dave the Barbarian. She also played the role and voice of Lucy in "Weird Al" Yankovic's "Ricky", a parody of Toni Basil's "Mickey", and Kanga in some of the Winnie the Pooh media.[1] MacNeille also appeared on Yankovic's 1999 album Running with Scissors, on the tracks "Pretty Fly for a Rabbi" and "Jerry Springer."
MacNeille was cast as Babs Bunny in Steven Spielberg's first Warner Bros. series Tiny Toon Adventures. Writer Paul Dini said that MacNeille was good for the role because she could do both Babs' voice and the voices of her impressions.[2] MacNeille commented: "The best part of doing Babs is that she's a mimic, like me...In the show I do Babs doing Billie Burke, Hepburn, Bette Davis, Madonna and Cher. I even have her doing Jessica Rabbit."[1] The success of Tiny Toon Adventures led to the series Animaniacs. MacNeille was brought in to voice Dot Warner, one of the show's three main characters, because Dot's character was very similar to Babs Bunny.[3] Andrea Romano, the voice director and caster for Animaniacs, said that the casters had "no trouble" choosing the role of Dot: "Tress MacNeille was just hilarious (...) And yet [she had] that edge."[4] MacNeille was nominated for an Annie Award for her performance on the show in 1995.[5]
Currently, Tress MacNeille works on The Simpsons, Disenchantment, and a few other shows.
She does the voices of Dot Warner, Billie, Hello Nurse, Mindy's Mom, Marita Hippo, Miss Flamiel, and several other female characters on Animaniacs and various voice characters
Role(s)
References
Cite error: <ref> tags exist, but no <references/> tag was found