Vernee Watson-Johnson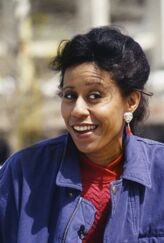 Vernee Watson-Johnson (born January 14, 1954) is an American actress, author, and acting coach. She is best known for her recurring roles as Vernajean Williams on Welcome Back, Kotter and as Viola "Vy" Smith on The Fresh Prince of Bel-Air, playing the mother of Will Smith's character.
As a voice actress she has been tied to Hanna-Barbera Productions and Warner Bros. Animation with roles in shows such as Captain Caveman and the Teen Angels, Laff-A-Lympics, A Pup Named Scooby Doo, Animaniacs, Batman: The Animated Series, Superman: The Animated Series and Batman Beyond, as well as the feature film The Ant Bully, and several video games related to these productions. From 1991 to 1992, she lent her voice to the show Baby Talk, where she was the voice of baby Danielle (played by Alicia and Celicia Johnson). In 2006, Watson-Johnson had roles in three films: The Ant Bully, The Celestine Prophecy and Garfield: A Tale of Two Kitties.
Animal Practice (TV Series)
Evelyn
- Turkey Jerky (2012) ... Evelyn (as Vernee Watson)
Community content is available under
CC-BY-SA
unless otherwise noted.