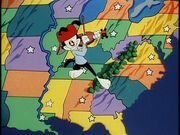 Wakko's America is a song from Episode 21 of Animaniacs. Like "Yakko's World," it is a geographical patter song, this one listing each of the United States of America and their respective capitals. The song is framed as Wakko's answer to a "Jeopardy!" Daily Double question asked in a lesson taught by Miss Flamiel, which Wakko ultimately gets wrong because he does not phrase his answer in the form of a question. The music is "Turkey in the Straw," with lyrics written by Randy Rogel. The song is the eighth track on the album Yakko's World.
Errors
Although it contains far fewer errors than "Yakko's World", it is still not perfect:
Most notably it is stated that Providence, Rhode Island and Dover, Delaware are next to each other, though they are separated by nearly 300 miles and three states.
The song also lists Washington, D.C. as a state capital. The city of Washington, D.C. is not part of any of the 50 states, much less the capital of one, and is instead the nation's capital. However, in April 2021 the House of Representatives passed a bill to make D.C. the 51st state. If the bill passes the Senate, the song will be retroactively correct.
Though technically passable, Jefferson City, Missouri is almost never referred to as just "Jefferson".
Trenton is more East of Jefferson City than North of it.
Wakko pronounces South Dakota's capital, Pierre, with the French pronunciation to rhyme with the next line, while it is actually pronounced "peer."
There are also a few animation errors:

When Wakko mentions Michigan, its upper peninsula does not light up.
Most of Massachusetts' coastline is missing at several points through the song.
When Wakko points to Tennessee, it is very close to Texas. Immediately afterwards, when Wakko says "Elvis used to hang out there a lot, you know," Tennessee is back in its normal place.
Near the end of the third verse, Illinois is seen bordering Tennessee, but after Wakko sings "And Annapolis in Maryland on Chesapeake Bay" and dances around the map, this error is fixed.
Other Appearances
Lyrics
Baton Rouge, Louisiana, Indianapolis, Indiana,
And Columbus is the capital of Ohio,
There's Montgomery, Alabama, south of Helena, Montana,
Then there's Denver, Colorado under Boise, Idaho.
Texas has Austin, then we go north,
To Massachusetts' Boston and Albany, New York.
Tallahassee, Florida, and Washington, D.C.,
Santa Fe, New Mexico and Nashville, Tennessee.
Elvis used to hang out there a lot, you know.
Trenton's in New Jersey, north of Jefferson, Missouri,
You've got Richmond in Virginia, South Dakota has Pierre,
Harrisburg's in Pennsylvania, and Augusta's up in Maine,
And here is Providence, Rhode Island next to Dover, Delaware.
Concord, New Hampshire, just a quick jaunt
To Montpelier, which is up in Vermont.
Hartford's in Connecticut, so pretty in the fall.
And Kansas has Topeka, Minnesota has St. Paul.
Juneau's in Alaska, and there's Lincoln in Nebraska,
And it's Raleigh out in North Carolina, and then,
There's Madison, Wisconsin and Olympia in Washington,
Phoenix, Arizona and Lansing, Michigan.
Here's Honolulu, Hawaii's a joy,
Jackson, Mississippi and Springfield, Illinois,
South Carolina with Columbia down the way
And Annapolis in Maryland on Chesapeake Bay.
They have wonderful clam chowder.
Cheyenne is in Wyoming, and perhaps you'd make your home in
Salt Lake City out in Utah, where the buffalo roam.
Atlanta's down in Georgia, and there's Bismarck, North Dakota,
And you can live in Frankfort in your old Kentucky home.
Salem in Oregon, from there we join
Little Rock in Arkansas, Iowa's got Des Moines,
Sacramento, California, Oklahoma and its city,
Charleston, West Virginia and Nevada, Carson City!
That's all the capitals there are!